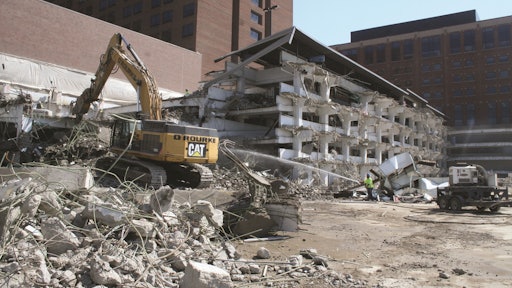 Information from this article was first published in Demolition Magazine and is being reused with permission from the National Demolition Association.
When O'Rourke Wrecking Company won the bid to demolish a massive parking structure attached to Ohio's Christ Hospital, and strict vibration restrictions came to the forefront, the Cincinnati-based firm was poised to put its tools and skills to work.
Christ Hospital is building a new eight-story 332,000-sq.-ft. Orthopaedic and Spine Center, its first major expansion in more than a decade. The new facility is being constructed on the site of what had been visitors' parking. Christ Hospital purchased property adjacent to its main facility to build a new 900-space garage.
Taking down a ramp attached to a functioning facility -- mere feet from where life-and-death procedures are being conducted -- added unique challenge to the demolition.
O'Rourke considered a number of approaches: saw cutting, selective demo using smaller machines and a more-traditional mass demo technique using specialty tools. Given the project's constraints, a combination of all these techniques -- with an emphasis on hydraulic attachments -- was chosen.
Though the company has a nice arsenal of attachments it uses on a regular basis, they wanted an additional level of on-site versatility to meet the many demands they knew they would face. With that in mind, they purchased a Genesis Logix Processor 500 for use on a Caterpillar 365C and started working just after the July 4th holiday.
"The LXP 500 was key for us throughout the project but specifically in dealing with the columns mounted to the wall section shared by the hospital," said Jeff Sizemore, O'Rourke's project manager. "We did not totally eliminate the use of hammers. We went to smaller units mounted on Takeuchi TB-145 track excavators to chip the columns free. Even with that smaller size, we were first saw cutting the concrete to minimize vibration and avoid any transference of energy to the adjacent facility. Then we came in with the LXP to crack through the concrete, cut the rebar and move on. It was really impressive to see."
Utilizing all three of the jaw sets -- shear, concrete cracker and concrete pulverizer -- the LXP 500 was the primary tool in bringing down the parking ramp.
"It was that ability to switch between various functions that won us over," said Sizemore. "Utilizing one tool, both to shear steel and crunch concrete -- coupled with the quick changeability between the two -- was a huge plus on this job.
"Throughout the project we used the LXP on all the heavily reinforced concrete deck slabs," Sizemore added. "Using either the shear jaws or concrete cracking jaws, we were able to break through the concrete and cut the rebar, making that part of the operation fast and efficient.
"At several points, however, we had some bigger bridge columns to contend with, and in that case, the cracker jaw was the answer. It afforded us the wider opening we needed to get around those beams and make the cuts. It was not uncommon for us to change from shear jaws to cracker jaws and back to shears all in the same day -- it fit our needs perfectly."
O'Rourke is no stranger to equipment change-outs. Utilizing grapples and buckets as a normal part of business, they need to move back and forth between those two tools. Working with Genesis, they installed a quick-connect system that Sizemore says has served them well.               
"We purchased a couple of Genesis Severe Duty Grapples for this job, and they made a coupling system for us that's been outstanding. In the past, we were often forced to grab a sledge and beat the pins out to change attachments. Not anymore. Now the operator can quickly change from bucket to grapple with no tools whatsoever. That's a great improvement for us and has really helped keep production levels up."
Demolition of the ramp wrapped up in late 2012. The new ramp will be built and open by late 2013, while the Orthopedic and Spine Center is set for a summer 2015 opening.