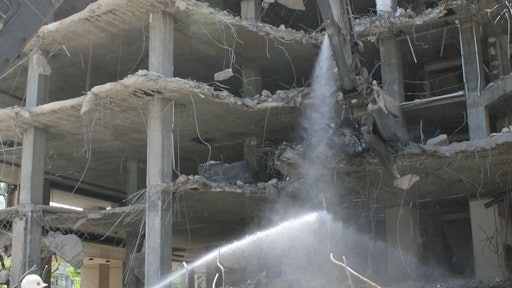 Information from this article was first published in National Demolition Association and is being reused with permission from the Demolition Magazine.
By Larry Trojak
Aside from political bickering and gridlock, the one constant in Washington D.C. seems to be development, as the demand for office space in the nation's capital continues seemingly unabated. A mere three blocks from the White House, at the intersection of 1300 Pennsylvania Avenue and 13th Street, a 12-story office building erected in 1972 is being razed to make way for a new glass and steel structure. Heading up the demo effort is Pece of Mind Environmental who was faced with Washington-like challenges that included close proximity to other buildings, busy traffic, and concerns about dust, noise and vibration. The company answered with a high-reach/attachment combination that moved the project along swiftly and safely, giving all concerned...well, real peace of mind.
Roots in roots
When he decided to enter the workforce at the tender age of 15, Steve Pece saw landscaping as a viable option. Living in the Orlando area, he felt people would need work done on their gardens, lawns and bushes throughout the year.
"I knew I could take care of all their landscaping needs and leave them confident in a job well done, so 'Pece of Mind Landscaping' seemed the perfect name," he said. "I did that work for about four years and was very happy doing it. However, after selling the business at age 20, I started a new company that focused on construction cleanup and providing a dumpster service. Eventually, using the skid steer loader I had acquired for the business, I started dabbling in small demo projects. That was all I needed; I was hooked on demolition."
Nineteen years later, Pece of Mind Environmental, as his company is now known, is Central Florida's most successful full-service, turnkey demolition contractor, offering services that include traditional building demolition, interior demolition, ultra-high reach work, concrete cutting, asbestos abatement and contaminated soil removal. With an impressive fleet of traditional and specialty equipment, and 80 employees to bring it to life, the company has performed work throughout Florida as well as in the Carolinas, Georgia and Texas. "If the project is intriguing enough and economically viable we will travel to do it; the demo in D.C. is a good example of that," said Pece.
Take it from the top
Working as a subcontractor to the Mid-Atlantic office of Hensel-Phelps Construction, Pece and a crew of between 20 and 25 brought down the structure to make way for a new development which will be one story taller and carry the name "One Freedom Plaza." The existing structure sat adjacent to other office buildings, and was located on a busy route for both vehicle and pedestrian traffic, which meant demolition had to be done in as controlled a manner as possible. According to Pece, work on the project began in late 2016.
"There was some asbestos abatement that had to be done before we could come in, but that was all wrapped up by the first of the year and we started shortly after that," he said. "The structure was 12 stories tall which exceeded the 95-foot reach of our extended boom, so we crane-lifted a Takeuchi TB-235 mini-excavator with a hydraulic hammer and a pair of Model TL12R2 Takeuchi track loaders, each equipped with a Genesis Versi Pro 07 attachment up to the roof and started the demo at that point. Because the Versi Pro 07 offers interchangeable jaw sets, we equipped each with a shear jaw and a cracker jaw to maximize productivity. All told, those three floors, about 60,000 square feet in area, took about three months to get down, at which point we took over with the Volvo E480 high reach."
Power without bulk
Though Pece of Mind had used a processor in conjunction with its extended reach machine in the past, both Pece and his operator felt they needed a tool for the D.C. job that weighed less than their existing attachment without sacrificing anything in terms of power and appetite. He contacted Mike Ganier, the Genesis sales representative for the southeast region and was introduced to one of the company's latest demo solutions, the GDT Razer.
"The GDT 290 Razer fit Steve's needs perfectly," said Ganier. "That model weighs about 1,600 pounds less than the attachment they'd been using — perfect for use with the 95-foot-long reach boom — but still has the large, 39-inch jaw opening needed for some of the larger material on that job."
The larger material to which Ganier refers includes columns, the smallest of which measured 2-feet square, and concrete floors which averaged 12-inches thick but, on the lower levels, were as thick as 24-inches. According to Pece, the size of the material was not the only challenge they faced.
"The concrete in the D.C. area has a huge aggregate component, making it strong and dense," he said. "In addition, the entire structure was literally fortified with massive amounts of rebar ranging in size from ½-inch to 2-inches. The GDT Razer's design was perfect for grabbing even the larger sections such as the floor slabs or the columns, crunch the concrete, cut the bar and move on for the next cut. It really helped us keep pace. To such a degree, in fact, that we had originally planned to be taking down one bay — about 4,000 square feet of structure — per day. Instead we were averaging two to three times that."
What lies below
Pece's challenges at the 1301 Pennsylvania Avenue site extended to areas not even obvious to the casual observer. To meet the general contractor's demands, the company laid out its demo plan to allow new construction to begin while the demo was still being undertaken.
"There are three stories of parking garage beneath the existing structure, so they needed construction on the new footings and vertical columns for the new building to be already underway down there," he said. "To make that happen, we broke the job into three phases: we did all the selective demo, high reach and sub-basement work in the first area so new construction could begin in that location. Then we did the same for two subsequent phases, so that, by the time the structure was down and removed, the new construction had been under way for some time."
As is the case with most of its projects, Pece of Mind Environmental recovered and recycled the overwhelming bulk of the debris from the Pennsylvania Avenue project.
"By project's end, we removed about 20,000 tons of material," said Pece. "That, too, is a direct result of the equipment we used on the job. The Genesis GDT Razer, because it is able to quickly and effectively separate out so much of the concrete from the rebar, allowed us to get larger volumes of segregated material off site faster. Both Mike Ganier and Genesis as a whole have been excellent throughout this project, stepping up when it was needed and helping keep things on track. Considering the location of the structure and the tight window to get things done, we couldn't be happier with the way things turned out."