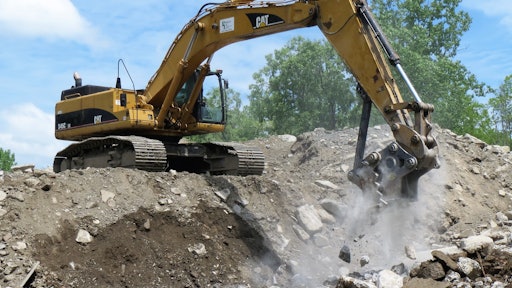 Profex, Inc., a Newburgh, NY-based general contractor, has found a cost-effective way to recycle concrete in-house with the Strickland SCP80 Mechanical Concrete Pulverizer. The firm purchased the attachment from Ransome Attachments of Marlton, NJ, in March 2017.
The SCP80 is mounted on a Caterpillar 345C L excavator and has been chewing away at a roughly 40,000-cu.-yd. stockpile of concrete slabs, foundations, walls, light pole bases and footings left over from Profex's building and site projects. The pile is supplemented by the occasional incoming load from a customer. A Powerscreen Trakpactor 320SR horizontal shaft impactor crusher is the centerpiece of the "closed circuit" operation.
"It comes down to cost," Profex's Brad Pelella said of the decision to buy the attachment. "It costs more money to have someone sitting on a breaker and getting less done in a day. By breaking the concrete down, I can put it through my crusher and process it for less dollars per yard." The concrete pulverizer is allowing him to generate up to 300 additional cubic yards daily.
Once the pulverizer feeds the broken concrete waste into the crusher, the finished product is dumped onto a 60-ft. stacker. The processed material is then used on the contractor's projects or sold to customers for applications ranging from parking lot subbase to backfill for trenches.
A Less Costly Yet Durable Alternative
Profex chose to purchase the CAT 345C L in early 2017 in response to a growing demand on its projects for recycled concrete. It helped that the firm already had the required permitting to accept concrete waste, which is increasingly difficult to obtain.
The company needed a sturdy mechanical pulverizer to channel the power of its new 45-ton excavator, but wanted a cost-effective, yet durable alternative to the pricier brands on the market, according to Pelella. The company found the SCP80 on the internet, but admittedly had doubts about its durability based on the low cost.
These concerns proved unfounded. "The only difference in the attachments is the jaws. In the [more expensive brand] they're bolted, and in the SCP80 they're welded," Pelella explained. "I've used the Strickland quite a bit in the few months we've owned it and there's little to no wear on the jaws."
Eric Ransome, owner of Ransome Attachments, said Profex's experience is typical of his Strickland customers. "The cost-effectiveness is just phenomenal," he added. "Everything about Strickland saves you money without losing the quality."