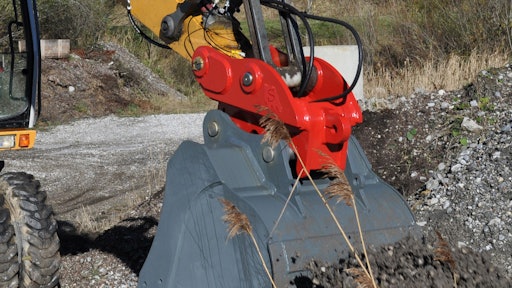 These quick couplers feature a wedge-locking principal to connect to attachments in two places for optimal locking force.
Four versions include hydraulic pin-to-pin, mechanical pin-to-pin, Nordic style S-lock and tilt or tilt rotation
Made of high-alloy steel and available for excavators with 2,200- to 220,000-lb. operating weights
Wedge locks at 1,730 psi and unlocks at 3,455 psi
Step-by-step, in-cab controls and specific operator commands required to lock and unlock attachments
Safety knuckle automatically engages onto the front pin, which can only be released by the operator
Self-adjusting wedge locks the second pin to secure the attachment as soon as the lock switch is deactivated
Coupler fully reattaches to secure attachment if it doesn't fully detach within a set timeframe during attachment removal
Operators can customize the auto-lock time period from five to 12 seconds
Separate open and close buttons and an audible alert system notify the operator when the wedge and safety knuckle are open or closed
LED lights and beeping signal provide clear indication of whether or not the wedge has successfully captured the rear pin
Rear-lock safety device ensures wedge does not retract and disconnect the attachment if hydraulic failure occurs
Pair easily with buckets, rippers, rakes and mechanical grabs as well as a wide range of demolition, forestry and land clearing attachment.
Request More Information
Fill out the form below to request more information about
Solesbee's Quick Couplers