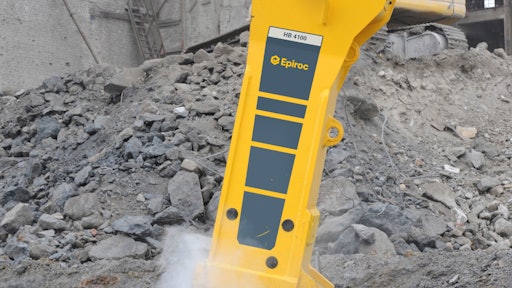 The ever-increasing number of available hydraulic breaker models, size classes and features make selecting the optimal versions for your fleet more difficult. Yet, the basics of selecting these attachments still apply. Following are some best practices to help guide you through the process.
Properly Pair to the Carrier
It's important to ensure a proper pairing of the hydraulic breaker (hammer) to the carrier it will most frequently be mounted on. Check the rated operating capacity or lift capacity of the machine to ensure that any attachment used will not exceed this capacity, which can result in excess wear and tear as well as potential tipping risks.
Also determine the auxiliary hydraulic flow and pressure requirements for the breaker and assess whether the carrier can match these requirements. Too little flow and pressure will result in the breaker being unable to perform effectively, adding time and cost to the job. Too much and it could damage the attachment and potentially the carrier.
Consult manufacturer recommendations or work with your local dealer to determine the best match of size and capabilities for the breaker and carrier you intend to use.
Match to the Task and Material
When sizing a breaker, pay attention to the applications and types of materials it will commonly encounter. Consider the volume of material you need to break and any jobsite constraints that may limit the size of machine and attachment that can be used.
Take into account material type and condition. Are you working in soft, medium or hard rock? Does the material contain cracks and crevasses, or is it solid? What is the average thickness of the material? If concrete, does the material contain any reinforcing steel?
Small breakers can be effective in soft to medium materials, but typically aren't as efficient for breaking up thick concrete. Larger breakers may be overkill in softer materials, yet offer added power and productivity in hard, thick materials and when breaking up large areas.
Knowing what you need to use the breaker to do can help you avoid acquiring a more expensive attachment than you need, or paying to repair a breaker that turned out to be sized inappropriately for the job.
Consider Advanced Features
Advances in breaker design can fine-tune operation and maximize the operating life of the attachment. For example, automatic power adjustment can help adapt breaker output (impact energy and speed) to the hardness of the material, while energy recovery systems are designed to capture the piston's recoil energy to help power the next blow.
Other available features can include blank firing protection, automatic lubrication, noise suppression, dust suppression and more. Assess the application and jobsite conditions to determine if such features may be needed to keep the breaker running efficiently and/or meet specific jobsite requirements.
When Less is More
Even as many hydraulic breakers advance in features, there has been a move by a number of manufacturers to simplify the overall design of specific models. Some have chosen to move to solid housings and to reduce the number of internal components to maximize durability and reduce service requirements.
When evaluating breaker design, look at the conditions and applications in which the breaker will be used to determine whether a simplified breaker configuration will be more likely to stand up to the rigors of all that it may encounter.