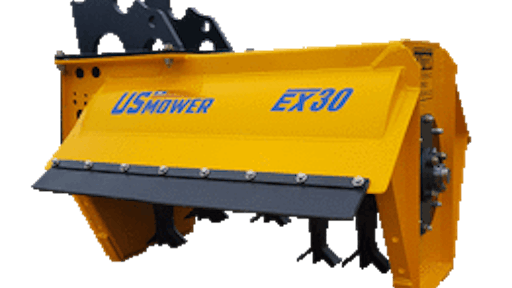 US Mower's EX30 excavator flail mower is built for cutting and mulching up to 4-ft. trees, shrubs, vegetation, grass and weeds. It can also be used to clear riverbanks, ditches, hillsides, utility right of ways, walking trails and more.
Built for parent machines from 4,000 to 10,000 lb.
Triple blade configuration features two flail blades and one thatch blade
5-in. by 3/8-in. Wall DOM electronically balanced cutter shaft with 1.5-in. stubs

3/8-in. custom mount plus hundreds of mount configurations available

3,000 psi pressure and return hoses with Flat Face couplers and 1/4-in. by 120-in. case drain line with 3/8-in. flat face coupler
Gear motor matched to available auxiliary oil flow
High Strength steel

—

3mm shroud, 3/16-in. end plates, 1/2-in. bearing plates
HARDOX Skid Shoes
Polyester powder coat high visibility yellow finish with UV Protection
Optional roller attachment and thumb saddle available
Cutting width: 30 in.
Cutting capacity: 4 in.
Required auxiliary flow: 8 to 22 gpm
Weight: approximately 525 lb.

Request More Information
Fill out the form below to request more information about
EX30 Excavator Flail Mower