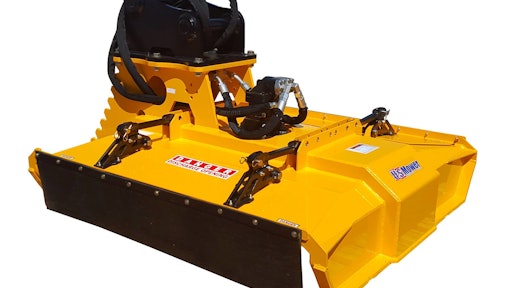 US Mower's EX60SHDR-25T rotary mower attachment is built with high strength steel construction with increased height for better lift on parent machines from 40,000 to 55,000 lb.

Two 12-lb. rotary blades, slotted nut and dowel lock pin
3,000 psi pressure and return hoses with flat face couplers
1/4-in. by 100-in. case drain line w/ 3/8-in. flat face coupler
Gear motor matched to available oil flow up to 2,700 psi.
Optional piston motor for system pressures over 2,700 psi with high pressure hose kit
Machined 4140 steel spindle
Double leaf blade bar T-1 or JFE 2 in. thick by 6 5/8 in. wide by 31.5 in. long
Optional T-1 or JFE blade disc carrier 1-in. thick
HARDOX skid shoes
Polyester powder coat high visibility yellow finish with UV protection
Cutting width: 60 in.
Cutting capacity: 8 in.
Required auxiliary flow: 35 to 55 gpm
Weight: approximately 1,600 lb.

Request More Information
Fill out the form below to request more information about
EX60SHDR-25T Excavator Rotary Mower