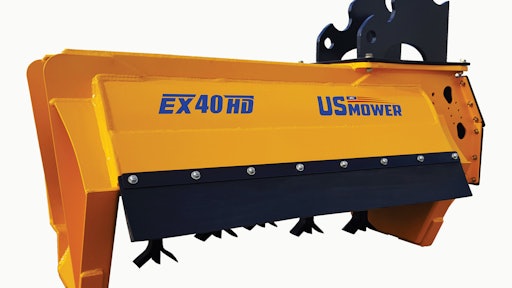 Built for parent machines from 16,000 to 25,000 lb. the US Mower EX40HD excavator flail brush mower cuts and mulches up to 4-in. trees, shrubs, vegetation, grass and weeds. It can also be used for clearing river banks, ditches, hillsides, utility right of ways, walking trails and more.
Built with ultra heavy-duty shroud and solid shaft stub
Complete with custom mount
Triple blade configuration: 2 flail blades and 1 thatch blade
6-in. by 1/2-in. wall DOM electronically balanced cutter shaft with 1 15/16-in. stubs
3,000 psi pressure and return hoses with flat face couplers and 1/4-in. by 120-in. case drain line with 3/8-in. flat face coupler
Hundreds of mount configurations available
Gear motor matched to available auxiliary oil flow
high strength steel: 3/16-in. shroud, 3/8-in. end plates, 1/2-in. bearing plates
HARDOX skid shoes
Polyester powder coat high visibility yellow finish with UV Protection
Optional roller attachment and thumb saddle available
Cutting width: 40 in.
Required auxiliary flow: 15 to 40 gpm
Weight: approximately 800 lb.

Request More Information
Fill out the form below to request more information about
EX40HD Excavator Flail Mower Attachment