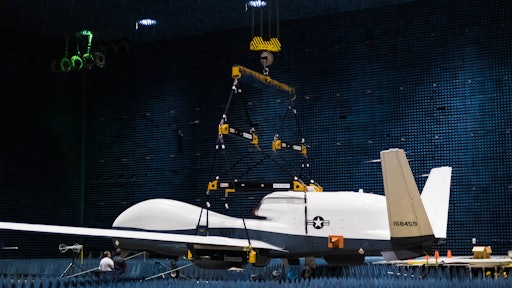 The Caldwell Group recently partnered with Certex Lifting Products to engineer and manufacture a lifting system to support the U.S. Navy's Triton MQ-4C drone development. The system was used in the NAS Patuxent River Anechoic Chamber during two months of specialized testing. 
Certex was awarded the project in late 2014 and immediately partnered with Caldwell due to its Dura-Lite Composite Lifting and Spreader Beam product line. The testing in the Anechoic Chamber required a material that did not interfere with the electromagnetic testing. The composite materials used in the Dura-Lite products offered several advantages, including light weight and non-conductive, non-corrosive properties. 
Caldwell manufactured the main lifting beam, spreader beams and wing cradles. Certex provided shackles and manufactured the slings for the lifting system. All su-assemblies were tested at Caldwell's 84,000-sq.-ft. manufacturing facility in Rockford, IL, and then shipped to Patuxent River for use. 
The system installation and initial testing took place in August 2015. "It was very exciting to be on site for the initial lift and an honor to support the U.S. Navy in this project," says Dan Mongan, product development specialist and lead designer of the Dura-Lite product line.