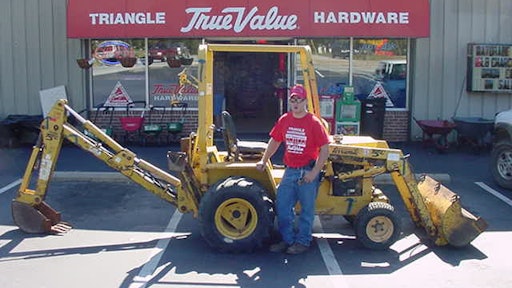 Recently, we conducted a survey of our readers to find out what they considered to be the best product in their rental inventory. The responses we received were not surprising, as rental professionals have always appreciated a machine with a reasonable initial purchase price, that requires little maintenance and is considered so easy to use and productive by customers that they'll return to rent it again and again.
Following are a few of our readers' choices for their favorite pieces of equipment. The staff at Rental magazine congratulates both the manufacturers that produce these rental powerhouses and the rental professionals who have benefitted from owning them.
Terramite T5C tractor-loader-backhoe
Nominated by: Franklin Cloninger at Triangle True Value in Greenwood, SC
"Our store purchased the Terramite T5C in 1998 - that was 13 years ago!" says Franklin Cloninger at Triangle True Value. "A machine with that age is unusual for the rental industry I know, but this machine has been so dependable we just couldn't justify replacing it."
He continues, "The machine's dependability is one reason why it's my favorite. Add to that the TC5's versatility and ease of use, and you have a winning combination. The simplicity of the TC5 also makes it a favorite with the guys in the shop. Maintenance is pretty simple and Terramite has provided great product support every time we've had a question. The end result of this machine is a great ROI and low maintenance cost. At the end of the day it's a money maker."
Cloninger says many of his contractor customers look at this machine for the first time and say it looks like a big riding lawn mower. "They ask us, 'Are you sure this thing will dig a hole?' These same contractors come back and say, 'Wow, that machine packs a punch!'"
The DIY and homeowner customers that rent the TC5 like its small size and easy-to-use controls, Cloninger says. "I've been showing one of our larger backhoes to a customer, and they'll ask 'What about the yellow one? It looks like it's something I can handle.' I start showing them the controls and they have their mind made up. The size doesn't intimidate them and the controls are so easy to use, customers feel comfortable renting it."
Product highlights:
Fabricated from the ground up to be sturdy and productive
8-ft. 4-in. digging depth
Loader rated to lift 1,700 lbs.
Easy to operate and maintain
Barreto 16-hp Tiller
Nominated by: Ed Dobbs at AAA Rentals in Redwood City, CA
"For over 15 years, we've carried the heavy-duty Barreto 16-hp tiller in our rental fleet. It's a workhorse!" says Ed Dobbs at AAA Rentals in Redwood City, CA. "In our area the ground is mainly hard, adobe soil and you must have serious power to effectively till it, which this unit does beautifully."
It's effectiveness is only one of the reasons this is Dobbs' favorite rental product. He says he also appreciates that maintenance is simple. "This is essential in any rental machine," says Dobbs. "We check the tines, remove debris, grease fittings, check the filters, fill it with fuel, give it a shower, then you're good to go. In addition, it comes with an option for a sturdy trailer which makes it simple to move around the yard and for customers to tow to their homes. With a quick tutorial it's also easy for everyone to use like a pro - from professional landscapers to weekend warriors."
As far as ROI, you can't ask for more from a rental machine, Dobbs says. "It's often our first rental to a new customer and an opportunity to create a loyal customer," he says. "They're also so popular with our local landscapers that after a few seasons of use, we can typically recover up to 40% of the original investment by selling it as a gently used unit."
Product highlights:
All-hydraulic technology - no  belts, gears or chains
Simple control panel
Tines rotate in forward and reverse
Safety clutch
Industrial duty
Bosch Brute Jackhammer
Nominated by: Greg Kitchens at Tomball Rental in Tomball, TX
Greg Kitchens with Tomball Rental says there aren't many tools like the Bosch Brute jackhammer. "You buy one, pay the initial price and you have very few expenditures after that," he says. "It's such a durable tool. We paid $1,100 for our first one and have made $19,000 on it with just one set of brushes."
Despite consistent demand from his customers for these tools, Kitchens says he hasn't had to buy many Bosch Brutes because they simply hold up so well to any abuse customers can dish out. "It's the kind of item you look for in the rental business. It's absolutely one of the best tools ever; it's a no-brainer."
Product highlights:
Plug-in-anywhere hammer does not need a compressor
Unit plugs into 115/120V AC/DC 15-amp outlet or 2,500-watt portable generator
ServiceMinder brush system shuts the Brute off when brush replacement, lubrication or preventive maintenance is needed
Shock-mounted handles absorb vibrations to reduce operator fatigue
BilJax Summit Series Trailer-Mounted Towable Booms
Nominated by: Ray Tuuri at Fingerlakes Equipment Rental in Waterloo, NY
Fingerlakes Equipment Rental is a small, independent rental company serving the Rochester/Syracuse area in upstate New York. According to Ray Tuuri, the BilJax Summit Series trailer-mounted, towable boom lifts are perfectly suited to the homeowners he serves. "Fifty percent of the rentals of these machines go to homeowners trimming their trees," he says. "Our customers really like the useability and the features. Plus, they can tow it with a half-ton pickup or a mid-sized SUV, so there are no delivery charges."
He continues, "It's very easy to level. There's just a two-button operation to level it and you're in the basket in under a minute."
Tuuri says Fingerlakes Equipment Rental has owned the model 3632T for over four years and has tripled its investment over that time. "It paid for itself in one year," he said, noting that the company acquired the model 4527A in July and the machine returned 15 percent of its cost in just under two months.
Product highlights:
2622T, 3632T and 4642T telescopic booms with maximum working heights ranging from 32 ft. 6 in. up to 52 ft. 4 in.
3522A, 4527A and 5533A articulated booms with maximum working heights ranging from 43 ft. 2 in. up to 61 ft. 6 in.
2622T offers a 440-lb. load capacity; all other machines in series offer up to 500-lb. lift capacities
Automatic self-leveling hydraulic outriggers (with extra-large, non-marking footpads) allow for use in less than 30 seconds when all outriggers are deployed simultaneously
Models offer the same simple-to-understand layout and push-button design for ground level and platform controls
Transportable by a standard 1/2-ton pickup at up to 65 mph
BOMAG BPR 35/60D Reversible Diesel Plate Compactor
Nominated by: Paul Tomblin at Home Hardware Building Center in Wellesley, Ontario, Canada
At the Home Hardware Building Center in Wellesley, Ontario, the biggest piece of equipment in fleet is the BOMAG BPR 35/60D reversible plate compactor, which was added in April of 2010. Since then, the response from customers has been phenomenal. "People like how it works and how it handles," says Paul Tomblin, manager of the rental division. "It starts in half a pull, so customers don't have to exert themselves."
Currently, the Wellesley branch has just the one BOMAG unit. "We've been testing the market, and we'll add another one for sure in the next year," Tomblin says. "Customers prefer this over competitive models; they've asked for it specifically."
Product highlights:
Powered by a 4.16-hp Hatz air-cooled diesel engine
New vibratory exciter design provides 23-percent faster working speed
13-percent increase in centrifugal force over previous models
Maximum vibration frequency is 4,800 vpm
Heavy-duty wear-resistant base plates feature reinforced edges and have a working width of 23.6 in.
High-strength, grain-refined steel hood
Terex PT50 Compact Track Loader
Nominated by Jeff Krueger at Rentalex in Kalamazoo, MI
"We've been an ASV (now Terex) dealer since 2002," says Jeff Krueger at Rentalex. "The 50-hp ASV/Terex track loaders are the most popular size for both contractor/landscaper applications as well as homeowner/DIY users. The PT50 machines are very reliable with very little downtime and maintenance. This is important for our business, and it's also very important to our customers."
 Krueger says The PT50 is unique in its class due to the positrack undercarriage which allows it to travel more quickly and smoothly than other machines, and at the same time, have a lower ground pressure so it minimizes turf damage. "My favorite thing about these units is the response we receive from both commercial and consumer customers the first time they return with the PT50," Krueger says. "They're all amazed at how much more efficiently their project went. Contractors love the speed and ability to grade and carry material so much quicker than traditional skid steers. Homeowners love the fact they could work on that project in the back yard and not have to repair the lawn in the front when done."
Product highlights:
Patented Posi-Track suspended undercarriage technology maximizes traction and flotation
6,200-lb. operating weight distributes only 3.5 psi of ground pressure
Powered by a 50-hp naturally-aspirated diesel engine
Pilot-operated joystick controls
Load-sensing hydraulic system helps prevent engine stalls
Optional smooth Turf Tracks or Extreme Terrain Tracks with aggressive treads
Companies in this article