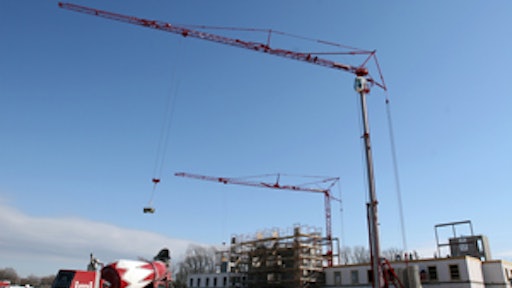 A Potain Igo T 70 is lifting and placing specialized concrete floor and wall panels which range in weight from 1,200 lbs to 2,000 lbs at an East Hall dormitory construction project in Indianapolis, IN. The Igo has been on the construction site since November 2008 and an HDT 80, was added in February. Contractors added the second crane to speed up the project, which fell behind schedule as a result of winter weather.
For both general contractor Shiel Sexton, and lifting subcontractor Charles Masonry, this project was their first exposure to self-erecting crane technology. Jerry Charles, president of Charles Masonry, says his company would typically use a rough-terrain crane to lift the concrete panels into place.
"We considered the ground adjustments needed to avoid making tire ruts with a rough-terrain crane and decided to use a self-erecting crane instead," he said. "Our operators found these cranes extremely easy to erect and operate. I would recommend them to other contractors."
Josh Whitt, Shiel Sexton's project superintendent on the job, said there was significantly less ground preparation required for the Potain self-erecting cranes.
"For the two Potain self-erecting cranes, I only had to prepare two 20 ft by 20 ft compacted stone pads," he said. "There was no heavy concrete and steel mat and 30-day curing time required."
Self-erecting cranes are growing in popularity in the United States. Part of the reason, is that they can replace multiple pieces of mobile equipment on a job site, as occurred on the East Hall project.
According to Ed Albany, crane rental specialist for Indianapolis-based Potain dealer R.H. Marlin, which rented the cranes to Charles, reach and height are the main reasons for this.
"Both the Igo T 70 and HDT 80 have enough height and reach to pick the concrete panels from the staging area and lift them into place on the building," he said. "The contractor was able to eliminate a number of rough-terrain forklifts that would have been used to feed the cranes."
Whitt said eliminating this equipment ultimately led to a much faster construction process.
"With these cranes, we are able to have full access for equipment and other trades all the way around the building from day one, which should help the overall schedule," he said. "We are anticipating good time savings with the self-erecting cranes."
The Potain Igo T 70 is a 4.4 USt maximum capacity self-erecting crane with a telescopic mast that can add mast sections to vary working heights between 49 ft and 105 ft. The Potain HDT 80 also has a telescopic mast that can offer three different working heights, with a maximum hook height of 176 ft. Maximum capacity for this crane is 6.6 USt.
Another feature that adds to the efficiency of Potain's self-erecting cranes is the remote control. The remote allows operators to stay with the load they are picking and help guide it into place. This eliminates some of the chance of error in hand signals and communication between the crane operator and a worker guiding the load into place.
Potain self-erecting cranes also have a minimal environmental impact. The cranes employ electric motors, which have no engine emissions; reduced fuel costs and are very quiet. This is particularly important when working in a close campus setting, Whitt said.
"The fact that these cranes operate very quietly is certainly an asset for contractors working in close proximity to other commercial or educational facilities," he said. "Furthermore there are no fumes from a diesel engine, which suits a lot of working locations."
Companies in this article