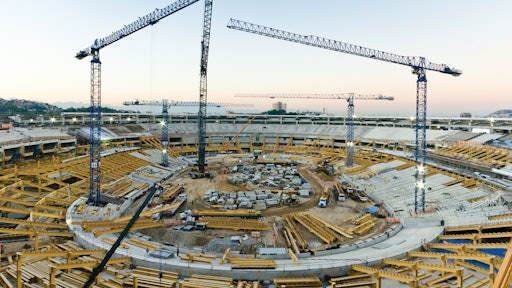 The Challenge:
Renovating a soccer stadium originally built in 1950 to make it ready to host FIFA World Cup 2014 games and the 2016 Olympic opening and closing ceremonies.
The Players:
Empresa de Obras Públicas do Estado do Rio de Janeiro
Secretary of Works
Odebrecht Infraestrutura
Andrade Gutierrez
The Process:
The Jornalista Mário Filho soccer stadium, better known by the name Maracana, in Rio de Janeiro, Brazil, was built for the FIFA 1950 World Cup, where it hosted both the opening and closing games. For many years, it has been the sports venue with higher capacity, up to 200,000 people. It is now under renovations to host again another FIFA World Cup in 2014 and also the opening and closing ceremonies of the 2016 Olympic Games.
The project belongs to EMOP - Empresa de Obras Públicas do Estado do Rio de Janeiro - and Secretary of Works, and is executed by "Consórcio Maracanã Rio 2014". This consortium, formed by construction companies Odebrecht Infraestrutura and Andrade Gutierrez, relies on four 21 LC 400 tower cranes from manufacturer Linden Comansa. The cranes, with maximum load capacity of 19 tons, have been erected with jib length of 230 feet, which allows them to reach the entire jobsite. Their most important task up to now is mounting the metal structures of the tiers of seats, although soon they will be helping on the assembly of the steel cables of the ceiling, which will cover 96 percent of all seats.
Due to Linden Comansa's modular system and the flat-top design, the cranes have been erected with a difference on height of only 18 feet, in other words, one mast section, which supposes an important saving in costs of erection and disassembly of the cranes. Thus, the lowest crane has been erected at a freestanding height of 119 feet, whereas the highest has been erected at a height of 173 feet.
The new "Maracaná" stadium, which will have capacity for almost 79,000 spectators, should be finished in February 2013, four months before hosting its first competition, the FIFA Confederations Cup.
New Stadium on Track for 2014 World Cup Games