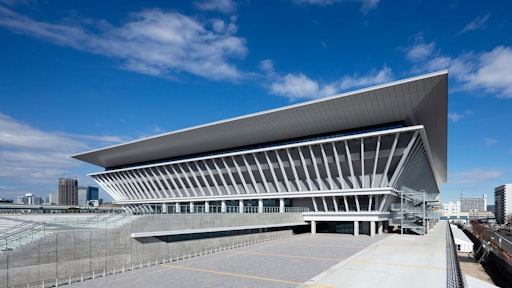 ©Tokyo Metropolitan Government
One could consider the swimming events as one of the most popular events of any Summer Olympics—likely ranking high in most "top 5" lists around the internet. It is in these waters, athletes dive in and use every muscle they can to breach the surface to find if they've earned the nickname "GOAT."
After being postponed for a year due to the global pandemic, the worldwide event is scheduled to return for Tokyo, Japan. Where national sports here in the U.S. have already begun, the Olympics will likely be a historic event as the globe slowly returns to a normalcy; stadiums filled with fans able to sit next to each other, sports bars packed with chatter and debate on who which country will win which events. 
COVID vaccines have been rolling out to more of the population. Additional safety procedures have almost become second nature by now, likely many become habit.
The 2021 Summer Olympics will be a monument to the normalcy we only once dreamt of as January 2020 feels like it was eons ago.
It's common for hosting nations to construct new facilities to house the major sports. In fact, the 2012 London Summer Olympics had 75,000 firms involved in the construction of its various facilities having used almost 230,000 cubic ft. of recycled concrete from other Olympic venues. (See more details at forconstructionpros.com/10744705.) Measuring over 323 ft. (200 m) long with a 236,806 sq. ft. (22,000 sq. m.) footprint, according to Aug. 2011 news London's Aquatics Centre was the second-largest main venue after the Olympic Stadium. The building formed the 'gateway' to the Games (forconstructionpros.com/10365509).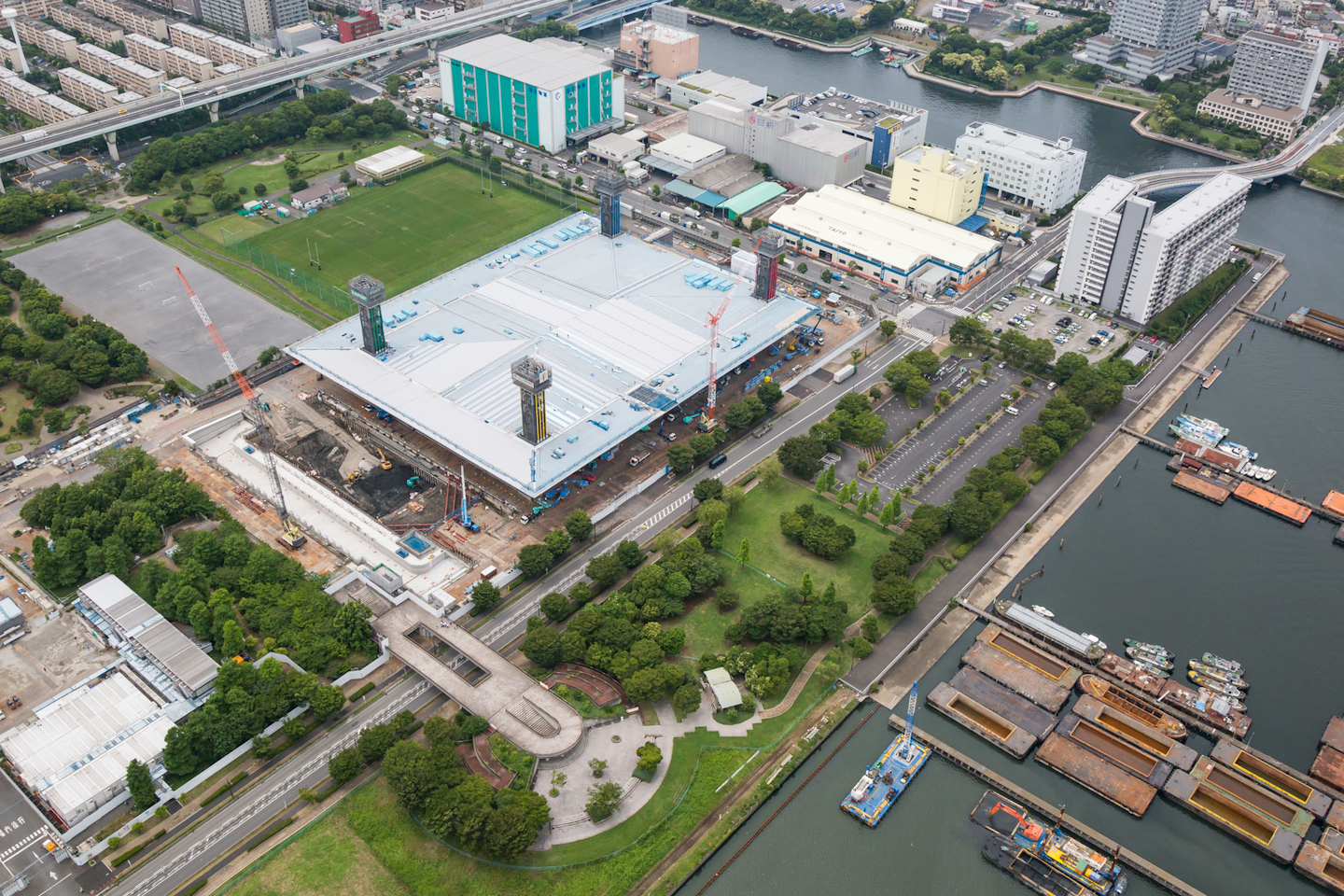 ©Tokyo Metropolitan Government

Completed in Feb. 2020, the Tokyo Aquatics Center was constructed by the Tokyo Metropolitan Government (TMG). The building will be a total of five floors, four above ground with one below. It rises to a height of 122 ft. (37 m) with a total floor area of a staggering 705,000 sq. ft. (or 65,500 sq. m.).
As reported in their Oct. 2020 inauguration announcement, all eight Tokyo 2020 new permanent venues were completed on schedule. Careful consideration went into every detail from the bathrooms to the heating of the pool's water. Based on the Tokyo 2020 Accessibility Guidelines, the facility's layout was designed to be accessible to all, including the elderly, people with impairments, parents with young children, and those with guide dogs. TMG provided special attention to even the seating, providing everyone a chance to see the action clearly, even if spectators sitting in front of the wheelchair seats standup. The venue's solar panels and ground heat exchanger systems to heat the water for the 10-lane pool, significantly reducing the facility's carbon footprint.
The Center includes the main pool, a sub-pool, and a diving pool and should be able to seat a capacity of 15,000 at Games-time. Until the Games conclude, TMG has limited access to only sports federations for competition and practice use. Afterward, plans are to open the facility to the public for all to "engage in sports and improve their health and wellbeing."
Job Specs

122 ft. tall
705,000 sq. ft. floor area
1,765,700 cubic ft. of concrete placed
5 to 7 hour average pours 
Construction
The venue features impressive architecture and innovative engineering. Oddly enough, construction began with the 7,000-ton, 33 ft. thick (10 m) roof. While unconventional, this method ended up shortening the construction period saving the labor of elevating both workers and equipment. Crews hoisted it up to the 121 ft. (37 m) height in three steps supported by four core pillars. Once in position and the lift-up equipment removed, the roof provided the needed safety and improved efficiency for the remaining construction.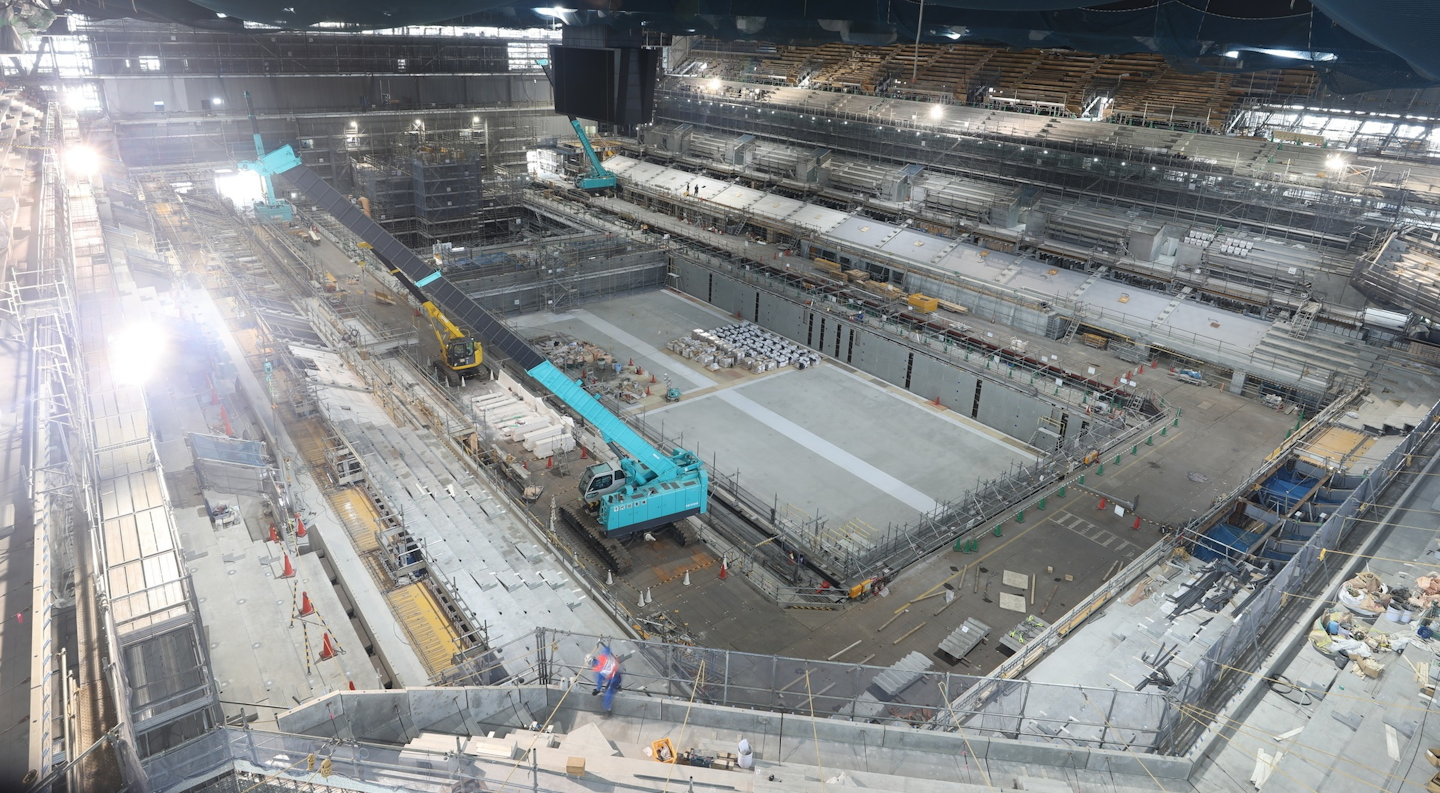 ©Tokyo Metropolitan Government

Construction was a joint venture comprising of a team of corporations and contractors, including the Obayashi Corporation, Toko Electrical Construction Co. Ltd. , Ergotech Co. ltd and Tonets Corporation. The building construction was headed by Obayashi Corporation, TEKKEN Corporation. SEIBU Construction Co. LTD. , and TSUCHIYA Corporation.
Contractors were selected through a hearing of academic experts by seeking proposals related to performance, functions, technology, and comprehensively evaluating the construction cost along with the technical proposals adopted through the Technical Review Committee. The subcontractors that handled the specialized work included Toko Electrical Construction Co. Ltd., KURIHARA KOGYO Co., LTD., SHINSEI TECHNOS Co., LTD. (electric work); Ergotech Co. ltd., Sakurai Kogyo Co. ltd., IKEDA Air Conditioning Co. Ltd. (for pumping/sanitary); and the Tonets Corporation, TAISEI ONCHO CO., LTD. (ventilation). 
Concrete Pumps Used in the Construction:

Kyokuto Kaihatsu Kogyo Co.,Ltd., PY120-33
IHI Corporation, IPG70B5N17W
Putzmeister, BSF28.16H 
Selected via proposals, the basic design was done by Yamashita Sekkei Inc. "Yamashita Sekkei Inc. was considered technically appropriate for the operation which requires technicians engaged in the design process to possess applicable knowledge, conceptional ideas, and applied skills," says TMG.
©Tokyo Metropolitan Government

Proposals need to consider four "tasks" required by TMG that included the ability to respond to a potential shortage of materials and/or workforce numbers; have experience and technical capability in the construction of the swimming pool; detailed plans on safety while being as efficient as possible; and design initiatives towards employing young workers and female technicians.   
International swimming pool standards are certified by the rules of Federation Internationale De Nation (FINA), so construction accuracy needed to be a high priority—acceptable tolerances were to be between 0 to 10 mm. FINA rules regulate the depth and width of all Olympic and world championship swimming pools. A full list of rules and limitations can be found at www.fina.org/rules/facility-rules.
To accommodate these strict guidelines, TMG adopted a promising design-build system for reliable construction process management and quality control to rationalize safety design and to improve the efficiency of design through achieving technology from knowledgeable engineers with technological skills in design to construction. TMG had a team mock-up the design during the verification process in advance to secure construction accuracy for swimming pool concrete placing. This consisted of a team no larger than 15 people including designers, constructors, and subcontractors. 
According to TMG, approximately 1,765,700 cubic ft. (50,000 m3) of concrete was placed with an average time of five to seven hours per placement. Construction utilized plywood forming and the Lath form construction method was used in the backfilling and deck construction on the overgrounds.
According to the 2001 patent, the Lath form construction method is defined as:
"A sheathing board formed by integrally incorporating a protruded support protruded outside and having a substantially U-shaped cross-section and lath net is used and is incorporated by fixing a lateral batter on an outer face of the protruding end face of the protruded support which is protruded to the outside. A flat deck is disposed on the sheathing board. Concrete is laid with its weight being supported by the protruded support, so that the bracing and the wall as well as the slab are laid simultaneously."
The Tokyo Aquatics Centre was inaugurated in Oct. 2020. As aquatics is one of the most popular sports of the Olympic and Paralympic Games, and the Tokyo Aquatics Centre will see performances from some of the most popular athletes of the Games as it hosts Olympic and Paralympic Swimming, Diving, and Artistic Swimming competitions.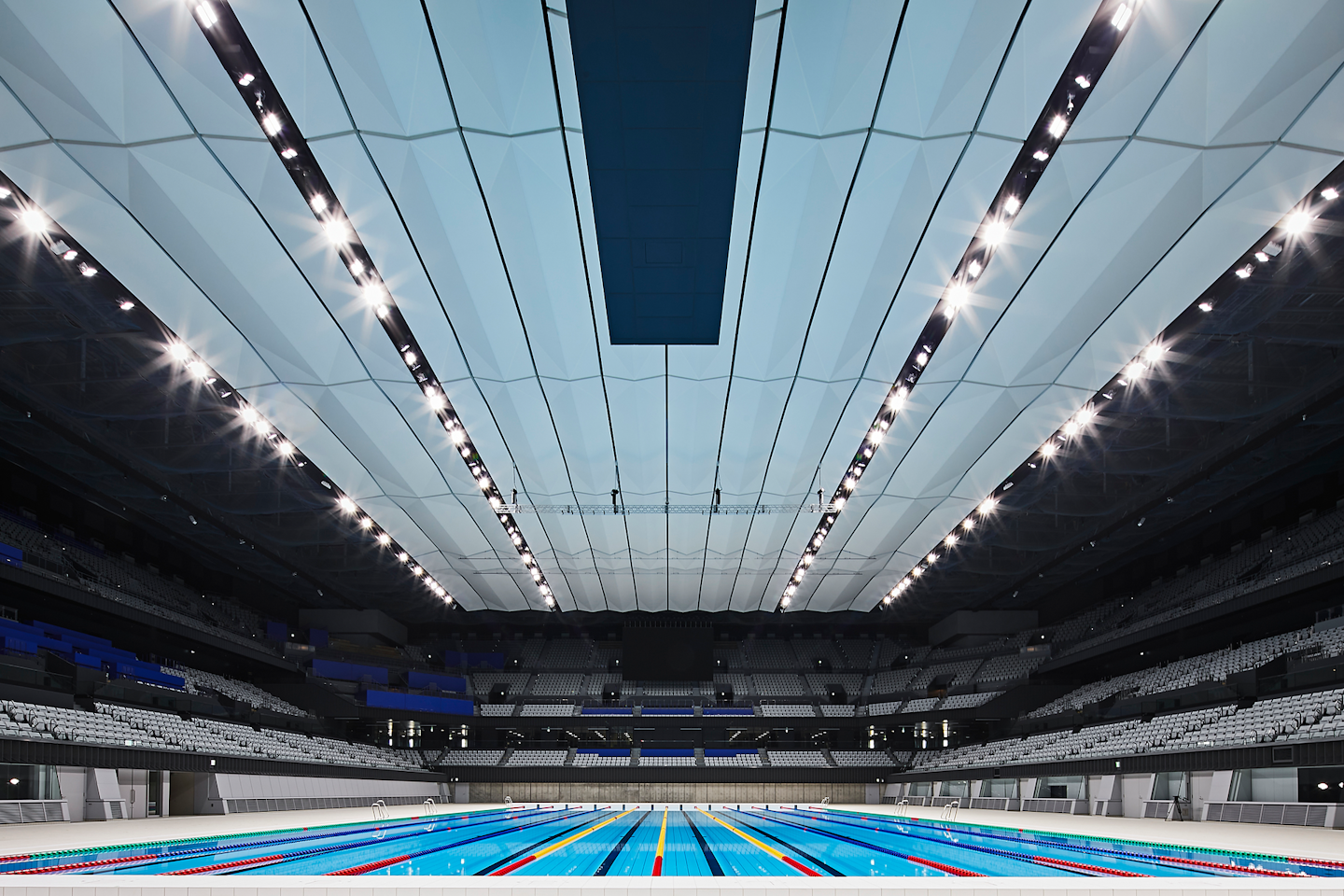 ©Tokyo Metropolitan Government