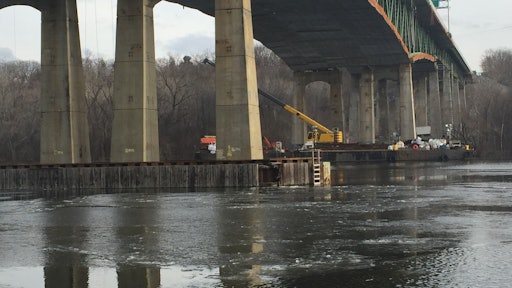 The Patroon Island Bridge, which spans the Hudson River in New York, connects the state's Albany and Rensselaer counties. More than 70,000 people travel over the 1,795-ft.-long bridge on a daily basis.
A recent project to repair the bridge presented a unique challenge to contractors. Halmar/A. Servidone – B. Anthony, a joint venture contracting team consisting of Nanuet, NY-based contractor Halmar International and Castleton, NY-based A. Servidone Inc/B. Anthony Construction Corporation (ASIBACC), were tasked with the tricky set of repairs.
A lifting solution was needed that could place a crane on a barge below the bridge, while traffic continued to flow above.The team chose to use a Grove GHC75 telescoping crawler crane for the project because of its stability and maneuverability. The crane was rented from Stephenson Equipment, which has been providing sales and rentals of construction equipment, paving equipment and cranes since 1957.
The GHC75 has the ability to pick and carry at 100% of its load chart and can swing loads a full 360°. This makes it well-suited for barge-mounted applications, as it can lift from any angle at which the water below positions the barge. The crane can also lift or place loads from or to any location around it, providing maximum versatility.
Tom Valenti, engineer for ASIBACC, said the 75-ton-capacity GHC75 struck the optimal balance between the stability of a crawler crane and the telescoping boom of a rough-terrain crane. "Any crawler crane will keep you balanced on the water due to its wide treads, like those of a tank," he said. "What makes the GHC superior to the average crawler is its telescopic boom. We can move what we need to move with a simpler, more direct motion. There's no need to swing the boom and sacrifice stability."
Compact and Maneuverable
The crane's primary function was the erection of structural lifting towers, which had the company place steel piers in the water on which the bridge bearing sits.
"This was a project where we needed to thread the needle," Valenti said. "We had to move 6-ton steel beams up to 80 ft. in the air with precision, all without disturbing the barge. The crane's 118-ft. boom and low center of gravity allowed us to do just that."
The crane's compact 42-ft. 6-in. long by 10-ft. 6-in.-wide footprint also led to unanticipated savings for the company. "We usually have to hire a tugboat to move us around the pier to get the crane in position during bridge construction," Valenti explained. "Thanks to the compact nature of the GHC75 and its crawler crane maneuverability, we were able to service the bridge from a single position on the river, which resulted in considerable cost savings."
The project began in June of 2013 and was completed in December of 2015.