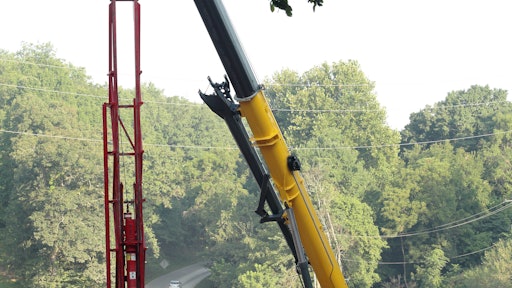 Lake Atalanta Park in Rogers, AR, closed in mid-2015 to undergo renovations after years of deterioration. A crucial component of the park's rehab took place last August and involved building an elevated retaining wall in difficult jobsite conditions. Construction called for piles to be driven in the wet, uneven soil of a creek bed, and the jobsite only allowed for a 30-ft. radius to work in.
Arco Excavation & Paving was the contractor tasked with building the retaining wall. The Bentonville, AR-based company chose a Grove GHC75 telescoping crawler crane to perform the pile-driving portion of the project . The crane's crawler tracks enabled it to maneuver on the creek bed, while its telescoping boom gave flexibility in lifting and carrying loads. 
Mike Snook, who worked for Arco as the foreman on the project, had never worked with a telescoping crawler crane before this job. After discovering the GHC75, he was confident that he could handle the pile-driving without using a larger crane, saving time and money on the job. 
"I've got 20 years of excavation experience," he said. "But driving piles with a telescoping crawler crane was relatively new to me. I went to the rental yard thinking I would be coming back with a larger lattice boom crane, but the Grove GHC75 was better suited for this type of project. It had the crawler tracks to maneuver with and a compact footprint that could fit on this jobsite." 
The Rated Capacity Limiter with graphical display proved easy to use, providing all the necessary operating parameters and real-time diagnostics. When combined with the crane's load chart, Snook found that he could quickly set up his lifts with more confidence than usual. 
"Even after reviewing the load chart to prepare for each lift, this crane had more to teach me as I went along," he states. "It told me what I could and couldn't pick up in real-time and assisted me in making adjustments before each lift. I was trying to avoid lifting at 70% of my load, and the in-cab display made it easier for me to stay between 40% and 60%." 
Lifting Power Plus Maneuverability
The 75-ton crane drove approximately 40 H-beam piles into the creek bed using an 8.5-ton diesel pile hammer. The height was 93 ft. for each pile. The crane also picked and set 10' x 10' drainage boxes that weighed 15 tons each, as well as 15' x 21' trench boxes that weighed 7.5 tons each. The machine's full-power hydraulic boom allowed for the telescoping of loads from 36 to 118 ft., which ensured that all lifts could be quickly and precisely moved in tight quarters. 
The crane's maneuverability played an equally important role. The three-position, hydraulically extendable undercarriage adjusts the width of the crawler's tracks by moving them inward or outward from the crane's center. This enabled Snook to perform heavy lifts in a small, uneven space. In addition, the crane's 100% pick-and-carry capabilities allowed it to quickly move around on the jobsite since no outriggers were needed. 
"We were working in very tight quarters on that creek bed," Snook said. "We also had to contend with cars driving past all day long. There was no room to set up the outriggers that you find on a more traditional hydraulic crane. With the GHC75, I was able to drive right into place, spread the tracks out all the way and perform the lift." 
The pile-driving portion of the project was completed in August, allowing renovation of Lake Atalanta Park to stay on track for its October 2016 deadline. After 16 months of construction, the park reopened on October 29th.
Companies in this article