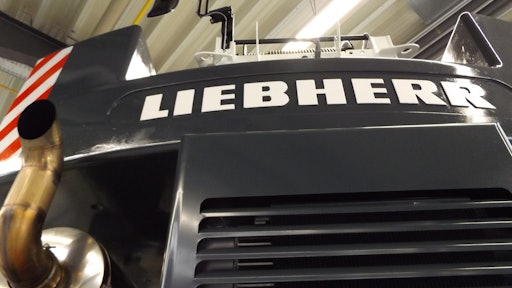 During its 2016 Information Tour for the international construction trade press, Liebherr Group announced its re-entry into the rough-terrain (RT) crane product segment after a 20+ year gap. The company will officially launch its first two models at CONEXPO-CON/AGG 2017 in March. Sales of the 100-ton LRT 1090-2.1 and 110-ton LRT 100-2.1 will start at the beginning of the year with delivery expected in the second half. The products will be manufactured at the company's massive crane production plant in Ehingen, Germany.
According to Christoph Kleiner, managing director sales at Liebherr-Werk Ehingen GmbH, the impetus behind the company's return to the RT crane market was its customers. "Roughly 20 years ago, we decided to focus our product range mainly on LTM (telescopic mobile cranes) and LR (crawler) cranes and to discontinue our rough-terrain LTL crane production," he indicates. While this proved a successful strategy for the company, as Kleiner points outs, "We were consistently asked why we ever stepped out… from the RT crane business. Customers were really kind of demanding we start producing these types of cranes again."
Liebherr apparently determined the timing was finally right to acquiesce to those demands. "With the overall economic situation, the range we have established and the overall footprint we have reached [at the Ehingen crane production facility], we feel it's time to open this third [product] line… and step into the RT crane business again," says Kleiner.
Combination of Required and Standalone Features
Discussions with key global customers on the optimal design approach to the RT line started three years ago at bauma 2013. Particular attention was directed to North American users. "Fifty percent of RT cranes sold and marketed are in North America and mainly by American-based manufacturers. It became clear very soon that in coming up with a new design, the concept must be suitable for this major market," Kleiner comments.
While seeking ways to differentiate Liebherr RT cranes from other suppliers, design engineers also had to address customer demand to "match" certain features and capabilities. For example, customers indicated they wanted Cummins engines. "We are jumping into a shark tank with existing, proven, accepted machines, so we cannot re-invent the wheel," says Kleiner. "Liebherr is design matching existing requirements in the RT crane industry while also [incorporating] its own standalone features."
Many of these standalone features center around enhancing safety. Examples include the VarioBase variable support base; LICCON controller with load moment indicator; standard sliding beam monitoring; and tilting operator cab for enhanced visibility to the load.
And while existing Liebherr customers may recognize some features from the company's all-terrain (AT) cranes, Dr. Ulrich Hamme, managing director, Construction and Development, Liebherr-Werk Ehingen, assures that the RT cranes are targeted for rough-terrain applications. "The technology and technological fundamentals of the LRT cranes were derived from our wealth of experience from the Liebherr mobile cranes," he acknowledges, "but are tailored specifically to the requirements and the demands of rough-terrain cranes. An RT is not an AT."
Of course, tailoring to the market also includes meeting customer expectations when it comes to price. "That is one of the items that we had to match," Kleiner states. "We were very careful during the whole design process not to exceed price limits, and to be at a cost level where we can be competitive in the market."
Liebherr plans to ease into the RT segment with two models in 2017, but fully intends to offer a complete lineup over time. How quickly this occurs will be based on customer acceptance and market conditions.