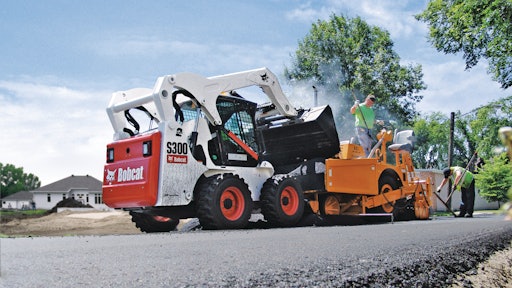 In any given year between 50,000 and 70,000 skid steers are bought by contractors in the United States, and versatility of the machine is the primary reason contractors add it to their production fleet.
Mike Fitzgerald, product representative for Bobcat, adds that the market for skid steers has grown substantially in the last 10 to 20 years. "Twenty years ago you'd see a skid steer parked on a job site either finished with its work or waiting to be used," says Fitzgerald. "Today it's not unusual for a skid steer to be used on a job all day because of what it can do, because jobsites have gotten smaller, and because of the huge variety of attachments available to contractors."
Gregg Zupancic, skid steer and compact track loader marketing manager for John Deere, adds that skid steers now often replace several larger pieces of equipment, each of which can do only one type of job. "Contractors can use skid steers as a surprisingly strong production enhancer for their fleet. For a relatively low acquisition cost or monthly payment a contractor can put himself in a skid steer," Zupancic says. "You might be able to get two skid steers plus a few attachments for less than what it would cost to buy a dozer, for example. And the versatility of attachments available, either through purchase or rental, makes this a piece of equipment that has really come into its own in the last 20 years."
1. How much weight will you be lifting?
While the Association of Equipment Manufacturers categorizes skid steers (and compact track loaders) by weight, owners and operators need to place much more emphasis on rated operating capacity, generally referred to in specifications as ROC, which indicates how much weight the skid steer can safely lift. ROC measurements are standardized through SAE.
"A lot of contractors don't really understand what that rated operating capacity really means but it's really a good thing for them to know," Zupancic says.
To determine the ROC, each model of skid steer is tested using the same procedure: The skid steer bucket is raised in the lift path to the point where the bucket is farthest from the operator. With the bucket extended it is filled with weights until its rear wheels lift off the ground, in other words until it tips slightly forward. That measurement is the skid steer's tipping load. The industry divides that tipping load by 50% to determine the ROC, so if the tipping load is 3,000 lbs., the rated operating capacity of that unit is 1,500 lbs. (ROC for compact track loaders is determined through the same process, but CTLs are usually rated at 35% of their tip load instead of 50%.)
"It is very important to understand that rated operating capacity has nothing to do with a machine's breakout and lift force capabilities," says Caterpillar's Pierre L. Verdon. "Machines with equal rated operating capacities may have completely different breakout and lift-force capabilities."
Zupancic says contractors shouldn't skimp on the ROC either and should look at a unit that has a rated operating capacity at or above the expected regular lift weight. "If you're regularly going to be lifting 2500 lbs. you don't want to get a skid steer rated at 1700 lbs.," he says. "Technically that might fit in the range but by pushing the skid steer so close to it's limit a contractor would be negating any margin of safety the industry and manufacturer build in. In a case like that the contractor really needs to look at a skid steer with a higher ROC rating, a skid steer that has a tipping load of 5000 lbs. and an ROC of 2500 lbs., for example."
Making this determination is often more difficult for the first-time skid steer buyer than the skid steer owner who is considering upgrading his unit or adding an additional unit. Fitzgerald says contractors looking to upgrade their skid steer need to evaluate their current situation. "They need to ask themselves 'What do I currently have? Does it meet my current needs? Does it fit where I want my operation to be?' They need to determine for themselves 'Am I just replacing my machine with the current model or do I need to upgrade for size or for power?" Fitzgerald says. "If they are doing more with their current machine than they'd planned on, or if they plan on doing more with it, that's a good reason to upgrade to a larger, more powerful skid steer."
2. Are you lifting material or just moving it?
Another concern is whether or not contractors plan on lifting material into dump trucks or other higher receptacles. Traditional skid steers are radial lift machines. They are designed more to move material from one area to another but they do not lift the material high enough to dump into a dump truck, for example. But most manufacturers make vertical lift path skid steers which Fitzgerald says are more accommodating if you need to lift material higher as opposed to moving it across a jobsite.
Manufacturers vary on their vertical lift designs, but vertical lift path machines are more of a premium skid steer than the conventional radial lift machines and so are more expensive. Zupancic says the radial lift machine is good for popping concrete or asphalt because the bucket it close to the machine at its lowest point which provides extra force. "But if you're loading a dump truck a vertical lift skid steer would serve you better because the bucket reaches out farther," Zupancic says.
3. Which attachments do you plan on using?
Among the attachments most common to paving and pavement maintenance use are cold planers, wheel saws, sweeper buckets, and vibratory rollers for small patches. Manufacturers suggest contractors decide which attachments they're going to be using, learn the requirements of those attachments - and then match the attachments to the skid steer.
A good example of specification contractors need to match between attachment and skid steer is the hydraulic system. Fitzgerald says that hydraulic systems are now standard on all skid steers but that hydraulics get more advanced as skid steers get larger. "The high-flow hydraulic option gives more power to the attachment, so as contractors look to machine that can do more the hydraulics become more advanced," Fitzgerald says.
According to Verdon, hydraulic power is expressed in terms of hydraulic horsepower. Both hydraulic horsepower and engine horsepower need to be considered when determining work tool performance. "It is a combination of these two elements that lead to optimal work tool performance," Verdon says. "Ignoring either factor may lead to less than desired performance."
He says hydraulic horsepower is most important when operating work tools such as trenchers and cold planers that require a high percentage of the machine's total available power. "Engine power is most important when the machine is multi-tasking, for example, while simultaneously moving the machine under load and powering a hydro-mechanical work tool," Verdon says.
Zupancic adds that contractors should consider high-flow hydraulics for increased horse power if the skid steer is going to be performing any work were the attachment is actually "engaged" with the pavement.
"They need to know the hydraulic needs of the attachment, the GPM of attachment flow, and they need to match that up with the minimum flow put out by the skid steer," Zupancic says. "A high-flow capacity hydraulic option helps concrete and paving contractors run a planer, for example. That's a pretty robust attachment."
Fitzgerald agrees that planers require high-flow hydraulics for best planer performance. "People who are looking at planing as the function of the machine for a large percentage of use pick high flow," he says. "We do have planers that work with basic or standard machines but the planer performance won't be as fast. But you can still do it."
Other attachments that need high-flow hydraulics include cutting wheel, trenchers, and snow blowers. "Anything that really engages something requires high flow," Zupancic says. "It provides more rotation to whatever is engaging the material and provides more hydraulic horsepower."
Verdon says that in addition to the calculated hydraulic power number, it is also important to know what kind of pump the high-flow system is using. "Most high-flow systems are designed by adding a gear pump into the standard flow circuit to gain incremental flow at the same system pressure as the standard flow circuit. Although this will increase the available hydraulic power by increasing the speed of the work tool, it will not provide additional torque to the work tool," he says. Verdon says additional torque is achieved by providing higher system pressure in addition to higher flow, and that high-flow systems that utilize variable displacement piston pumps can provide this type of a benefit.
4. What type of surface will you be working on?
Most often the type of surface will determine whether contractors consider a skid steer, which runs on rubber tires, or a compact track loader (CTL), which moves on tracks. Verdon says the two types of machines have a lot in common but the applications for each type of machines are different.
CTLs (also known as multi-terrain loaders) are better suited to the following conditions: soft underfoot, steep slopes or rough terrain, snow and ice, and sensitive surfaces such as grass. He says the primary design difference between them is the undercarriage and suspension, with the track machine having a rubber track undercarriage instead of wheels.
Fitzgerald says that for the most part, paving and pavement maintenance contractors will use a skid steer with tires as their "machine of choice" because the tires are easier to use on a paved surface.
"If contractors are going to be doing dirt work and site preparation they probably should consider a compact track loader because on those types of surfaces it performs better, can push more material, and can work on a variety of ground surfaces," he says. He says because the CTLs run on tracks they do a better job in wet material.
"Normally I'll see our CTLs on site preparation, moving larger quantities of material, and digging out subgrade in preparation for base material," Fitzgerald says. "That's where their performance shows above a skid steer."
Zupancic says that because of the environment CTLs operate in, they require larger or strong features, such as fuel and coolant tanks and undercarriage, so they generally cost $10,000 to $15,000 more than a comparable-size skid steer.
"But you can run a CTL 365 days a year, even on a wet jobsite," Zupancic says. "Plus a CTL will give the operator a much more stable ride."
Verdon suggests asking the following questions when trying to decide between a skid steer and a track machine:
Can a skid steer loader do all the jobs the contractor needs to do, or will wheels not work?
Can the customer gain more revenue and be more productive by using a multi terrain loader?
Will the increased productivity or utilization offset the increased owning and operating costs of the track machine (more maintenance & replacement of wear items)?
5. How many hours a day will your skid steer be operating?
In other words, is your skid steer going to be dedicated, say for doing planing of asphalt? Or is it going to be a utility machine that will be switched from task to task, or even switched from job to job on a given day? "If it's a dedicated machine that will be using its bucket to move material you need far fewer features than if it's a machine that will perform a variety of tasks," Fitzgerald says.
6. What size areas will you be working in?
This affects a number of buying decisions including the physical size of the machine. Size of the work area also might make it worthwhile to look at more expensive skid steers with special options.
"If you're regularly working in larger spaces you can use a machine that's physically large," Fitzgerald says. "A larger machine will have a higher ROC, and that will provide some insight into what you might be able to buy."
On the other hand, contractors planning on using their skid steer in a smaller or tighter work area, such as delivering hot mix to a corner a paver can't reach, might need to consider a smaller unit, such as Bobcat's 700-lb.-rated skid steer. A smaller work area obviously limits the physical size of the skid steer you can buy, and it also limits the features available.
But as with many pieces of equipment, picking the right skid steer (or CTL) is based on knowing in advance how you plan to use it.
Productivity vs. versatility
"Skid steer loaders have become popular over the years because they are very flexible... They are like a "Swiss army" knife," Verdon says. "You can use them in many different applications as you can fit many different work tools on them depending on the job you want to get done: augers, blades, brooms, buckets, pallet forks, cold planners, power box rakes or trenchers... to name just a few."
He adds skid steers are also compact enough to be towed and easily transported from one job site to another, generally without requiring a commercial driver's license.
"It's very critical to look at what application it is and what you're going to use the machine for to pick the right machine," Fitzgerald says.
Verdon says that because of skid steers versatility they are an option for most contractors. But he cautions that in some cases other equipment might be more productive. "A backhoe attachment on a skid steer loader provides you with a flexible solution if you need to dig with your machine, but a backhoe loader might be more efficient if you do not need to transport your equipment too far," Verdon says. "If you require productivity and more digging capacity, you might want to consider an excavator. It all depends on a specific application and the most cost-effective way to complete your task."
*Article was originally published in 2008 and republished in 2020.

Companies in this article