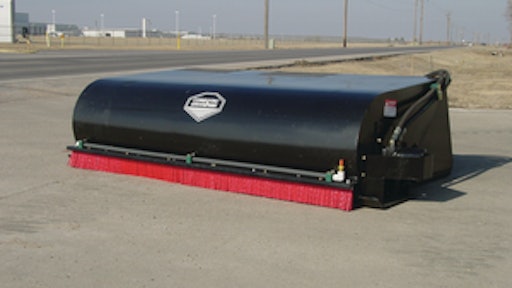 Pickup Broom
Attaches to almost any skid steer
Controlled down force and reduced bristle side wear
Dual direction direct-drive hydraulic motor to drive the broom at the appropriate speed and direction for forward and reverse sweeping
Options: gutter broom, caster wheels, sprinkler, brush type and configuration
Coneqtec / Universal
SP Stripe Remover
The SP-200 comes standard with high-speed flails or an optional high pic count drum for removing a thin surface layer.
Side pivot floating head design handles uneven surfaces lengthwise and crosswise
Precision depth adjustment
High-speed direct drive motor
Designed for fast removal of stripes from road surface
Coneqtec / Universal
EDGE Grader with Laser System
The 96-in. EDGE grader blade features an in-cab control box with a proportional current valve that ensures consistent, steady adjustments to blade height, angle and tilt.
Reversible and replaceable cutting edge with optional end plate kit
Comes complete with hoses and flat face couplers
Optional Laser System offers an accuracy up to 3,000 ft. in diameter and simple one cable attachment


The EDGE Grader blade attachment can turn a skid steer into a high-performance grading machine. It features a 96-in. blade, in-cab hydraulically controlled angle and tilt, and a reversible/replaceable cutting edge. Use the laser system for precise control that results in material and labor savings and a perfect grade every time.
CEAttachments Inc.
SweepEx Mega 600
The SweepEx Mega 600 broom attachment is built with a 60-in.-long mainframe to address cleanup, material handling and snow removal applications.
Mounting kits for forklifts, bucket lips, three-point hitches (Class 1 and 2) and skid-steer pivots available
Built with no moving parts
Polypropylene brush sections offer durability and flexibility
Includes 11 brush rows for maximum cleaning power
TrynEx International
PL and PLB Cold Planers
Simex offers asphalt and concrete cold planers to be matched with skid-steer loaders, loaders, backhoe-loaders and excavators.
Simex s.r.l.
SBU 340 Breaker
The 725-lb. SBU 340 solid body breaker features an energy recovery design that enables a 3 dB(A) noise reduction and 40% to 53% reduction in vibration levels.
Designed for carriers in the 9,920-lb. to 19,840-lb. weight class
Incorporates double retainer bars, full-length floating tool bushing and a simple tool retainer lock mechanism
1,380-bpm blow frequency
24-gpm oil flow rate with 2,176-psi operating pressure
Atlas Copco Construction Equipment LLC
RS10 Road Saw
Zanetis RS10 Road Saw
The RS10 Road Saw can be used to cut expansion joints, pavement patchwork, utility laterals and traffic loops.
2.5- and 4.5-in. cutting widths with 10-in. cutting depth capability
Hydraulic depth and side shift control
Front access door eases tooth and holder replacement
Carbide cutting teeth
Flush-mounted planetary torque hub
Zanetis Power Attachments
PRE21184
Zanetis RS10 Road Saw
The RS10 Road Saw attachment for high-flow skid steers uses carbide cutting teeth to gnaw through concrete, 1/2-in. rebar and frozen ground. The saw attachment features 2.5- and 4.5-in. cutting widths, a 10-in. cutting depth capability, and hydraulic depth and side shift control. A front access door eases tooth and holder replacement , while a flush-mounted planetary torque hub allows for greater right side clearance.
Zanetis Power Attachments
Hedgehog
The Hedgehog broom attachment from Python is a skid steer attachment that can sweep all kinds of jobs from construction sites to parking lots. The attachment features parallel linkage allowing the broom to float at optimum pressure. An upright storage position protect the broom and allows for quick and easy attachment.
Python Mfg. Inc.
TKO-2513 Scarifier/Planer Attachment
Used in combination with a skid steer
Heavy-duty bi-directional hydraulic motor for up cut or down cut
For fast surface preparation, heavy removal of asphalt, thermoplastic lines, paints, coatings, concrete, and more
Quad-spring suspension for constant ground contact
Precision depth control
Kut-Rite Manufacturing
FFC Attachments Cold Planers
The FFC Cold Planer attached to skid-steer loaders to mill asphalt and concrete surfaces. Using a "V" shaped pick patter on the drum, the teeth are evenly spread for a smooth, balanced operation and the "V" shape helps carry material over the drum and behind the planer to clear the working area. Four teeth are mounted on both outside drum edges to accommodate the highest wear areas. The FFC Cold Planer can be used on skid steers with 13 to 45 gpm hydraulic flows; standard flow models are available in 12- and 16-in. cutting widths. High flow models are available in cutting widths from 16 to 36 in. The cold planer also features a 24-in. left or right side shift.
Paladin Construction Group
EDGE Hopper Broom
The EDGE Hopper Broom is a bi-directional, single-motor collection broom that sweeps in forward and reverse.
60-, 72- and 84-in. widths
Come complete with hoses and couplers to fit most skid-steer loaders
Front and side steps allow for easy access from the cab
Front bumper and no caster wheels allow operation close to objects
Rubber skirt and protecting shroud keep dirt and debris contained
Quick-change broom sections allow for easy replacement
CEAttachments Inc.
SitePro SSGB-8 Grader Blade
The SitePro SSGB-8 grader blade is designed for asphalt, landscaping and concrete flatwork contractors.
 

8-ft. six-way hydraulically controlled moldboard with 25

° rotation/tilt

Features an in-cab remote, s

hear pin protection and a r

eversible cutting edge

Optional laser system controls
Worksaver Inc.
Planer Attachments
Bobcat's planer attachments for skid steers, all-wheel steers and compact track loaders. The planer attachments are good for milling potholes, alligator cracks and other defects, matching uneven pavement surfaces, cutting drainage, making street repairs, and cleaning around larger milling machines. Cutting widths are available in 14, 18, 24, and 40 in. All models feature a hinged top panel for easy inspection and replacement. Bits are retained by expansion rings instead of C-clips.
Bobcat Co. - Doosan Infracore