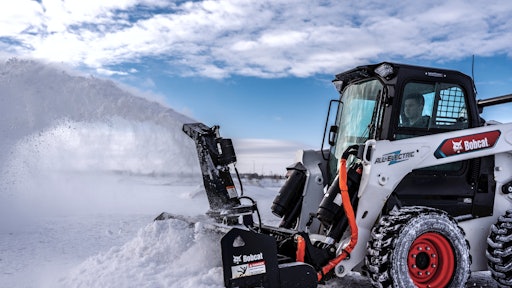 Bobcat
In early 2023, Bobcat Co. revealed the world's first-ever all-electric skid-steer loader, the Bobcat S7X. Operating on lithium-ion batteries like its compact track loader counterpart, the Bobcat T7X, the two machines promise high performance with electric power. Additionally, neither produce emissions.
"As a result, operators can tackle tough jobs on environmentally sensitive worksites or indoors where exhaust is restricted," said Joel Honeyman, vice president of global innovation, Doosan Bobcat.
Aside from emission control, both loaders offer high productivity and reduced noise levels when compared to other similar equipment on the market, despite being more powerful than their diesel-hydraulic equivalents. Of equal importance, they feature electric drive motors, ball screw actuators, and electric actuation and propulsion, instead of hydraulics.
"Since they're both powerful and quiet, they can be operated at all hours of the day, too, including in dense, urban areas, in which noise often limits operators' work hours," Honeyman added.
Due to their minimal vibration and quiet operations, the all-electric loaders enable operators, particularly construction contractors, to have comfortable, smooth experiences with each use. They'll also notice a considerable increase in power, in comparison to the traditional diesel-powered loaders they previously used. As an example of this boost in power, the S7X can be operated for up to six hours at a time, while the T7X can operate for up to four hours on one charge, depending on the application.
"It's important to note that, unlike diesel machines, when the S7X and T7X are at idle, they're not consuming energy," Honeyman said. "Apart from routine recharge cycles, each lithium-ion battery, which, again, is featured on every all-electric loader, doesn't require any maintenance, either."
With regard to maintenance, the compact, all-electric loaders' straightforwardness is noticed well beyond their lithium-ion batteries, as they each include roughly half the parts that diesel-powered compact loaders do, along with nearly 20% fewer electrical connections. Since they are equipped with fewer parts and electrical connections, the compact loaders—which have been created in partnership with Moog Construction, a motion control components and systems developer—also have fewer components to maintain and repair.
"These all-electric loaders take about 2 gallons of eco-friendly coolant and a half-gallon of gear box oil, compared to the nearly 60 gallons of fluids that are required in diesel-powered loaders, leading to cost savings on a short- and long-term basis," he emphasized.
Enhancing Construction Automation, Via Electric Skid Steers
Much like Bobcat's S7X and T7X, VOLTEQ Equipment's electric mini skid steer, the SKY 1000, offers a variety of benefits, including emission control. For example, the SKY 1000 is built with fewer components than diesel-powered skid steers, leading to less maintenance and, in turn, a lower total cost of ownership than diesel-powered offerings.
The SKY 1000 also provides operators lower operating costs, along with a reduced need for planned maintenance and the convenience of not having to warm up engines. Furthermore, the skid steers don't consume any energy when idling.
"Unlike diesel engines that continue running, even when machines are in idle, our electric mini skid steers will automatically switch off whenever operators stop them, thus minimizing unnecessary energy consumption," said Mike Slattery, vice president of business development, VOLTEQ. "Consequently, they offer significant advantages, in terms of both operating and maintenance costs."
The mini skid steers also feature immediate slow speed control and provide instant torque, resulting in faster responsiveness and more precise, controlled movements. And, as is the case with the S7X and T7X, VOLTEQ's SKY 1000 operates quietly, almost silently, in fact, enabling them to be utilized in cities, as well as indoors, according to Slattery.
"They excel in indoor environments especially, due to their zero emissions and quieter operation, making them suitable for automating tasks like cleaning, debris removal and material placement in confined spaces," Slattery continued. "When they're equipped with remote control technology, they can be automated for tasks in hazardous or hard-to-reach areas, thereby enhancing safety and reducing operators' risks."
As a result of their battery packs, electric skid steers offer low centers of gravity, too, leading to high stability, said Martin Havrda, chairman of the board of directors at FIRSTGREEN Industries.
"Due to the maintenance-free nature of electric skid steers' lithium batteries, along with their simplified mechanical systems, they also reduce the risk of breakdowns and the costs of sourcing and fitting replacements," VOLTEQ's Slattery stated. "This translates to lower maintenance expenses and increased uptime for construction projects."
By utilizing electric skid steers, operators can also easily automate their bucket levelling, which is electronically controlled and, subsequently, capable of quickly reacting to acceleration, deceleration and gradient changes.
"Bucket loads are automatically estimated, as well, in order to prevent machine overloading," Havrda said. "Data is then uploaded into a remote diagnostic tool, which simplifies troubleshooting, resulting in more efficient operations."
The Latest Construction Automation Trends
With regard to construction automation as a whole, Slattery has noticed a variety of trends:
First, due to mobile electronics' advancements, manufacturers can offer operators automated functionalities, such as self-leveling loader arms, which have float control, in an easier and more cost-effective manner than before.
Second, as a result of return-to-dig, along with the ability to lock in a desired speed, operators' equipment can automatically travel at that preferred speeds as soon as they move their joystick.
And, finally, several tasks, including the movement of materials from one area to another in an effortlessly mapped environment, can be automated, via GPS and light detection and ranging LiDAR technologies.
Meanwhile, according to Havrda, another key trend is being noticed, concerning construction automation: electric skid steers that can react to outside conditions. For instance, FIRSTGREEN Industries' electric skid steers can drive with full loads, while their electric motors automatically adapt to prevent overheating, especially as outdoor temperatures rise.
"The automation of certain tasks is also a new development, when it comes to activities that are repeated, including materials offloading into containers," he said. "Electric skid steers, designed for automation, will have a higher number of sensors and cameras too, which will function as their 'eyes and ears'."
Simultaneously, according to Bobcat's Honeyman, digitization is "changing the game," with regard to compact equipment, including skid steers.
"Automation, when applied intentionally and strategically, pushes productivity to new heights, resulting in more effective worksites," he stressed. "For instance, technology features can reduce the number of operators that are needed on a jobsite, thus reducing costs and enhancing construction teams' productivity."
Bobcat provides digital offerings like Bobcat MaxControl and Bobcat Machine IQ, which enable operators to acquire as much from their investments as possible since they're able to leverage smart, simple tools, in order to achieve more of their goals. As an example of its intelligence and ease of use, Bobcat MaxControl allows operators to control each of their Bobcat loaders and attachments from outside of their cabs, while using an iPhone, an iPad or other iOS-compatible devices.
According to Honeyman, Bobcat MaxControl is especially useful when operators are shorthanded on their jobsites, as two-person jobs can be handled by only one person instead. In addition, by using Bobcat MaxControl, operators can avoid repetitive trips in and out of their cabs. While utilizing Bobcat Machine IQ, equipment owners can also monitor their Bobcat skid steers' health, while remotely tracking information that enhances maintenance, security and performance.
"It's also common for today's skid steers to be equipped with displays and features, which streamline communication between operators and dealers as they discuss each of the equipment offerings," Honeyman added. "This type of comprehensive detail and efficient communication will increase operators' performance and uptime."
Swarm Tech: Looking Ahead to the Future of Automation
As FIRSTGREEN Industries prepares for the coming months and years, Havrda anticipates the manufacturer will robotize its skid steers, enabling them to become fully autonomous in certain industries, such as agriculture and mining.
"We are aiming to reach a level of autonomy, in which the skid steers can operate without an operator, even a remote one," he said.
At the same time, Slattery believes autonomous operation will likely emerge and follow the adoption of remote control that's more near-term. He also thinks that, with autonomous operation, swarm technology may very well be offered, too.
"Through swarm technology, groups of electric skid steers will be able to work together in concert, in order to accomplish the tasks that one skid steer might not be able to achieve alone or as quickly, at least," he stated.
Additionally, Honeyman stressed that autonomous technology will offer operators new ways to complete their tasks more efficiently and precisely. According to Honeyman, autonomy can be associated with operator-assisted functionality, along with autonomous operation without any necessity for humans. In fact, Bobcat has implemented technologies that can do both—from its excavators that are equipped with depth check technology, which helps operators dig with increased precision, to self-operating mowers that can run without an operator onboard.
"Autonomous equipment, which can be used in agriculture, construction, forestry, landscaping and snow removal, will translate to smarter and more efficient jobsite performances," he said. "And advanced technology will continue to play a significant role in the evolution of both electric and traditional compact equipment."
As far as electric skid steers, as a whole, are concerned, Havrda believes that one trend will particularly be noticed in the future: they'll be used in underground mining operations, as well as in enclosed areas without any ventilation, mostly in agriculture facilities, chemical plants, and other toxic and dangerous environments.
Moreover, according to Slattery, the construction industry's continuous shift to electric skid steers will lead to a conversion, in association with attachments—from those that are equipped with hydraulic motors, as is presently the case, to offerings that feature electric motors instead.
"This transition will not only demand less maintenance, but also extend battery life, due to electric drive's heightened efficiency, in particular," he said. "In addition, the adoption of electric skid steers could become a necessity, driven by local or federal regulations, especially in semi-indoor or fully indoor work settings."
Aside from this conversion, Honeyman adds that the ever-evolving construction industry will continue to demand alternative-power solutions that positively impact the communities in which they live and work, regardless of their environmental, social, and governance (ESG) goals. After all, many of Bobcat's environmentally conscious customers have their own specific ESG goals, each of which can be supported by alternatively powered equipment to a degree. Yet, at the same time, they'll also continue to acquire the power and performance that they've become accustomed to with their previous diesel-equivalent skid steers.
As a result of their steady focus on sustainability, operators and customers in general will notice more and more electric skid-steer loader offerings in the marketplace, according to Honeyman. Furthermore, much like every other innovation that was released to the public prior to electric compact loaders, enhancements to skid steers' attachments, functionalities and tools will continue, leading to more powerful, productive and versatile offerings.
"Instrumentation on Bobcat's electric compact loader lineup is nearly identical to its traditional, diesel-hydraulic counterpart," he said. "Since inventing the world's first skid-steer loader, the manufacturer will continue to advance the construction industry's skid steer options, as it strives to help its customers accomplish more."
He continued, "We also think it's important to recognize that there will be a need for both diesel-powered equipment and electric equipment for years to come. Therefore, we're committed to offering variety, regarding our equipment selection, so that customers can choose what's best for their jobsite needs."
The Most Popular Automated Tasks for Skid Steers
Dedicated to providing operators diversity, with regards to their skid steers and other construction equipment, Bobcat's machines, including its skid-steer loaders, have technology that will help operators become more productive and conduct their tasks more efficiently—even if some construction contractors may not be quite ready for fully autonomous loaders on their jobsites.
Again, Bobcat is currently providing enhanced, in-cab features and technology that enable two-person tasks to become jobs that one operator can easily accomplish. For example, since Bobcat MaxControl allows contractors to operate their Bobcat compact loaders from outside of their cabs, they can dig post holes more easily than in the past. And they'll be able to maneuver their loaders onto trailers and pass through gated entrances and exits more effortlessly than before, according to Honeyman.
Furthermore, Bobcat has introduced a radar collision warning and avoidance system in a concept format. Compatible on select Bobcat compact track loaders and skid-steer loaders, it's designed to assist operators' jobsite awareness, while operating in reverse.
"While using an active or passive setting, operators can either receive an audible alert or enable their machine to stop automatically, upon detecting an object in its path," Honeyman said. "As evidenced by its offerings, Bobcat is focused on reinventing the way work gets done, a goal that will continue to evolve as its offerings continue to expand."
Increasing "Workable" Hours with Electrification
In regard to trends concerning skid steer attachments, Havrda believes the construction industry will continue to shift toward the use of electrically powered attachments, rather than traditional hydraulic solutions. As this shift occurs, he stresses that FIRSTGREEN attachments won't require any alternatives, based on automation or electrification.
"Not all traditional machines can run the new generation of electric attachments, but FIRSTGREEN Industries' units are always equipped to handle both hydraulic and electric implements, in order to make them both usable with older equipment and future-proof, as well," Havrda said.
Along with utilizing electrically powered attachments more regularly, operators are also migrating toward cabs that will enhance visibility, particularly through features like improved lighting, enabling them to be utilized more easily in darker conditions. In addition, more and more cabs are becoming enclosed, thereby protecting operators from the elements and minimizing any downtime associated with bad weather conditions.
Automated functions, along with the ability to personalize different modes of operation that are the most ideal for them, particularly via time saving features, are becoming more popular, too. As a result, operators' "workable" hours are increasing, resulting in a rise in productivity, according to Slattery.
"Versatility is another main advantage of skid-steer loaders, as they can use several different attachments for all types of work," Slattery said. "By utilizing an automatic quick attach system, operators can easily switch their attachments without having to leave their cabs, leading to more efficiency between each of their tasks."
As operators transition to electrical skid steers and attachments, Slattery admits that minor adjustments, such as planning for charging, will be necessary. Nonetheless, due to time savings, along with the overall enhancements of their working conditions, he believes the shift is certainly worthwhile for operators.
"Imagine working on a residential project without disturbing neighbors with noisy equipment, or seamlessly operating in noise-sensitive areas like hospitals or schools," he added. "Since electrical skid steers' and attachments' quieter operations enable operators to extend their work hours, they'll be able to maximize their billable time and efficiency, leading to a potential rise in construction sites' profits, possibly for years to come."
Companies in this article