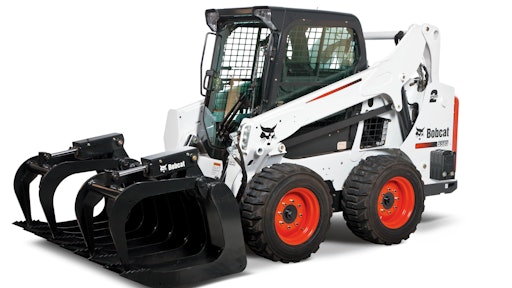 Bobcat Company will display a number of compact equipment offerings in the Bobcat booth (C5479) at the Las Vegas Convention Center during the annual World of Concrete in Las Vegas, February 2 to 5, 2016.
On display will be the new Bobcat T770 compact track loader, S595 skid-steer loader and MT85 mini track loader. The T770 will be paired with the new 3D grade control system, the S595 with a drop hammer attachment and the MT85 with an HB680 hydraulic breaker. Also at the exhibit will be the S450 skid-steer loader with an industrial grapple and the E32 compact excavator with a three-tine grapple.
The 92-hp T770 compact track loader features a Tier 4-compliant, Bobcat 3.4-liter, turbo diesel engine that delivers high-performing torque across a wide span on engine rpm, and lower engine noise for enhanced operator comfort. A diesel particulate filter (DPF) is not required. The 10,465-lb. vertical lift path loader has a 3,475-lb. rated operating capacity (ROC), 11-ft. lift height to hinge pin and 36.6-gpm high-flow hydraulic option. It will be paired with the Trimble GCS900 grade control system for use with Bobcat 96- and 108-in. heavy-duty grader attachments.
The new S595 skid-steer loader is a 500-frame-size model boasting a 2,200-lb. ROC, making it suited for those who need to lift and carry more material without moving up to a larger machine size. The vertical lift path loader offers a variety of M-Series loader features, including optimal operator comfort, machine performance and enhanced visibility. Other features include standard two-speed travel, pressurized cab, simple checkpoints, auxiliary quick couplers mounted directly to the front plate of the lift arm and simple hose routing.
The MT85 mini track loader boasts increased lifting capabilities, additional stability and durable components to help operators efficiently complete tasks in limited-space jobsites. At 850 lbs., the unit has a 35% higher ROC than prior iterations. For additional productivity, operators can lift materials higher with an increase of 12% in lift height (80.9 in.). For hard digging conditions, the lift arm breakout force has been increased by 29% from the smaller MT55 mini track loader. The MT85 will be paired with the HB680 breaker, which provides quieter, smoother operation while maintaining 1,340 bpm.
The 49-hp S450 skid-steer loader has a 20% increase in auxiliary hydraulic pressures from its predecessor and features a non-diesel particulate filter (non-DPF) engine solution. It offers multiple enhancements, including operator comfort, machine performance and enhanced visibility. In addition, the hydraulic systems on the M-Series loaders are designed for higher pressure (3,300 psi), which provides a 22% increase in attachment performance. The unit will be mated to a 66-in. industrial grapple with a two-arm design for a strong, even biting force.
The 3- to 4-ton size class E32 compact excavator features a 33.5-hp Tier 4-compliant, non-DPF engine solution, enhanced operator comfort and ample dig depth (10.2 ft.) and reach (16.3 ft.). The conventional tailswing model can perform well in tight spaces and under high-load conditions, and sustain travel speeds during pushing and climbing functions. A forward-mount instrumentation system allows the operator to maintain awareness of machine vitals without losing focus on the task at hand; improves ergonomics when the operator is interacting with the panel. The compact unit will be paired by a three-tine grapple attachment.
Also on display will be the 10,677-lb. E50 compact excavator featuring a 49.8-hp Tier 4-compliant, non-DPF engine solution and a 12% increase in torque from its previous iteration. This increase in torque is produced over a wide range of engine rpm. The minimal tailswing model has an 11.6-ft. dig depth and 19.5-ft. reach at ground level with the long-arm configuration.