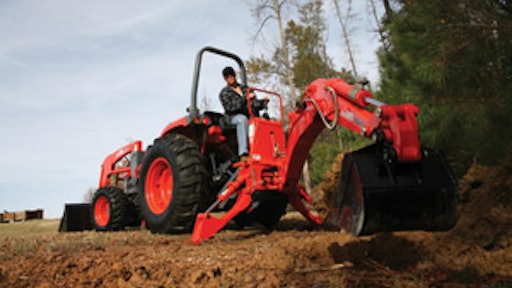 Compact tractors are used for a variety of jobs by landscapers, garden centers, hobby farmers and contractors. But, imagine a 20-horsepower tractor that is expected to safely race through a slalom course of huge machinery while pulling a three-section trailer that weighs over 3,000 pounds, often at temperatures well below zero.
The Kioti CK20 HST (hydrostatic transmission) does just that. In use for the past year at St. John's International Airport in St. John's, Newfoundland, Canada, it has far exceeded its owner's original expectations for reliability, safety and service. In between the Labrador Sea and the Atlantic Ocean, Newfoundland is the eastern most province. St. John's is the snowiest, foggiest and darkest major city in Canada. Wind chills can drive the temperature down to minus 30 degrees Fahrenheit.
Many major air carriers call St. John's home. Among them is Provincial Airlines Limited. The largest independent regional airline in Eastern Canada, Provincial Airlines provides daily scheduled passenger service in Newfoundland, Labrador and Quebec as well as cargo, charter and air ambulance services within the region. Averaging 20 flights per day at their St. John's terminal, they also handle private charters plus Continental Airlines. The tarmac is busy seven days a week, often 24 hours a day.
Dale King is grounds operations manager for Provincial Airlines. With a staff of 25, he is responsible for all the critical behind-the-scenes maintenance that keeps air traffic moving. Every plane that arrives soon departs again. Luggage needs to be unloaded and loaded. Each plane must also be hooked up to a generator power unit, GPU. All of this must happen within a 20-minute window. The airport typically used a tug to pull the caissons of baggage carriers. They can pull up to three carriers; the total train can reach over 30 feet long and hold 120 pieces of luggage. When Provincial Airlines' last tug needed to be replaced, King did so with a Kioti CK20HST compact tractor.
King bought his Kioti in 2006 from Rick Power at Atlantic Trailer in Mount Pearl, NL. Power opened Atlantic Trailers in 2000 and started selling Kioti tractors soon after. When choosing which tractor lines to carry, Power decided to sell Kioti because, "They had the features, implements and warranty - four years - that make it a tractor I can stand behind."
King did his homework prior to buying the Kioti CK20HST. He liked the single-lever joystick, power steering, front and rear PTO and especially the look of the tractor. The CK20HST maintains a stable center of gravity, even when pulling a GPU. Because the CK20HST would be working at night, the wide coverage of the Kioti headlights was also very important. All the pieces seemed to fit together to meet the needs that Provincial Air required of the product. Provincial Airlines still has eight remaining tugs in its fleet. As they reach obsolescence, King fully intends to replace each and every one with a Kioti.