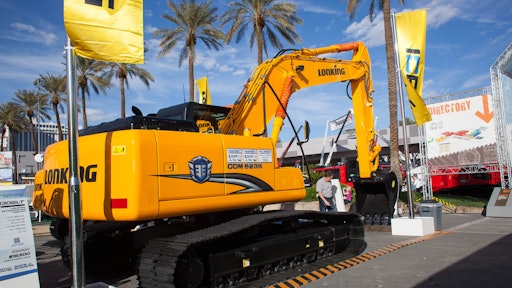 A pair of construction industry veterans has joined forces to bring Chinese equipment options to cost-conscious North American buyers. Tim Frank, who has held executive level positions with Sany America, Volvo, CNH and Caterpillar, has joined forces with Wes Lee, most recently with Volvo Construction Equipment, to form International Construction Products (ICP), an innovative forum for the sale and service of pre-approved Chinese machines.
Behind the scenes is a highly experienced advisory board consisting of Bob Hall, president of equipment operations at Bechtel; Chris Arnold, global vice president at Ameco Fluor; Steve Zagar, an industry insider most recently with Rudd Equipment; and Chuck Yengst, president of Yengst Associates.
Frank, who serves as ICP chairman, asserts that Chinese equipment has evolved substantially in terms of quality, and is now equal to if not surpassing Western and Japanese technology in some cases. "You probably couldn't say that 5 years ago," he acknowledges. "From our perspective and that of Europe, the problem is just making a good machine isn't enough. We built a company to take a great product built by lowest-cost entities and provide these products into North America."
"Our vision is to be a multi-billion dollar platform to sell and support Chinese equipment the way customers want it – both online direct and via established dealer partners," says Frank. "We plan to provide world-class support for Chinese brands that we have pre-approved."
Initial Industry Partner
ICP carefully screens the brands it brings to market, with in-depth factory, process and engineering reviews, prior to offering any product for sale. In the fourth quarter 2013, ICP signed its first supplier agreement with Lonking, a privately owned Chinese construction machinery manufacturer with almost 20 years of history in the equipment industry. More agreements with other suppliers are planned.
Lonking has four manufacturing bases in China, about 10,000 employees and generates an annual revenue of about $1.3 billion. Wheel loaders are its main product; it produces almost 50,000 units per year primarily for the Asian market. Other products include excavators, skid-steer loaders and forklifts.
According to Qiu Debo, CEO and president of Lonking, the company prepared for many years to enter North America. However, it preferred to take a step-by-step approach to ensure available distribution and service support. "We chose ICP as partner in North America. Though ICP is a very young company, they have a very professional and experienced executive team," he states. "They also have a very good understanding of the market and its customers."
Lonking is currently ranked #28 on the International Construction magazine 2013 Yellow Table list of the world's leading construction equipment brands. It is one of the top three global producers of wheel loaders, and a top five producer of forklifts in China. "Lonking was our first choice as a supplier. They are clear leaders in wheel loaders and excavators," Frank states. "Many Chinese companies are sell and run. That's not how our program works. There is a lot of investment they made specifically in this market right alongside us."
How It Works
Prospective customers can research, buy and arrange support options using ICP's online tools at ICPdirect.com, the company's web store portal. (IronPlanet drives the online sales engine.) Plans are also in the works to set up authorized dealers with inventory they can sell to customers who prefer a more traditional approach.
The online portal currently lists 19 models of wheel loaders, excavators and forklifts for sale, with more scheduled to be added in coming weeks. Prices listed include all duties and tariffs, remain the same whether you buy direct or via a dealer and can range up to 40% below the cost for leading brands.
Because equipment is shipping direct from China, delivery lead times vary depending upon the customer location. For customers on the West Coast, machines can typically be delivered in 30 days or less. For those on the East Coast, deliveries will average 45 to 50 days.  However, Frank indicates it's likely ICP will eventually maintain inventory on both coasts.
Machines are sold in a set configuration and are initially available with Tier 3 emissions technology (due to available emissions credits). They will move into Tier 4 starting in the fourth quarter of this year.
Prior to delivery, every unit goes through a 100-point inspection, and each comes with a three-year, 3,000-hour warranty and a 30-day return policy. Service can be performed by a local dealer or through ICP's service dealer network, which includes locations throughout the U.S. and Canada. Nine parts depots are also positioned across the U.S. through a partnership with TVH, a global leader in parts logistics and support, to help maintain the 48-hour machine-down parts guarantee.
Big Goals
Although just officially launched at CONEXPO-CON/AGG last week, Franks and Lee have set ambitious goals for their fledgling company. "We expect to sell approximately 300 machines by the end of this year," Frank states.
The biggest obstacle is, perhaps, perception. "If Chinese brands are just as good, why aren't people buying them?" Frank asks. "If you look at brands like Lonking, they feature many of same components [as other suppliers]. Chinese manufacturers make great equipment, but they're not as good at distributing to international markets. ICP eliminates the middleman by providing direct service."