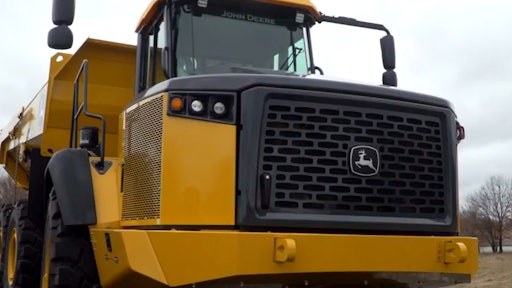 JohnDeere
During a recent online unveiling Mark Shea, product consultant – articulated dump trucks, John Deere Worldwide Construction and Forestry discussed several of the new features being introduced on the John Deere 460 E Series II ADTs. One of the enhancements that will be of great interest to customers is the fuel efficiency. "If you're comparing an E Series truck to the new E Series II, you can enjoy up to 7 percent fuel efficiency gains." That is before the customer engages the new ECO mode. "When you use ECO mode, you can stack an additional 12 percent in fuel efficiency savings on top of the already 7 percent fuel gains."
ECO mode is meant for situations where the truck doesn't always have to be at full throttle moving at top speed. This is often the case when you have many trucks in a normal haul cycle.
Traction mode is also available for the 460 E Series II. "When you are fully loaded, these trucks are going to be about 180,000 lbs.," explains Shea. "You're going to be in some nasty, soft conditions." The traction mode locks up four differential locks – one in each axle and one in the transmission. "You're going to have all six wheels getting power, getting traction and getting this fully loaded ADT up and rolling as smoothly and efficiently as possible.
Focus on Service
There was a major focus on making the new ADT easy to service. This starts with the ground level fueling, with the DEF tank placed next to the fuel fill. "There's no need to climb up on these trucks to fill the fuel," notes Shea. When the hood is opened, all of the filters are accessible from the ground. "I've got my front-axle filer, engine oil filter, all three of my fuel filters, air filter. I can top off the engine oil or check the engine oil and I can also add my window washer fluid."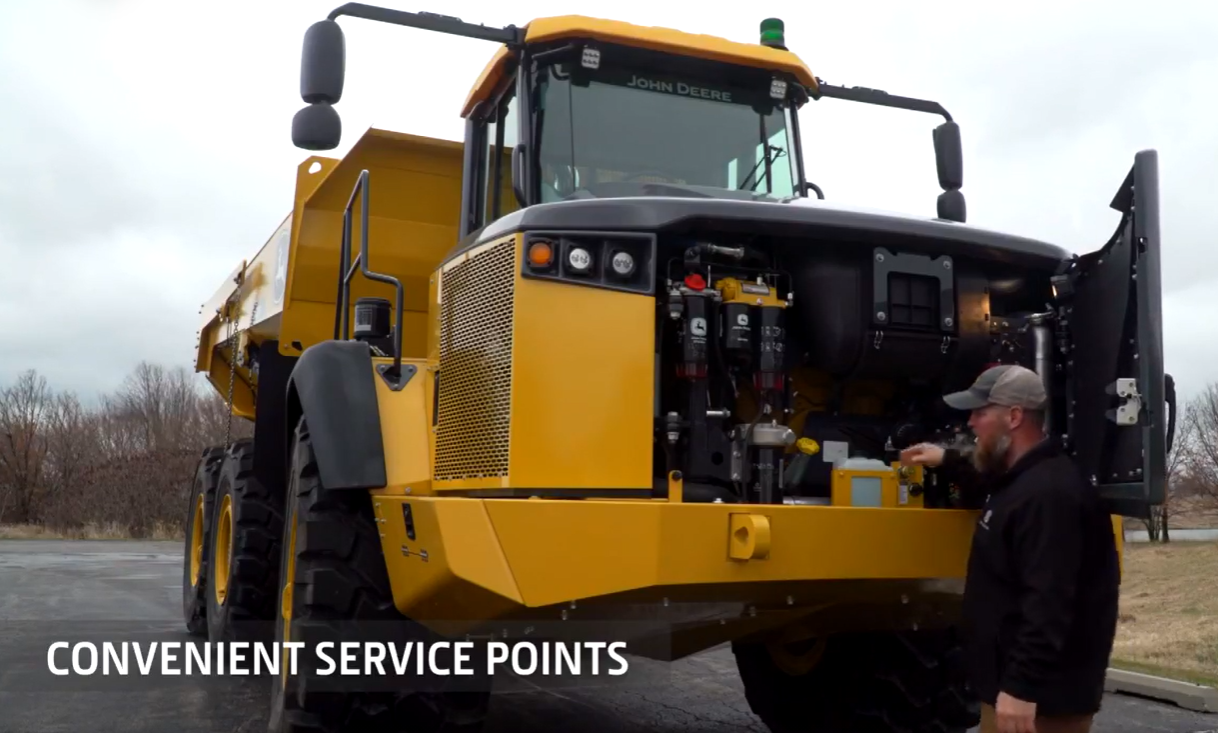 All of the filters are accessible from the ground.John Deere
To make access even easier, the front suspension travel can be decreased at the push of a button to bring the service points another 4 or 5 in. closer to the ground. An optional factory installed auto lube system is now available. The redesign of the ADT has also reduced over 10 percent of the hose connections and electrical routings, making this a much more simplified machine to maintain.
Redesigned Bed
The business end of the truck, the bed, has been redesigned. "We've incorporated a headboard into the design of the dump box," says Shea. "We've also lowered the side rail height by over 6 in. which makes it a lot easier to get into with either and excavator or a loader."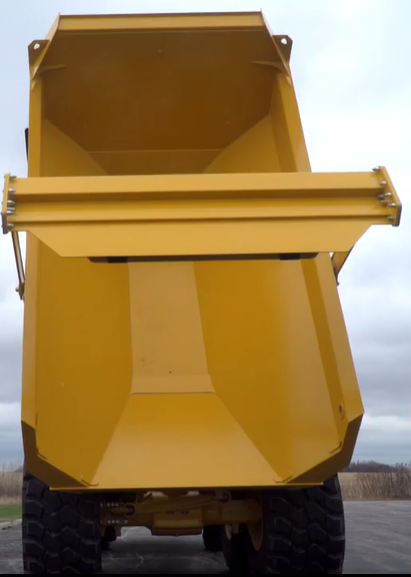 The redesigned John Deere ADT dump box incorporates a straight flat section to the floor, which makes it very easy to clean out with an excavator
The dump box was widened to cover the tires. "It also makes it a bigger target to hit for an excavator," notes Shea. "It makes it a lot easier to load the truck."
"With the redesign of the John Deere ADT dump box, we've not incorporated a straight flat section to the floor, which makes it very easy to clean out with an excavator," adds Shea. "Also take note of our new improved side rails. They're tapered, which is going to improve material retention, reducing spillage on your haul roads and increasing productivity."
An Operator Friendly Environment
The cab is the most important part of the truck for operator comfort. "You are in this truck all day long, 10 to 12 hours a day. You have to be comfortable," explains Shea. "We've incorporated a lot of things in this cab with a new premium seat which incorporates heating and ventilation with improved suspension."
Automotive features have also been added. "We've not brought in automatic temperature control, just like in your pickup that showed up to work today," he adds. "You can set it, forget it and be comfortable all day long."
The sealed switch module in the cab has 15 buttons. "It is very intuitive, easy to operate."