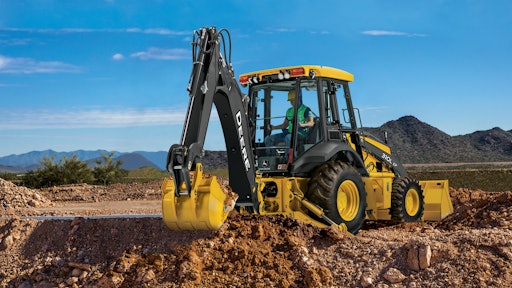 Emissions regulations have influenced backhoe-loader horsepower offerings. The aftertreatment systems required to meet the allowable emissions levels are determined by the power level of the engine. Engines under 56 kW (75 hp) are subject to different emissions regulations than more powerful engines, and the aftertreatment required is often simpler and less expensive.  
This has created a niche for these lower horsepower machines. Consequently, manufacturers such as Caterpillar and John Deere have specifically designed machines under the 56-kW power limit. For example, Caterpillar offers the 415F2 as an option to its more powerful 416F2 and John Deere offers its 310L EP backhoe as an option to its more powerful 310L
"With the implementation of EPA off-road emission regulations, some customers are willing to trade off horsepower for simpler engine technology at a lower price point," says Brian Hennings, product marketing manager, backhoes and tractor loaders, John Deere Construction and Forestry. "The John Deere 310L EP leverages the flexibility of emissions requirements under the 56-kW power level to provide customers a highly reliable and productive backhoe alternative without additional aftertreatment components."
The shrinking size of jobsites has also impacted backhoe-loader design. "As work sites are getting smaller, particularly in built-up urban environments, new solutions are needed to work those sites efficiently and productively. To meet this demand, JCB has introduced new, smaller backhoe-loader products in North America," says Diego Butzke, backhoe-loader product manager, JCB North America. "In 2017, JCB launched the 3CX Compact, which is 35% smaller than a full-size backhoe-loader, yet offers the power, productivity and breakout forces more commonly attributed to larger machines. In 2019, JCB previewed the new 1CXT, a powerful compact tracked backhoe-loader that is less than 6 ft. wide and 7 ft. 6 in. tall, allowing it to work where no other backhoe-loader can."
Another emerging trend is the need to engage more attachments — including skid-steer attachments — to enhance the versatility of the backhoe-loader and allow it to work in different applications. In addition, Butzke sees a trend toward more specialized variants. Examples of this are JCB's Pothole Master, Pilingmaster and Wastemaster models, which are equipped for maximum efficiency at very specific tasks.