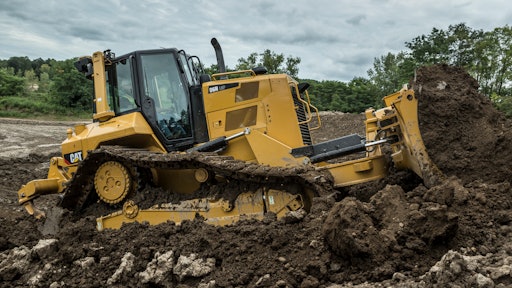 When it comes to maintaining crawler tractors, the undercarriage is always the first priority.
"The undercarriage of a dozer accounts for approximately 20% of the purchase price of the machine and up to 50% or more of the machine's lifetime repair costs, so proper maintenance is critical for equipment owners who want to maximize their investment," says Max Winemiller, North America product manager, dozers, Case Construction Equipment. "It is important for fleet managers and equipment owners to follow OEM-recommended maintenance and service intervals, but one of the keys to maximizing uptime is the daily walkaround inspection.
"All hardware across the entire undercarriage should be inspected daily," he advises. "Check for wear on the idlers and roller flanges, and check the bottom rollers for wear and debris. Track tension and alignment should also be checked daily, and the tension spring or recoil cylinder should be checked for leaks. Inspect the track pads, paying extra attention to the grouser height and edges of the track pads. Keep an eye out for bending on the track pads, as well; this can be caused by operating on uneven terrain. Link wear should also be inspected daily, as well as the carrier roller for wear and proper alignment."
Operators should check for excessive debris throughout the undercarriage, and monitor the sprocket teeth for signs of excessive wear, he adds.
It really comes down to looking at the undercarriage frequently and understanding the wear patterns. Daily inspections should look for wear points, abnormal wear or anything that could reduce production and increase downtime.
"Inspections help prevent unplanned maintenance or repairs," says Jim Funk, senior product manager, undercarriage, Komatsu. "We also recommend cleaning out track frames on the undercarriage to eliminate the effect of severe packing." 
Komatsu advises a more thorough inspection of the undercarriage be conducted between 500 to 1,000 hours. "That could be influenced by type of application, type of machine and the requirements of the customer," notes Funk.
Track Tension Drives Wear
Checking and adjusting track tension should be a top priority. When you perform your walkaround, make sure the track sag is correct.
"Too tight and a chain can increase sprocket wear or damage link assemblies internally due to the extra load," says Anthony Gamba, manager of technical service and product quality for bulldozers at Komatsu. "Too loose and the sprocket on all the rollers and tracks may become misaligned."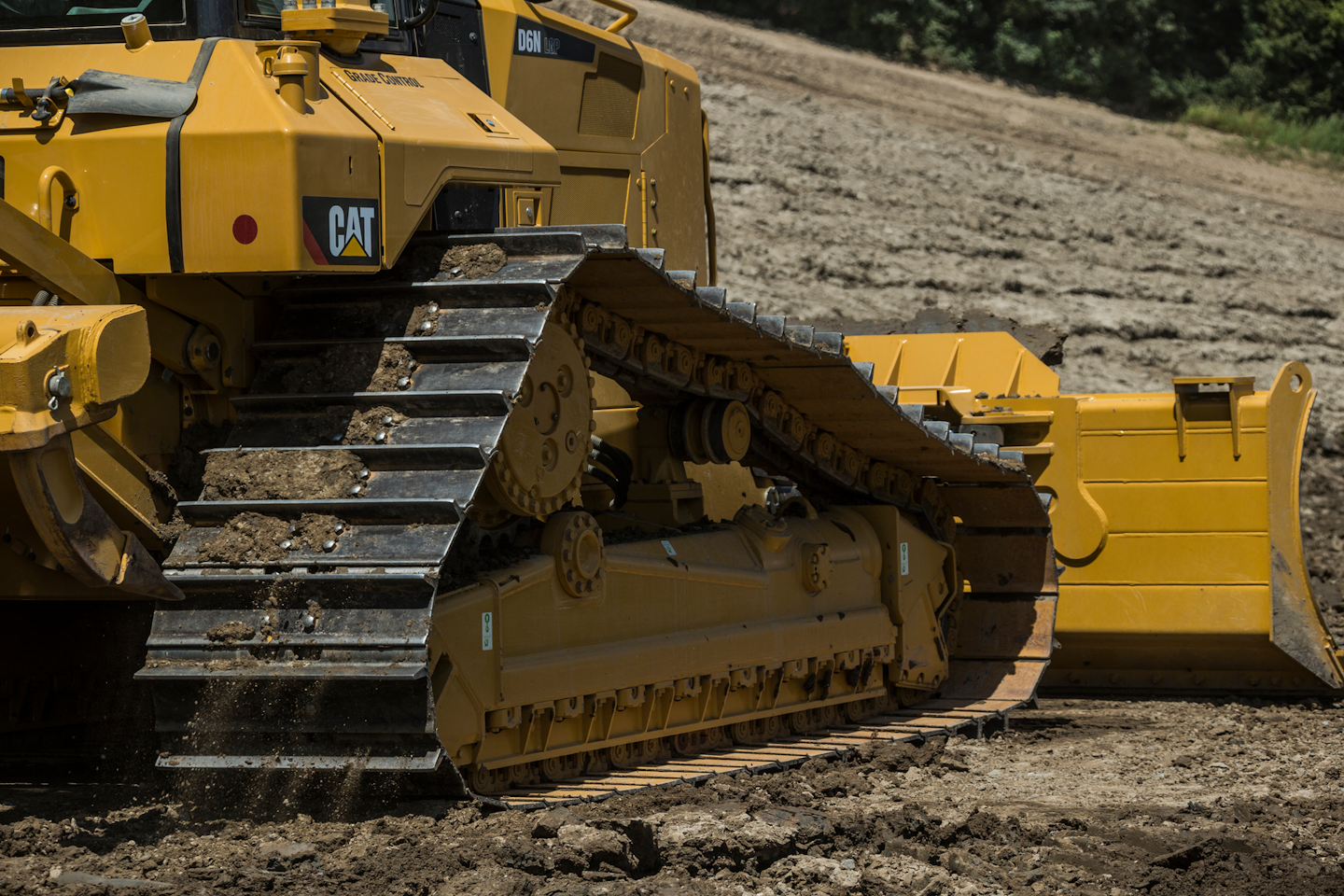 Caterpillar cites tight track as the No. 1 cause of crawler tractor downtime related to the undercarriage. "Improper track tension is the top reason for reduced wear life and dry joints," says Tim Nenne, senior undercarriage market professional. "The additional load that is added when the track is too tight can lead to oil loss and dry joints if not quickly addressed.
"Following track tension in importance is keeping the roller frame as clean as possible with a regular clean-out schedule," he continues. "Once material is packed into the undercarriage, it can cause tight track and increased wear rates on the moving undercarriage components."
Continue to monitor track tension as conditions change. "Tracks should be adjusted to the proper amount of sag as working conditions change," says Russ Reeg, senior undercarriage engineer, crawler dozers, John Deere Construction and Forestry. "Increased soil moisture, for example, can cause packing in the sprockets and a tight track."
Check track sag daily or whenever ground conditions change, such as due to rain. "Any change in the material packing in the sprocket will cause the chain to loosen or tighten, so track sag will need to be adjusted to maintain the proper amount," says Reeg.
Excessive chain tension will dramatically increase stresses on track bushings, sprockets, idlers and track links. "High chain tension loads can cause internal pin to bushing interfaces to generate heat from friction that can damage track seals," Reeg notes.
"When chain tension is not inspected regularly and kept at proper tension, it can cause track popping, dynamic spike loads or high static loads on the pins, bushings, track links and other components," Winemiller indicates. "A track that is too tight can put up to two to four times more tension on the chain than a properly adjusted track. When this dynamic spike load occurs, and/or slack is developed in track tension, components and wearing surfaces wear unevenly, allow dirt and debris to penetrate and will sometimes damage parent components that are not made to be replaced, like the sprocket and sprocket segments. If the sprocket segments see significant dynamic loads due to track tension slack, they could open up the hardware holes, which will allow a situation where torque-clamping force may never be achievable again with that parent component."
If the track tension becomes tightened beyond specifications, the life expectancy of an undercarriage can be shortened by anywhere from 50% to 70%, depending upon which OEM is asked, he adds.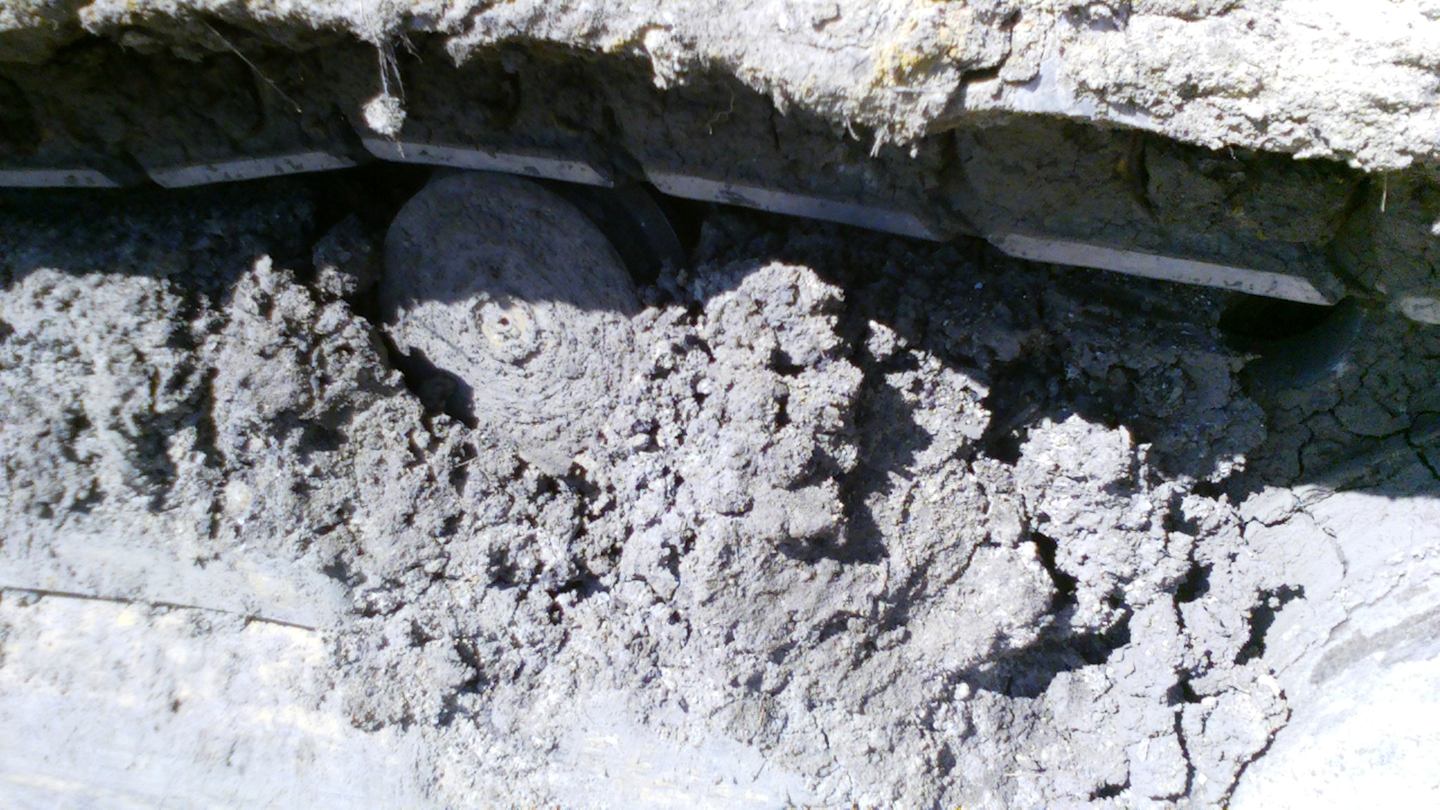 If working in a material that hardens as it dries out or freezes, cleaning the undercarriage daily will prevent the increased wear that occurs with the additional contact points.For similar reasons, keep your track clean. "If working in a material that hardens as it dries out or freezes, cleaning the undercarriage daily will prevent the increased wear that occurs with the additional contact points," says Reeg.
A crawler tractor undercarriage is designed to naturally wear during use. However, you want to keep an eye on it to ensure it wears evenly for maximum life, as well as replace any components that are worn out, damaged or missing in a timely fashion.
"When components that are wearing unevenly are not addressed, this can lead to a machine that is not running efficiently due to vibration, reduced horsepower to transfer to blade pull, etc.," says Winemiller. "It can also cause accelerated wear of adjacent components.
"Ultimately, replacing one worn component will always be less expensive and less time consuming than having to replace multiple components — pins, bushings, seals, thrust washers, etc. — all at once because a simple problem went unnoticed or ignored," he emphasizes.
According to Nenne, "The distance the slack adjuster is out from the roller frame is a good indicator that there may be dry joints." Other clues that can be used to determine undercarriage wear include the distance from the roller flange to the pin boss, distance from the track guides to the shoe plate and idler ride height when the machine is on a solid surface.
"It can be difficult to determine the track life by just looking at bushing wear on rotating track systems. The bushing life in this type of system is far greater than traditional fixed bushing tracks," Nenne comments.
Still, there are visual clues. "If the idler is obviously extended forward more than when the undercarriage was new, it is a sign there has been pitch extension in the track chain. So it is a clue there are some dry joints and internal track wear," says Reeg.
Correct Bad Habits
The way the operator runs the machine has a major impact on undercarriage life.
"A good undercarriage maintenance program can easily identify improper operating habits and provide good discussion points that can be used to highlight to the operator how small changes can increase life," says Nenne.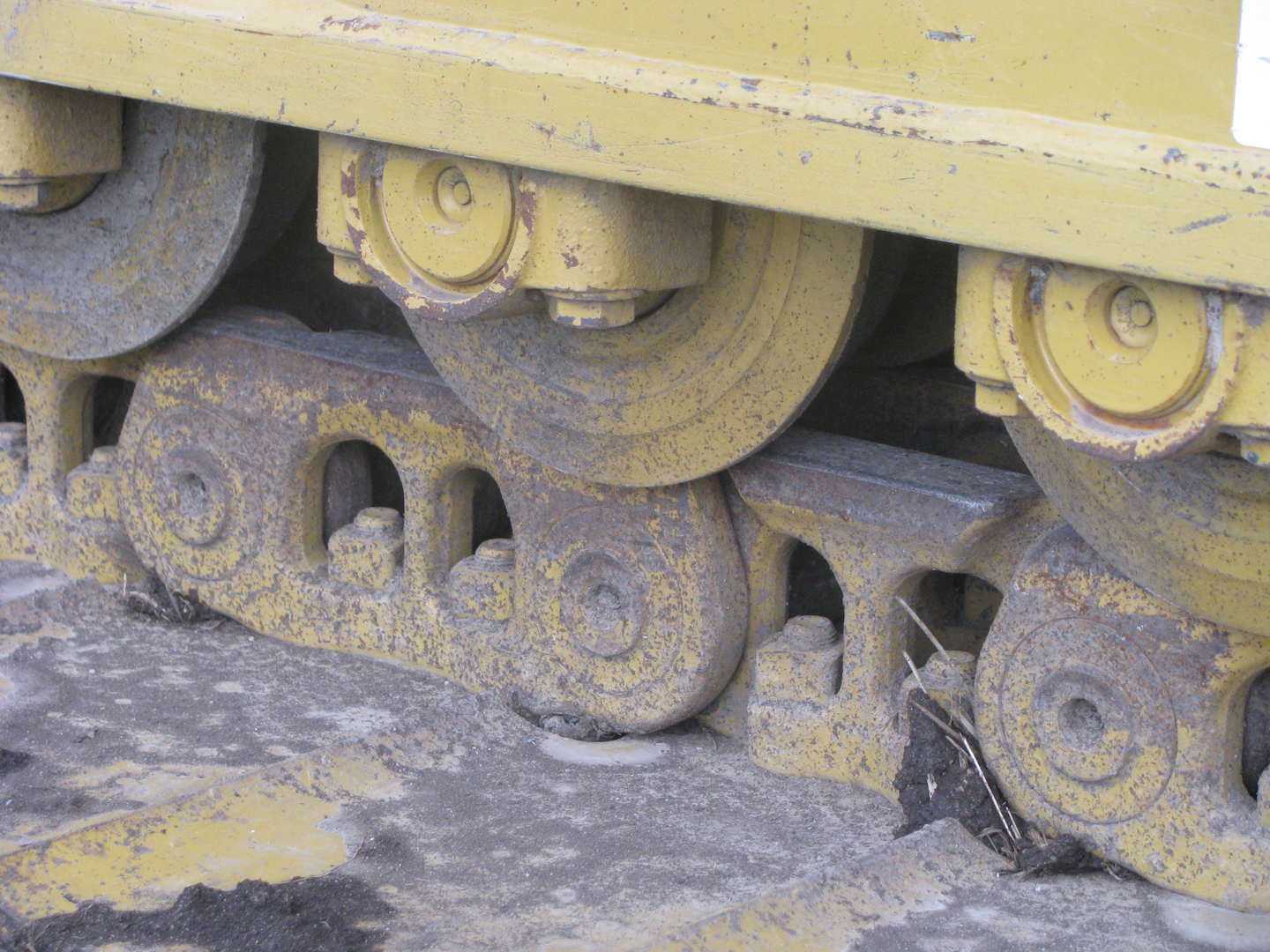 When a track's components are wearing down faster than anticipated, most of the time it is due to improper track selection, or inexperienced operators running in high-speed reverse, digging the machine down in sandy or rocky mud or trenching under high load in material that wears at the metal.Uneven wear is one of the problems that can be corrected if caught early enough through periodic inspections. "For example, if an operator is working on slopes in one direction only, the downhill track will wear quicker than the uphill track," Reeg points out. "That is an operator habit that can be changed to even out the wear patterns.
"Indications of accelerated wear can be due to abrupt turns or counter-rotating, which increases stresses in the undercarriage components and shortens life," he explains. "Speed in general shortens undercarriage life, especially in reverse. Since the amount of wear is a function of the distance traveled, not only hours working but higher speeds cause faster wear."
Improper operating habits such as always turning in one direction, continually working slopes in the same direction or spinning the tracks should be addressed with additional operator training, Reeg adds.
Options to Reduce Wear
"There is no doubt that you can catch and see things that could potentially hurt production or shorten the life of the undercarriage by doing frequent inspections," says Funk. "Regular inspections not only measure undercarriage wear and time remaining on the components, they help machine owners understand machine application and the way underfoot conditions influence undercarriage life." Consider the case of bent track shoes. "Once you see shoes bending, talking with the maintenance manager can ensure all options are being considered."
Some OEMs design and manufacture their own undercarriages and offer options that can lower operating costs. "The product support rep can take those options and make suggestions to the customer once bent shoes or increased wear is found and, in doing so, provide value to the customer," says Funk.
Komatsu offers a number of OEM undercarriage options. "The idea is to match the right product offering with the right application to maximize uptime," Funk states. The company also has undercarriage Assurance programs for its Komatsu Genuine Products, which provide further value to customers when combined with the various product options.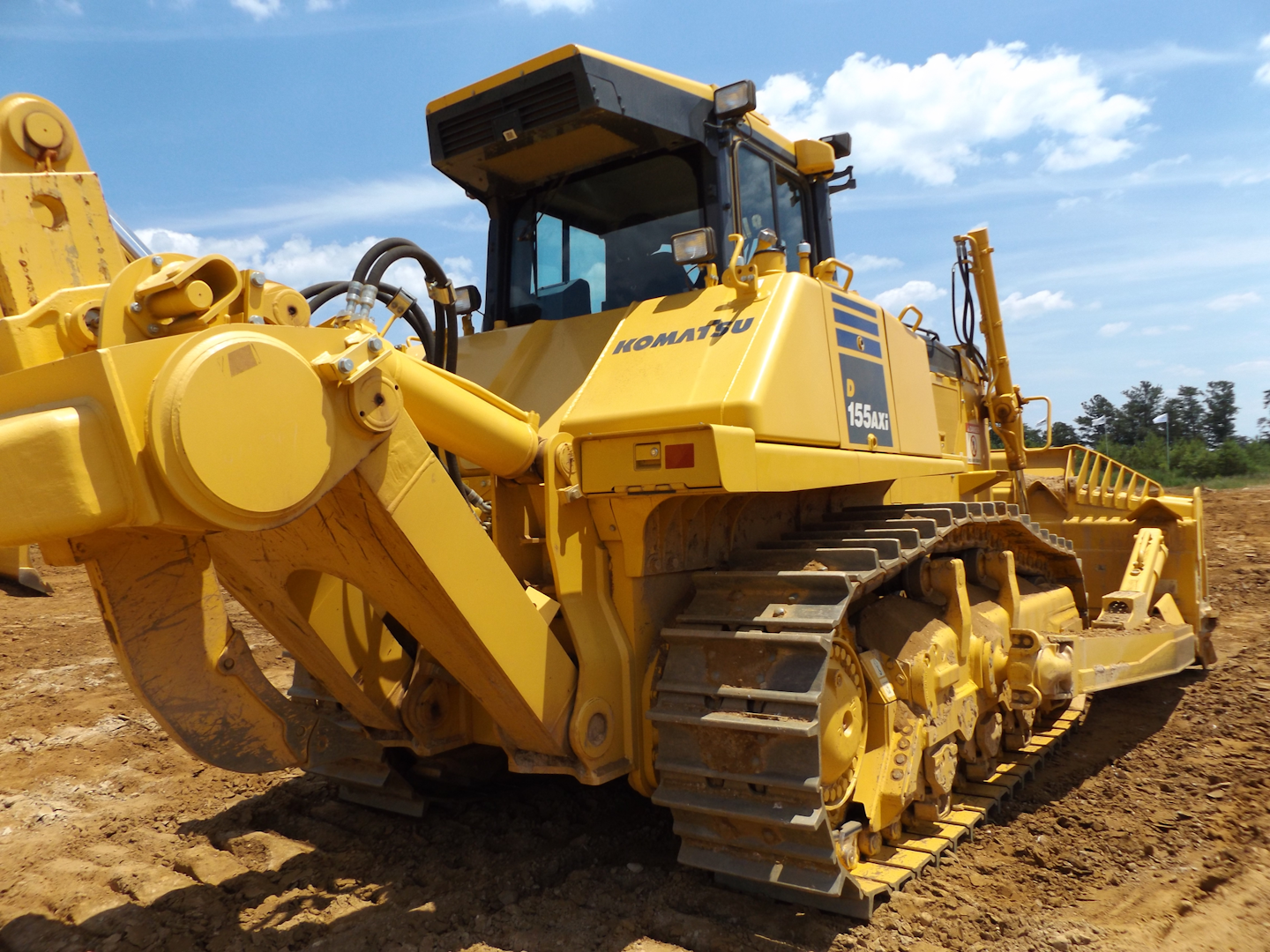 OEMs that manufacture their own undercarriage, like Komatsu, typically offer several options that can help to lower operating costs. The idea is to maximize uptime by matching the application with the undercarriage product offering best suited to it."One type of undercarriage does not fit all customer needs," Nenne agrees. "For example, customers who regularly work in abrasive conditions might want to consider an extended life undercarriage with larger diameter bushing, profiled links and larger diameter rollers to help minimize wear and reduce cost."
Nathan Horstman, product marketing manager, crawler dozers, John Deere Construction and Forestry, recommends working closely with local dealers to determine the undercarriage best suited for each scenario.
"When a track's components are wearing down faster than anticipated, most of the time it is due to improper track selection, or inexperienced operators running in high-speed reverse, digging the machine down in sandy or rocky mud or trenching under high load in material that wears at the metal," says Winemiller. "Much of this can be avoided with operator training and dealer visits to the location to help choose the proper type of track for the application."
"Choosing the optimal machine configuration, such as XL, XW or Low Ground Pressure (LGP), for your most frequent applications can also help with track wear," notes Nenne. "For example, XL is well suited to hard, rocky conditions, whereas the wider LGP track experiences more twisting and bending in rock, contributing to more rapid undercarriage wear. Matching machine configuration to the working conditions helps reduce stress and material flow through the undercarriage."
Also consider that the less distance you travel, the less wear the undercarriage will experience. "Another tool we might not always think about for reducing undercarriage wear is grade technology," says Nenne. "Today's 2D and 3D systems help operators get to design plan faster and more accurately, so material only has to be moved once. This puts fewer 'miles' on the track, helping to increase overall undercarriage life and uptime."
Make sure you consult an undercarriage expert to determine an undercarriage management strategy that best suits your operation. "There are applications where running the undercarriage to destruction is the lowest cost option," says Nenne. For the majority of applications where this is not the case, "a good undercarriage management program will not only provide the customer with the percentage worn, it will provide them with a maintenance strategy that maximizes undercarriage life and provides the lowest cost."
Other Considerations
Maintenance doesn't end with the undercarriage. Other components on the crawler tractor can also impact undercarriage life.
"Roller frames, pivot shafts and equalizer bars play an important role in the life of an undercarriage," says Nenne. "Roller frames that are not properly maintained can alter the alignment of the link assembly in the rollers and idlers. If the link assembly is not properly aligned, wear life will be reduced."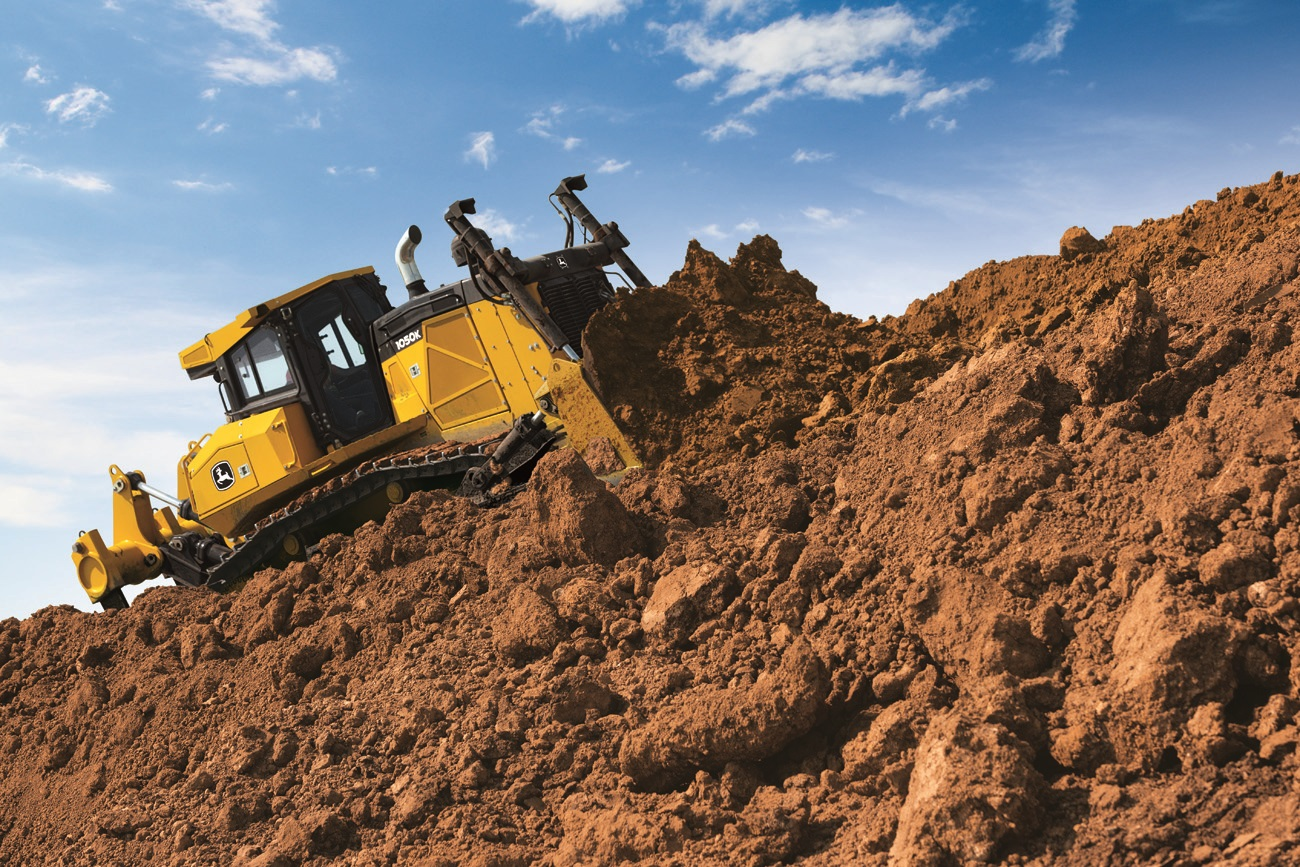 The working end of any crawler tractor is the blade. Inspect the top of the blade and spill guard and look for damage caused by rocks or heavy material. Inspect the corner bits on the bottom of the blade for wear and corrosion. Also inspect the cutting edge for remaining wear.
"The cutting edge and end bits should be inspected each time a walkaround inspection is performed," says Nenne. "Just as with the undercarriage, a cutting edge inspection will highlight opportunities to increase life and reduce downtime."
"Inspecting wear items like cutting edges and replacing as necessary will help prolong the life of the blade, as well as optimize productivity," Horstman comments. "Inspecting blade attachment joints to ensure they are properly shimmed and greased will help avoid premature wear."
Pay close attention to trunnion pins and caps on the blade push arms and cylinders. If the trunnion cap is loose or there is space between the trunnion and cap, it could be an indication of excessive wear. Check the hydraulic cylinders for scratches, dents or leaking seals. Scratches on the chrome of hydraulic cylinder rods will eventually result in leaks.
"Of course, you need to grease the pivot points," adds Gamba. "It is really important, depending on the application you are in, to make sure you maintain cleanliness around the cylinder rods so that material doesn't go through the seals and contaminate the hydraulic system."