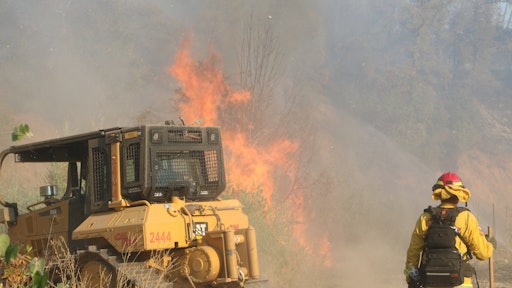 Paccar Inc.
The sustained, year-round efforts of wildland firefighters save countless acres of timber; billions of dollars in property damage; and, most importantly, human lives. The U.S. has recorded 1.5 million wildfires since 2000, including 237 fires that burned more than 100,000 acres and 15 fires that destroyed more than 500,000 acres. Coast to coast, workers and equipment tasked with battling these blazes operate close to extreme field conditions. Getting the job done safely, effectively and quickly requires the right tools, training and experience.
Properly equipped, crawler dozers play a huge role in supporting the nation's fire control and management capabilities. Manufacturers with their finger on the pulse of earthmoving and material handling equipment in forestry settings are leveraging their experiences and technologies.
Solutions are being mapped out by engineering teams to suit virtually any fire department's playbook, operating situation or terrain-dependent need. More dozers are being outfitted in a factory setting to meet the growing requirements of fire agencies. These technology additions are also used by forestry services and municipalities.
US Wildfire Statistics
Data compiled by the National Interagency Coordination Center show that the number of annual U.S. wildfires is variable, dropping slightly during the past 30 years. During that same period, the number of acres affected annually, while also variable, has increased.
Federal statistics reveal more wildfires occur in the East and Central states, but wildfires in the West are larger and burn more acreage. Most wildfires are human-caused or the result of lightning, with the latter blamed for destroying slightly more acres.
In 2020, U.S. wildfires were estimated to have caused $16.5 billion in property damage. That number was $22 billion in 2018 and $24 billion in 2017. Impacts on forests or soil, wildlife or other ecological effects must also be considered. It is difficult to place any realistic measure on people being displaced from their homes, serious injuries and tragic loss of life.
According to federal data, only a small fraction of wildfires become catastrophic, and a small percentage of fires account for the most acres burned. Weather, climate and geography can impact how crews approach the suppression of wildfires and mitigate their potential to grow into a more destructive force.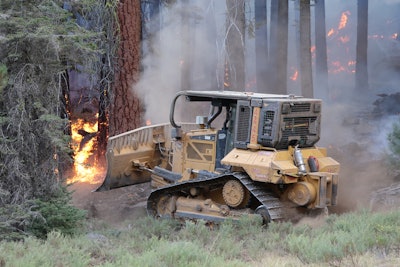 A Proactive Defense
Facing inhospitable conditions is a norm for firefighters dealing with different obstacles and terrains. These include steep gradients, mountainous or rocky areas, dry and arid regions, places with sandy soils, swampland areas, and mud bogs. Even overgrown vegetation can catch fire.
Working near hazardous fire situations provides little room for error and requires a solid defensive strategy. Cab performance and added protection are emphasized in new fire dozer arrangements, including shielding on the tractor's belly pan and the wrapping of hydraulic and electrical lines in fire-resistant material.
Dozers are being outfitted with guarded lighting, an oil-level sight glass, fuel-shut off in the cab, onboard fire suppression, and pressurized cab systems with HEPA filtration to keep leftover smoke and burnt ash out of the driver's lungs.
In addition, Caterpillar (the dozer's manufacturer) incorporates:
Cab screens and sweeps
Brush guard blades equipped with steel cables
Ladders for easier access
Front and rear tie downs
Tow points
These additions help protect operators and maximize performance under challenging and stressful conditions.
Better Lifelines
Fire dozer operators are called on for best all-about performances. They must demonstrate the capacity to work safely and sustain a high degree of focused intensity in the face of approaching danger.
The California Department of Forestry and Fire Protection (CAL FIRE) is an emergency response and resource protection department with an emphasis on preserving timberlands, wetlands, wildlands and urban forests. It is the in-state fire department of the California Natural Resources Agency.
CAL FIRE operators undergo intensive training, including heavy wrecker instruction and training on the advanced recovery of different equipment types using winches and snatch blocks. Maintaining acute awareness of their surroundings, operators must form an extraordinary grip on boundaries—a deep knowledge of both limitations and capabilities.
The most experienced operators tend to focus on mitigating circumstances that could lead a fire team down the wrong rabbit holes, said Shawn Entz, CAL FIRE, a veteran fire dozer operator who transitioned to his current role in 2000. As examples, a dozer can get caught in a precarious situation if it gets high centered on rocks or slides down into a compromised area.
"We operate year-round, out in the forests, getting yourself or another dozer or vehicle unstuck, even skidding logs in winter with other dozers following close behind," Entz said. "Tree trunks, stumps, they will roll right up underneath you. A dozer gets stuck, or a fire engine rolls down a hill. These are all possibilities, contingencies we must stay prepared for."
In 7 years as an operator with CAL FIRE, only once was Entz stuck to a point where he had to "winch himself out." That's the exact moment when the reliable equipment operators can depend on becomes less of a tool and more of a lifeline.
"We have very defined limitations in a winching environment," Entz said. "Whatever is stuck, you can't just hook up. There are math equations involved with removing obstacles. It requires a lot of expertise to know your limits and capabilities and keep operating. But you never want to be stuck there, caught in that scenario during an active firefighting situation."
Key Attachments
Fire suppression dozers started as an outgrowth of the forestry industry.
"Dozers used for logging typically have winches with a faster line speed," said Dave Tallon, Caterpillar. "Soon, these machines started getting pulled into the fire suppression side. Through their development of the system, Cat and [the winch manufacturer] realized what operators needed was more precise control, to get unstuck or out of a situation."
The Cat D5 crawler dozer has succeeded the D6N, offering superior performance, including a fully automatic transmission and more technological features. Nimble and responsive, it was designed to supply power for dozing and finesse for grading.
New fire dozer packages for the Cat D5 were developed based on conversations with agencies like the U.S. Bureau of Land Management, U.S. Fish and Wildlife Service, U.S. Forest Service, the Georgia Forestry Commission and CAL FIRE. Tallon said the goal has always been to bring to market a fully equipped fire dozer with the packages and options they seek.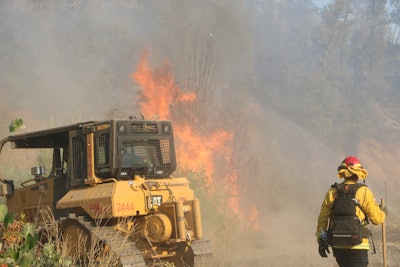 Right Fit, Optimized Function
With 27% more visibility in front and more traction and balance on steep slopes, mobility and maneuverability have been improved on the D5, alongside overall towing performance. The collaborations among Cat, the winch manufacturer and their customers have ensured proper fit and function of major fire dozer package components in relation to the D5's dual heat insulated winch/ripper assembly.
Gear ratio options for the winch configurations have been paired with Cat's systems and aligned with CAL FIRE's program to optimize an enhanced level of control for operators.
"The winch is one of the key rear attachments," Tallon said. "We do a fair amount of tuning and validation to make sure it performs as we expect before we send it out. [The winch manufacturer's] engineers are involved during the development phase, long before the dozer goes into production."
The winch is a mechanical power take off winch with electric controls. It has a 10-inch diameter drum. The maximum line pull—through all layers of cable with the slow speed configuration—is 69,200 pounds. At full drum, the maximum line speed on the slow-speed winch is 91 feet/minute (28 meters/minute).
Cable control on the winch was designed for hydraulically actuated multiple disc clutches and brakes. A freespool with drag adjustment allows an operator to easily pull wire rope from the drum by hand, permitting fast, one-person operation. Winch fairlead rollers help preserve the wire and spool it more evenly. Equal speed gearing in forward and reverse and a drive-away function provides smooth and predictable performance.
"We recommended the new low-speed winches as opposed to the faster speed, also tuning the clutch and making brake modifications," Tallon said. "These are electrohydraulic controls with control modules and programming, a transmission with electronic, programmable logic integrated into the tractor. Not just a chunk of iron that sits on the back and goes in and out. It gives you a sense of sophistication. There are intelligent, fly-by-wire controls for these compact fire winches."
Entz noted that policy dictates how steep dozers can be operated on the edge of an envelope. "For our program specifications, I have to be able to keep the tractor in gear and drive at the same time," he said. "We can power and winch simultaneously. It's set up so that the brake and winch can be reset, so we can respool the winch and drive away."
"You can let the line off in a controlled manner without towing," Tallon continued. "This drive-away feature allows them to begin driving somewhere and start pulling, to get in a better safety position—a very useful feature. Now, when the winch is engaged, it is easier on the equipment, less wear and tear on the machine."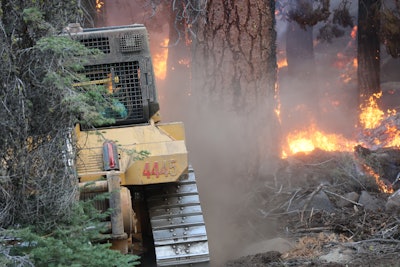 A Steady Climb
According to Caterpillar, integrated equipment such as rippers, sidebooms and winches can cause the tractor to balance differently. Safe operation on steep slopes may require special machine maintenance, as well as excellent operator skill and proper equipment for the specific application.
CAL FIRE approached equipment dealer Peterson Cat in Santa Rosa to inquire about extending the rear undercarriage of a D6N fire dozer by more than a foot. With the winch installed, the Peterson team felt as if greater stability could be useful to hold the track more firmly on the ground when climbing on steeper slopes.
Tallon said that operators under typical circumstances would be encouraged to let gravity help do the work when climbing downhill. Fire dozers, on the other hand, may have to climb uphill or down for an extended distance, whatever the situation calls for.
Chris Glavich, Forestry Manager, CAL FIRE, said they worked with Peterson Cat and Holt of California to pioneer the process of reinforcing and extending the track frame by approximately 16 inches. All the agency's existing D6N dozers have been retrofitted or scheduled for modification.
With the rear idler pushed rearward 12.6 inches (320 millimeters) on a standard gauge U/C, stability, traction and flotation are enhanced on steep slopes and loose material. The improvement—creating a more stabilized experience when climbing—has been made permanent by Cat for all new fire-ready D5s being rolled out at the factory.
Glavich said that the original results were demonstrated by CAL FIRE at Camp Roberts, an equipment proving ground near San Luis Obispo. Operating on steep terrain—up to a 2:1 slope—allowed them to make performance comparisons among several different machines.
"It required a lot of R&D on our part," he said. "Our original pilot was with Peterson to see if we could add an extra roller and extend the track to help keep the front end down while climbing uphill. Holt of California fit the machines we purchased from them.
"We took a snapshot (at Camp Roberts) of the dozers with extensions. The (extended track) D6N climbed best, walked away from all of them."
Winch Compatibility
Additional concepts, including increased guarding thickness around the water systems used for dousing spot fires and the window of fire retardant dropped from aircraft, have also been converted into reality for D5 fire dozer arrangement options.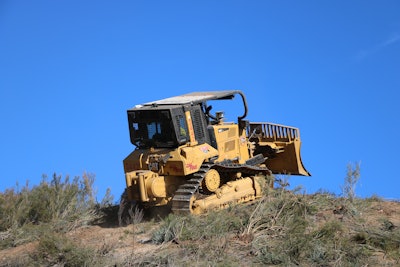 "The winch can be used as a recovery device, to get another dozer unstuck, recover other dozers, get yourself unstuck," Tallon said. "We designed the water tank in a way that it is compatible with the winch attached. It's tucked in the back of the machine so you can still use your rear attachment like you normally would.
"All Cat's fire dozer arrangements have cut some of the work the customer has to do to get that level of compatibility. All that work has been done in the factory. We took the voice of the customer and improved on what we had."
All information collected by Cat from CAL FIRE and the other fire agencies from different parts of the country was taken in by Cat engineers in Peoria, Illinois and Grenoble, France, with engineers from the winch manufacturer invited on board.
Rolling Out
In 2021, more than 23,000 wildfires burned approximately 6.2 million acres in the West, compared with the over 35,000 fires that burned just less than 1 million acres in the East. Nationwide, there were 999 large or significant wildfires in 2020, but even more—1,409—in 2017. Federal firefighting suppression costs broke a record in 2021, bringing that 5-year average to more than $2.8 billion.
According to Glavich, "The [winch] has gone on all D6N dozers since 2008, and now the current-generation D5s. We want the same controls for our dozer machines so our operators can be as familiar as possible to support a consistent training platform. That's where we're headed."
"This is a great example of dealer support, and Cat's and [the winch manufacturer's] ultimate investment of picking up improvements, making them standard for machines at the factory-built level," Tallon continued. "We work together on resolving any issues that may arise to keep the testing moving forward. This allows for faster development and our ability to scale production with zero sacrifice of quality standards."
Todd Razor is a writer for PACCAR Winch.
Companies in this article