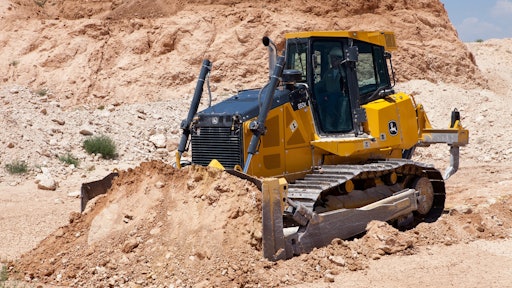 The John Deere 850K and 1050K Crawler Dozers impressed a jury of independent design specialists from 41 countries, and took home the 2016 Red Dot Award – one of the world's largest design accolades. In collaboration with BMW Group subsidiary Designworks, John Deere developed an industrial design language on the 850K and 1050K that delivered a consistent aesthetic to the entire dozer family.
"We are incredibly humbled to receive such prestigious recognition from these experts in the industrial design industry," said Doug Meyer, global director construction engineering. "The award underscores the hard work of the John Deere team and our partners to deliver strong, durable machinery that helps our customers achieve outstanding results."
The 850K Crawler Dozer boasts more power and weight for increased productivity and an EPA Tier 4 Final/EU Stage IV diesel engine for work in non-attainment areas. Deere included equipment owners and operators from the beginning of the design process to develop optimal solutions for the updated crawler dozer. Key serviceability features include the innovative easy-to clean "V-cool" package.
The all-new, 350-hp 1050K Crawler Dozer is Deere's largest dozer. Strong chamfers, surface breaks and stout overall proportions secure an active stance and directional assertiveness.
The entire K-Series crawler dozer product line now has a spacious, redesigned cab that is noticeably quieter and more comfortable. The overall design language emphasizes chamfering to enhance visibility to the blade, side and rear of the machine.
Manufacturers and designers entered a record number of approximately 5,200 innovations in the Red Dot Award Product Design category in 2016. The jury was also bigger than before, with 41 experts coming together in Germany to assess each entry live and on site over a period of several days.
John Deere's 8000 Series self-propelled forage harvester from the Agricultural Division also secured a Red Dot Award.