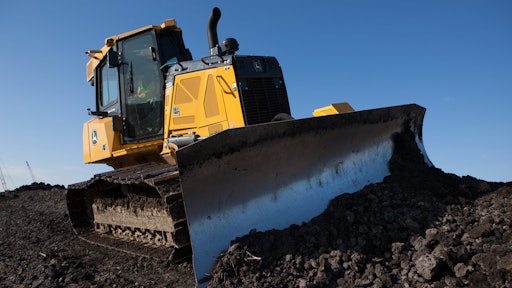 The 700K SmartGrade crawler dozer option introduced by John Deere last week at World of Concrete is designed to improve jobsite accuracy and quality of work through the complete integration of the Topcon 3D-MC2 grade control system. Because the system is fully integrated into the machine cabin, structures and software, it delivers precise grading performance while eliminating vulnerable external masts and cables.
[VIDEO] John Deere SmartGrade Provides Fully Integrated GPS Grade Control on 700K Dozer

"By combining the power of Topcon technology with the John Deere track load sensing system, the SmartGrade dozer offers an easy to setup, highly productive grading machine intended for road building, site development and residential building customers," says Liz Quinn, product marketing manager, John Deere WorkSight.
The SmartGrade technology enables operators of all skill levels to be more productive on the jobsite."If you're an excellent operator, you're going to be even better," says Tim Hilton, product consultant, crawler loaders and dozers, for John Deere. "If you're an average operator, you're going to become an excellent operator – all while you're putting money in the owner's pocket."
[VIDEO] Features of the John Deere 700K SmartGrade Dozer
Because SmartGrade is integrated into the 130-hp 700K, it removes the need to install equipment daily, reducing setup time. "We took dual inertial measurement unit sensors – essentially slope sensors – and placed one on the blade and one on the body of the dozer," Quinn explain. "These are generating signal corrections at 100x per second about the blade's position and the body's position of the machine." Dual antennas are hard mounted onto the top of the machine.
[VIDEO] John Deere Explains Technology on the 700K SmartGrade Dozer
The Auto SmartGrade feature allows the operator to easily adjust the system when moving the machine from one soil type to another. Especially helpful to new operators, Auto SmartGrade automatically lifts the blade over heavy loads before track slippage occurs, then returns the blade to grade. It also limits the number of passes required, reducing the pace of wear on the undercarriage.
"With Auto Smart Grade, you can use it earlier in the earthmoving cycle - in cutting - when you may have 2 ft. of dirt you have to move that day," Quinn points out. "Rather than going right to grade, it will gradually get to grade, which will be especially helpful for new operators."
Machine dimensions are preloaded into the grade control monitor, reducing the time required to calibrate the dozer to about 30 minutes.
The purpose-built machine will be sold and fully supported by the John Deere dealer network.
[VIDEO] What Mathiowetz Construction Has to Say About John Deere's 700K SmartGrade Dozer
Request More Information
Fill out the form below to request more information about
John Deere's 700K SmartGrade Dozer Takes a More Intelligent Approach to Grading