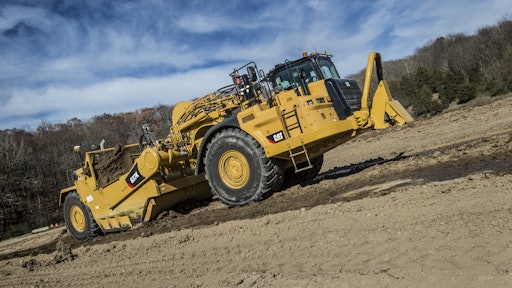 For the first time in its history, Caterpillar gave construction journalists a glimpse behind the scenes of its primary proving grounds. One of five locations, the Peoria Proving Grounds was established in 1948 and sits on approximately 2,600 acres, a select portion of which is used to develop and validate the company's products, as well as site solutions for customers.
"[Development and validation is done] in conjunction with analysis and simulation," Greg Menke, validation engineering manager, Caterpillar Inc., told journalists during the facility tour. "Combining the analysis and simulation with the development and validation is our 'secret sauce' in how we invest our R&D."
Several hundred machines are housed at the site, from the smallest mini excavators up to the largest wheel loaders. Each new machine design eventually finds its way to the Machine Development Center (MDC), a facility established in 2008 as the company looked to Tier 4 development challenges. The MDC boasts 3.75 acres under roof and an inside height of 41 ft.
"We can simulate load and dump cycles in this environment. We also have the ability to go 50 ft. below the ground level for excavation," Menke noted. "We can create slopes that are part of our development and validation efforts, as well.
"It is a controlled environment – both temperature as well as soil conditions," he said. "We can vary the soil conditions depending on the application that we're trying to simulate… So rain or shine, day or night, development can be done here in MDC. It enables 24/7, year-round development, which has helped us to successfully develop and launch our Tier 4 products."
Scrapers Put to the Test
One of the products highlighted during the tour was the new 630K series wheel tractor-scrapers, which replace the 630G Series. The transition from Tier 3 G Series models to Tier 4 Final K Series machines began back in 2010 with interviews with customers and operators to determine the types of technology that needed to go into the machines. Engineers then looked at existing technology on other types of Cat equipment that could benefit customers, as well as technology that could be developed specifically for the K Series lineup.
Caterpillar Takes on Technology with 630K Series Wheel Tractor-Scrapers

By mid-2013, development progressed to the point of building three pilot machines, one of which we saw (but were not allowed to photograph) at the MDC. "It looks really rickety with lots of wires, lots of things cobbled together, but it's a proof of concept," Peter Rummel, engineering team leader for the K Series, explained. "We want to prove… that it's going to meet our quality targets and our safety targets before we allow a customer to even use it at a field follow site."
Each pilot machine is put through a series of safety critical/validation critical tests to ensure new structures - cylinders, hydraulics, advanced features, etc. - work as expected. "[This machine has been] run through the races," Rummel stated of the pilot model on display. "It's had a lot of things done to it in terms of work and validation. It's about 2 ½ years old, so it's a machine that has had the paint worn off of it. It's been taken apart and put back together."
Testing began with the engines. "We did testing to make sure that the engines in the front and the back met all of the power requirements that we needed to," said Rummel. "After that, we were ready to do what we call full machine testing."
This included testing cooling system performance. The soil at the MDC can be heated up to 95° F within three hours. "It saves us time in not shipping a machine out to the desert in Arizona to run a cooling test," said Rummel.
Another process conducted on pilot units is an on-machine stress analysis test, which involves placing strain gauges all around the machine. "On this machine, we had over 300 different pieces of instrumentation," Rummel pointed out. "What those strain gauges do is, once I have all of the instrumentation going into a data acquisition system, I can go out into the field and try to run it through everything that I know that the customer is doing with the machine."
Different "events" re-created during testing may include push-pull operations, panic stops, running through potholes, etc. "All of that [test] data is collected, and then we hand it off for analysis and they can go back and say 'is this machine going to live the promised duration and meet that expectation that our customers have come to expect from a Cat scraper for the last 60 years plus,'" said Rummel.
Extensive testing is also done on the software architecture of the machine. "We have computers all over this machine," Rummel stated. The engines, aftertreatment, transmission, hydraulic system, grade control system – all have their own computer control. "All the systems have to talk to each other, they have to talk together well and they can't stop talking to each other at any point in time. So we do a lot of testing with just software."
Validation in the Field
Once the safety critical/validation critical tests are completed, productivity checks are performed and the units are finally sent into the field for customers to put through their paces.
"We hand it to the customer and say use this scraper like you use all your other scrapers, and we want to know everything that goes wrong with it," said Rummel. "As we find issues, all of that is written up and it's given back to the design team... and we change our processes or change the design."
Any changes are added to a pilot machine that remains at the Proving Grounds, including the 630K model we saw at the MDC. "I have this machine that lives here. We put the new hardware on it, fix it, validate it and then we send that [hardware] out to the field follow machines and they continue to accrue hours on it," said Rummel.
All field follow machines are also equipped with a "SuperComm II", which is similar to a telematics black box but offers much more advanced capabilities and data capture. "It talks to the electrical architecture of the machine; so every channel that's being measured just to run the machine – system pressures, currents, voltages, fan speeds, engine speeds," Rummel noted. This information is transmitted back to Cat via cellular modem for monitoring and analysis.
The final step prior to machine production is to ensure the factory is set up to deliver the product as designed. This includes building models in the factory several months prior to the targeted production date to ensure they meet the same qualifications/criteria as the pilot machines. Pre-production models are then sent out into the field, where they continue to be monitored even after full production begins.
The pilot machine at the MDC also maintains its duties well after the start of production. "This machine continues to stay here at the proving grounds," said Rummel. "If any issues come up, I go out in this machine and see if I can replicate the issue… Anything that comes up as a current production issue, we continue to validate with this machine for years to come."
Companies in this article