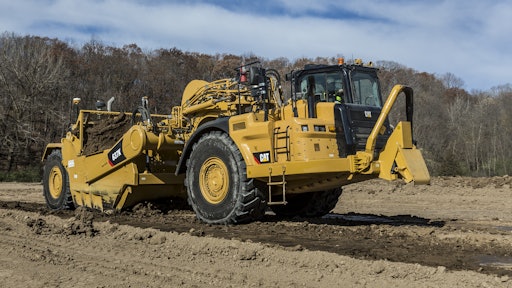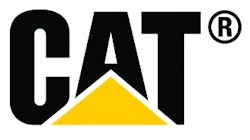 "Ten years ago, scrapers probably were the most absent of technology of any machine that we had," notes John Gerhold, product application specialist, Cat wheel tractor-scrapers. The launch of the Cat 631K and 637K wheel tractor-scrapers changes that. The machines, which replace the previous 630G Series, feature a complete design update, including high-pressure steering, engine-over-speed protection, tire-spin reduction, differential lock-engagement protection and machine/ground speed control, plus available systems such as Sequence Assist, Load Assist, Payload Estimator and Cat Grade Control. Payload capacity of the open-bowl 631K and open-bowl twin-engine 637K is 34 cu. yds. and 50 cu. yds. for the coal-bowl 637K.
The redesign includes a number of features developed specifically for K Series models:
Hydraulic system refinement to simplify the bowl quick-drop function;
Draft-arm-overflow guards to divert material away from the sides of the bowl;
Advanced Cushion Hitch, which uses new software to dampen end-of-stroke movement of the load cylinder
"Advanced Cushion Hitch is going to prevent end-stroke events in the cushion area," says Gerhold. "It improves operator ride and it helps to reduce repair and maintenance on the pins and bushings in the cushion hitch because we are no longer pounding those end stops."
Additional features available include:
Auto-Stall system: Assists in quickly bringing the transmission to operating temperature for faster transitions from torque-convertor drive
Fuel Economy Mode (637K only): Adjusts shift points and power distribution for optimum fuel economy
Machine-Speed Limiter: Allows the machine to select the gear that works most efficiently for the load on the engine and transmission
Cat Grade Control: "Intelligently" controls the loading cycle to ensure that the machine does not cut below grade nor over fill in dump area
[Video] Operators Talk Advantages of Cat K Series Scrapers
Features Accelerate Operator Proficiency
One of the biggest challenges in the construction industry is finding experienced operators -- a problem that is compounded when it comes to scraper operation. "We have a very productive machine that is highly dependent on the operator," Gerhold comments. "What we find with inexperienced operators is it's two to three months of training before we get them to that [expert] level.
"If you're not making production, you're not paying the bills," he continues. "So we needed to look at how do we make this operator productive longer throughout the day, or get inexperienced operators and take workload off of them. The first building block in that is Sequence Assist."
Sequence Assist uses cylinder-position sensors to automate bowl functions, eliminating up to 14 manual commands in each cycle segment. This allows experienced operators to be more aware of their surroundings, and inexperienced operators to become productive faster.
Load Assist is an option designed specifically with operator training in mind. When activated, it automatically adjusts cutting edge height to manage wheel slip and ensure consistent loading cycles. "[Based on our testing], Load Assist will put you in that 85% to 90% efficiency level compared to that expert operator," says Gerhold. Consequently, an inexperienced operator doesn't significantly affect production during training, plus becomes proficient much more quickly.
"We've taken the learning curve and condensed it down to maybe a week," says Gerhold.
A feature that comes standard with Sequence Assist is Payload Estimator. It calculates machine payload by measuring bowl lift cylinder pressure at the start of the haul segment, achieving more than 95% accuracy compared with actual scale weights. Production data for each machine in the fleet is automatically transferred and monitored via Cat VisionLink. 
While not intended as a training tool, Payload Estimator can help to identify problem areas. "It will help you identify operators who need additional training because their productivity levels are a little off from what everybody else is doing," says Gerhold.
Spec Sheet: Caterpillar 631K Wheel Tractor-Scraper
Request More Information
Fill out the form below to request more information about
Caterpillar Takes on Technology with 630K Series Wheel Tractor-Scrapers