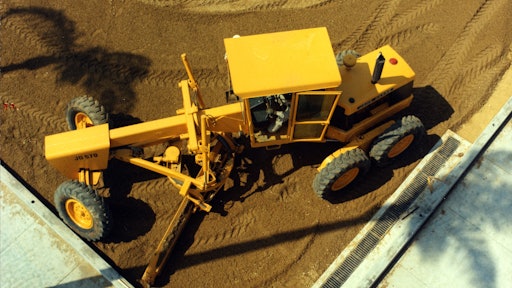 To commemorate 50 years of the articulated motor grader at CONEXPO-CON/AGG in Las Vegas, John Deere will display a restored JD570 model that was reconditioned by two retired John Deere Dubuque Works employees, Don Bagby and Jerry Bode. Introduced in 1967, the JD570 pioneered many innovations seen on motor graders today, including articulated frame steering, hydraulically controlled machine functions and the rollover protective structure (ROPS).
"While we often focus on the present and future of equipment at CONEXPO/CON-AGG, we wanted to tip our cap to the JD570 and the role it played in the evolution of motor grader development," said Luke Kurth, motor grader marketing manager for John Deere Construction & Forestry.
Graders prior to the JD570 were straight-frame machines with solid rear axles and typically only featured front-axle steering. Addition of frame articulation enabled operators to work more efficiently, especially in confined areas. Its steering methods enabled operators to "crab steer," allowing for completely new uses. The grader's front wheels could be articulated to move on slopes, on windrows and in ditches, while the back wheels stayed on solid footing.
Immense effort went into the design and development of the saddle as well. The result allowed operators to place the blade into a 90-degree bank, or any other banking position, in less than one minute without leaving the seat. The saddle was secured to the mainframe with a unique tapered-pin design that was held into engagement by hydraulic pressure — also a grader industry first.
The JD570 was also the first grader, and possibly the first piece of construction equipment, to have a cab and canopy with the integral ROPS available from the factory. The year prior to its development, John Deere introduced the first commercially available ROPS for farm tractors and subsequently shared the patent for this important safety feature with the industry at no charge.
The 83-hp motor grader incorporated a powershift transmission with eight forward and four reverse speeds, with a top speed of 21 mph. It came equipped with a 12-ft. moldboard and a 17-ft. 4-in. wheelbase and weighed 20,278 lb. It also had a turning radius of just 18 ft. Deere produced the JD570 until 1971, when it was updated to the "A" series. The power train configuration became the foundation of John Deere graders up until 1997. The machine also was the first motor grader to be compatible with snow wings.
To learn more, visit the JD570 display at CONEXPO-CON/AGG 2017, March 7 to 11, 2017, at booth N12525. Show attendees will also have the opportunity to purchase a commemorative 50th anniversary golden 872GP scale model.