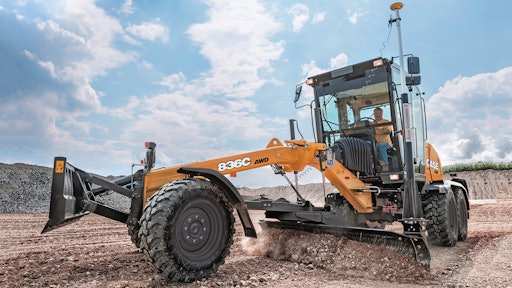 The 836C and 856C are available in standard and all-wheel-drive (AWD) configurations, and achieve Tier 4 Final compliance with selective catalytic reduction (SCR) engine technology. The 836C offers 138 to 156 hp and an operating weight of 24,466 (standard) or 27,128 lbs. (AWD), while the 856C has a 173- to 190-hp range and operating weight of 33,966 (standard) or 34,848 lbs. (AWD).
An Ergopower transmission and torque converter provide smooth automatic shifting, and a 100% automatic differential lock combined with automatic no-spin power splitting instantly transfers torque from a slipping tire to one with more traction without operator intervention. The AWD models have a "Creep Mode" that engages just the front wheels at the push of a button.
Both models feature an intelligent high-precision load-sensing hydraulic circuit. A direct-activated axial piston pump delivers only the required amount of hydraulic pressure where it is needed. The control valves provide pressure compensation, allowing the moldboard to be lifted or lowered in parallel, when both at full stroke, preventing unintended slope loss due to hydraulic flow/pressure differences from side to side. A high-flow floor switch allows the operator to obtain maximum output from the hydraulic circuit at any time during operation.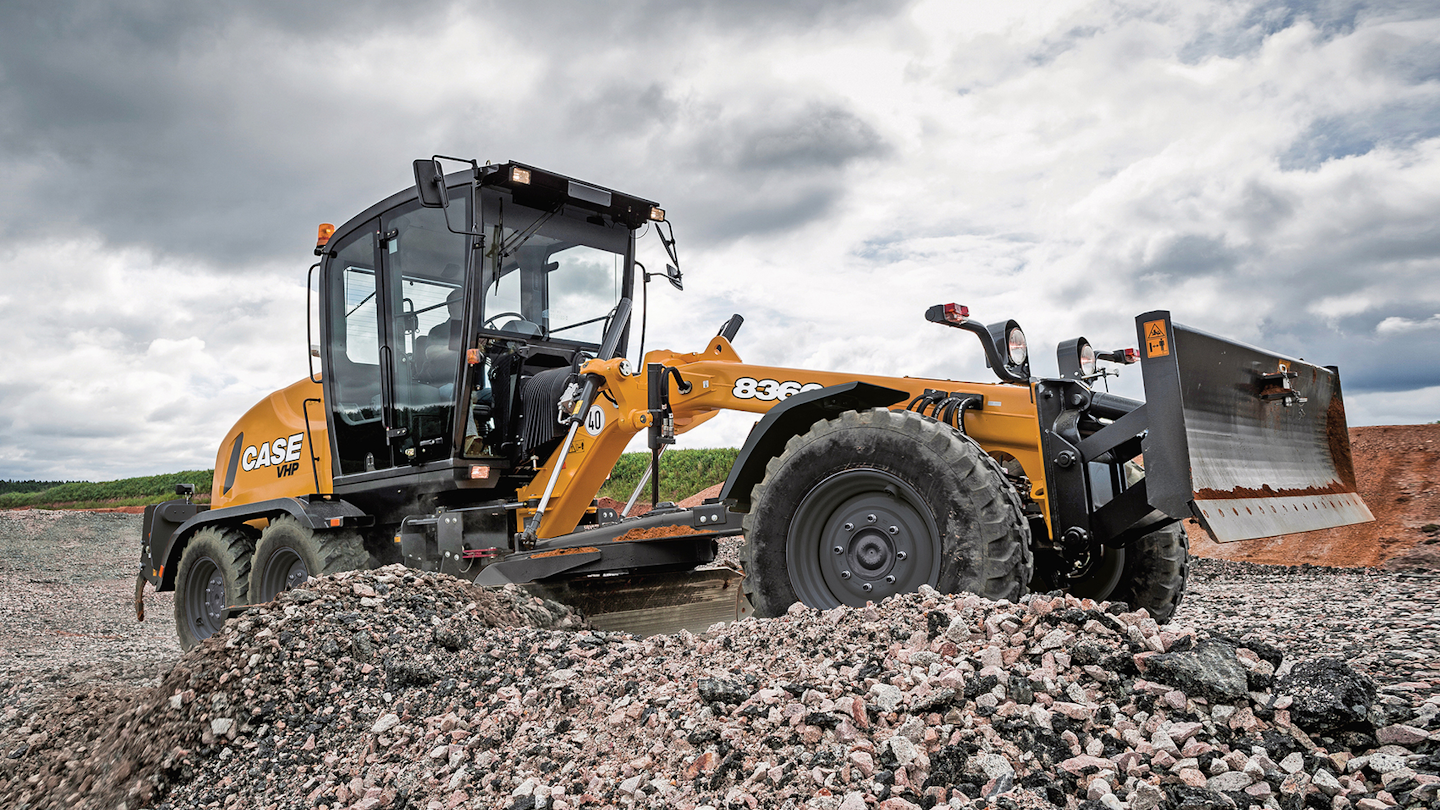 Direct-mounted hydraulic controls increase lever rigidity and reduce play for positive feedback and better control in precision applications
A-frame drawbar provides optimal stability due to a heavy-duty boxed frame design
Roller-mounted encapsulated circle activated by internal gearing, minimizing wear and increasing component life
Include a high-carbon steel moldboard and new moldboard mount and slide system with fewer grease points
Moldboard designed to pitch, tilt and move laterally, and can be expanded with available horizontal and bilateral extensions
Hydraulically controlled five-position saddle allows operation at over 90

°

Available machine control-ready from the factory for all major suppliers of machine control technology
Options include a rear view camera with 7-in. LCD monitor, heavy-duty tires, dozer front blade and rear ripper, advanced lighting package and automatic lubrication system
Heavy-duty circle drive motor and moldboard float actuation available from the factory
Low-profile rear-mounted cab with wide tinted floor-to-ceiling windows and external mirrors, standard heated air ride seat and smooth, ergonomic controls
Request More Information
Fill out the form below to request more information about
Case C Series Motor Graders