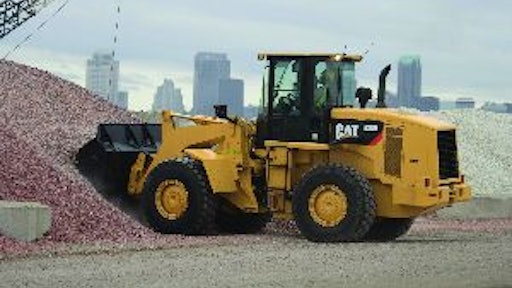 Updating proven performers
Caterpillar is replacing its 938G II and IT38G II models with upgraded H Series versions. The 938H wheel loader and IT38H with integrated toolcarrier linkage now feature the Cat C6.6 engine with ACERT Technology, as well as a differential lock system, load-sensing hydraulics and increased lift and tilt forces.
Both models offer 180 net hp, with peak engine power maintained through a broader engine speed range - about 8% more power at 2,100 rpm. The C6.6 inline six-cylinder diesel engine has a displacement of 6.6 liters. The Caterpillar Engine Idle Management System maximizes fuel efficiency and provides flexibility in managing idle speeds.
The load-sensing, variable-flow hydraulic system senses work demand and adjusts flow and pressure to match. Load-sensing steering and implement flow provide more power for rimpull and loader forces.
A new axle includes a standard front differential lock or optional automatic differential lock for both front and rear. Both manual and automatic differential lock can engage on the go.
The 34,125-lb. 938H retains the traditional Z-bar linkage. It delivers 27,675 lbs. of breakout force and has a dump height (at 45°) of 8 ft. 10 in. Bucket capacities range from 3.0 to 3.9 cu. yds.
The 36,016-lb. IT38H features parallel lift and a quick coupler that can be activated from within the cab. The unit provides 28,350 lbs. of breakout force and a 9-ft. 2-in. dump height. Bucket capacities range from 3.0 to 7.0 cu. yds. in low-density bulk material-handling applications.
Designed for high-production jobs
The 28,526-lb. 928Hz Ready Mix wheel loader has been specially equipped for high production in ready mix concrete plants, asphalt batch plants and concrete products plants. The configuration features the 928Hz loader equipped with a 3.5-cu.-yd. sand and gravel bucket, balanced by a ready mix counterweight package. The C6.6 engine with ACERT Technology delivers a rated net power of 149 hp and peak net power of 160 hp.
The unit's Z-bar linkage provides high breakout force of 19,599 lbs. for fast bucket loading. The good rack-back angle enhances loading and load retention of the 3.53-cu.-yd. bucket. Automatic ride control cushions the bucket for a more comfortable ride and reduced spillage in load and carry duties.
A deluxe cab includes A/C, exterior mirrors, flood lights, sliding glass windows and sun screen and sun visor. The cab is radio ready. A rear-view camera system with color LCD monitor is also available.
Companies in this article