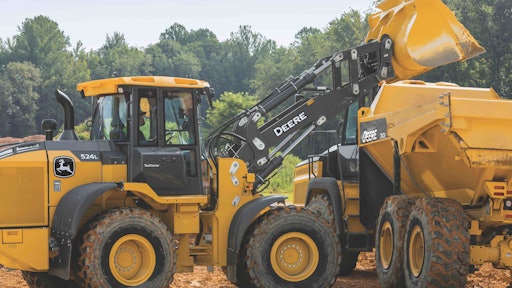 John Deere Construction
Advanced electronic technologies continue to simplify wheel loader operation, resulting in increased productivity for both experienced and novice operators.
Electro-hydraulic (EH) controls have gained popularity in the mid-size wheel loader market and bring many benefits including return-to-dig, soft stops at the end of the hydraulic cylinder stroke and customizable hydraulic response settings.
"Electro-servo hydraulic controls enable the return-to-dig feature and end-stroke dampening," says Eric Yeomans, product manager, wheel loaders, Volvo Construction Equipment. "This allows the operator to set detent functions, as well as bucket and boom positions from inside the cab with switches found on the right-side A-pillar. EH controls also provide the ability to adjust the lever response control. There are three settings available – active, normal and soft – so an operator can adapt the control behavior to his or her liking."
In addition, the EH controls on Volvo wheel loaders enable a standard bucket positioner system which allows operators to easily adjust the tilt angle to a predefined position. "The system levels the bucket into digging position from both the dump and carry positions," says Yeomans.
EH controls also make it possible to cushion the end of the hydraulic cylinder stroke. "Novice and experienced operators appreciate Hyundai's Soft End Stop feature," says Chad Parker, senior product specialist/sales trainer, Hyundai Construction Equipment Americas. "This important feature reduces the hydraulic speed of the cylinder as it reaches the end of its stroke. It lessens the shock load of the stroke, which improves material retention, while increasing operator comfort and productivity.
Another feature of the Hyundai HL900 Series made possible with EH controls is Fine Modulation Mode. "It allows hydraulic power to remain constant while digging, but reduces hydraulic flow to give the operator more accurate control," says Parker. "This feature puts novice operators on a more equal footing with experienced operators in achieving precision digging. A Boom/Bucket Detent feature helps reposition the boom and bucket for easier return-to-dig bucket positioning when returning to reload the bucket."
Hydraulics evolution simplifies operation
Desmarais Construction, Milford, NH uses Hyundai HL900 Series wheel loaders for snow removal. "In the 40 years I have been in business, it's been absolutely amazing to see the evolution of wheel loaders and excavators," says Stephen Desmarais, owner, Stephen Desmarais Construction. "We were among the first around here to use wheel loaders for snow plowing. I've seen so many improvements in the successive generations of wheel loaders. With the current HL900 series machines – including our newest machine, an HL955TM tool-master model – plowing with a Hyundai wheel loader is as comfortable and intuitively easy to operate as driving a pickup truck. It's just bigger."
For its mid-size L-Series wheel loaders John Deere updated its pilot hydraulic controls to EH controls. "The main reason that we did this is an extraordinarily high number of utility-size customers are using the machines with multiple attachments," says Chris Cline, marketing manager, John Deere Construction and Forestry. "The ability to go between them quickly is important." EH controls make a number of exclusive features possible. "One is the ability to change the attachment settings. As you change a flow setting for your specific attachment, you are able to save that setting so the next time you use that attachment you don't have to reset it."
Two multi-function programmable buttons on the John Deere mid-size L-Series wheel loaders allow several functions, including the bucket vibrate feature to be programmed. These programmable buttons allow the operator to assign one of ten functions to each button that best meets the needs of the operator. Functions include bucket vibrate, diff lock, the horn, the kickdown button, etc.
EH controls on the John Deere L Series also allow kickouts to be easily set from the monitor with the push of a button in the cab. Another big improvement are the auxiliary hydraulic rollers integrated into the joystick. This allows the operator to operate up to six functions with the single lever joystick without having to install additional levers or removing his hand from the single lever. You can now set continuous flow for each of the auxiliary functions without having to hold a level or button and the Return to Dig feature is now functional from both the dump and curled positions, and it also has the ability to save two different settings for different attachments, if desired.
Automated Features Make Operators More productive
"Deere added a lot of nice features, like the rearview camera," says Brad Baker, Monocacy Custom Services, Dickerson, MD. He also praises the savable settings. "I can get in this machine after another operator has been in it and push one button and everything is set the way that I like it. The settings are even specific to different attachments. So not only can I switch attachments very quickly, I hit a button and change the hydraulic settings and I am off to work immediately."
John Deere also added a bucket vibrate feature that allows the operator to carefully meter dry materials. "You can hit bucket vibrate and it will basically cascade material off the edge of the bucket like a little waterfall," says Cline. "The operator doesn't have to sit there and jiggle the handle to try to get the material to come out. When you get the exact amount of material you just let go of the button and it will turn off."
Automating functions increases efficiency of any operator. "Komatsu mid-size wheel loaders help novice operators be more productive with standard features such as upper/lower boom kickouts and in-cab adjustable bucket positioner, which help minimize operator effort as well as improve cycle times for repeat operations," says Adam Braun, product marketing manager, Komatsu America Corp. "Additionally, our Advanced Joystick Steering System (AJSS) offers novice operators more precise steering at higher speeds."
He adds, "Operators of all experience levels can benefit from our semi auto dig and our new automatic digging feature. By monitoring work equipment pressures, Komatsu wheel loaders initiate digging motions at the optimum time, reducing operator fatigue with 20 to 30 percent less effort in V-cycle loading. Transmission kickdown is integrated into the Automatic digging system, eliminating the need for the operator to manually engage the transmission kickdown button.
"Komatsu wheel loaders optioned with third spool hydraulics can be combined with the optional Multi-function Mono-lever controls," says Braun. "With this system the controls of the attachments are in one hand of the operator. This keeps the controls simple, and the operator won't have to search for controls in multiple areas."
Caterpillar uses a load-sensing hydraulic system that only pumps as much fluid is necessary to meet demands. "What sets Caterpillar's hydraulic system apart from many others is the unique capability to lift through the pile during the dig while also allowing operators to utilize the lift and tilt functions simultaneously for an un-impeded dig motion and the quickest cycle times in the industry," says Jason Hagedorn, product application specialist for medium wheel loaders, North America. "By providing the operator with responses when he needs it, this system integration results in higher production/revenue potential and lower fuel consumption to control operating costs."
For Caterpillar mid-size wheel loaders, machine integration has improved system efficiency. "For enhanced efficiency and jobsite safety, Caterpillar offers many standard and optional features that are deeply integrated into the machine systems but remain easy and intuitive for jobsites/operators to use; which all translates into enhanced production," says Scott Schmidtgall, product application specialist for medium wheel loaders, North America. "Starting with the standard Eco mode which is intelligent and maintains full first gear rimpull and torque to load the bucket quickly, it simply clips out maximum acceleration in travel gears to save fuel.
"Another standard offering is the variable ground speed limiter, which is enabled through the service passcode. It can be used to limit max propulsion speeds from a safety perspective," says Schmidtgall. "Once the forward and reverse max speeds are independently set through the touchscreen display, the system functions intelligently by utilizing all gears to minimize fuel consumption and noise level and simply clips out engine power to maintain the maximum speed setting. The system is also ergonomic for operators as the throttle pedal can be pressed normally without a mechanical spring detent which can be tiresome for operators over a period of time since machines need to utilize higher engine RPMs for filling the bucket and during ramp climbing.