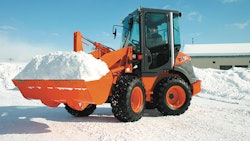 Hitachi
When the cold, winter months set in, you need to take the same care and precautions for your wheel loaders as you would any other vehicle you own. Winterizing preparation can help prevent long-term damage and costly repairs, whether you operate in the cold or set your fleet in storage.
Download the Hitachi whitepaper below for tips on how to winterize your wheel loaders.
Read even more information from and about Hitachi wheel loaders and other construction equipment.