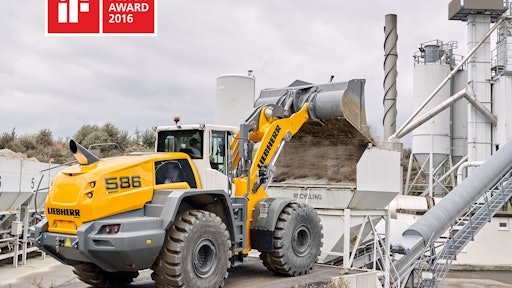 The XPower large wheel loaders from Liebherr have received an iF Design Award 2016. Representatives of the Liebherr-Werk Bischofshofen received the award in Munich, Germany, in February.
For over 60 years, the iF Design Award has been recognized as a label of design excellence. An international jury assessed more than 5,000 entries from 53 countries in order to determine who would receive this coveted awards.
XPower is the machine concept for the new generation of large Liebherr wheel loaders (L 550 to L 586). At Liebherr's research and development department at its Bischofshofen plant, fuel efficiency, performance, robust design and comfort were the main objectives in the development of the new wheel loader generation. The core of the new models is the rugged Tier 4 Final power-split XPower driveline concept. It brings together the hydrostatic drive for short loading cycles and the mechanical drive for long distances and for driving uphill. The combination of both drives in one wheel loader offers maximum efficiency in multiple applications.
Liebherr XPower Loaders Deliver a Standard Power-split Transmission & 30% Fuel Savings

The XPower wheel loaders have modern design elements throughout, from the lift arm to the cabin and rear section. The tapered engine hood gives the driver greater visibility toward the rear of the machine and increases safety immediately around it. Heavy components including the motor are installed at the back of the machine's rear section, removing the need for additional counterweight. This optimal weight distribution results in high tipping loads and greater handling capacity per hour of operation.
The radiator is located directly behind the operator's cab in the cleanest area of a wheel loader. In this position, the cooling system can aspirate air with a low dust content, which ensures consistent and reliable cooling performance and reduces maintenance and increases machine availability.
Built into the loaders are sophisticated design details that make service work easier for the machine operator without detracting from the machine's overall appearance. The engine hood opens backwards, which provides free access to the engine for all maintenance work. A platform for comfortable and safe working is integrated into the opened hood. The most important maintenance areas are close to the cab and can therefore be more easily controlled. The fuel and urea tank are combined in one location, which makes refueling easier, and a treading surface at the cab facilitates safe cleaning of the windscreen and is also used to hold the driver's door in position.