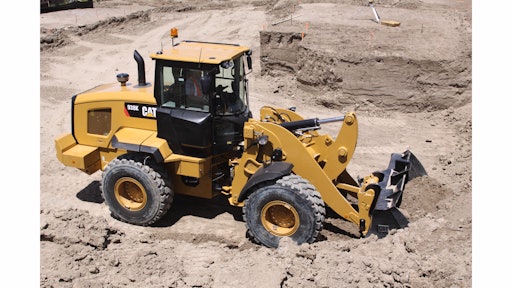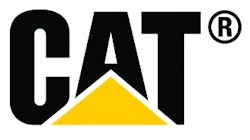 Caterpillar updated its K Series small loaders – 924K, 930K, and 938K – with a new Z-bar loader linkage that improves operator view of the bucket lip while dumping into trucks and new modes that allow the hydrostatic transmission to behave like a power shift.
The K Series debuted two years ago with an all-new Z-bar that replicates the parallel-lift characteristics of integrated toolcarrier linkage with no loss in digging or lifting power. The patented design is used throughout the Cat loader line, from the 906 through 982 model. This year's update dramatically reduces the profile of the linkage's torque tube to allow the operator a clear view of the bucket cutting edge when dumping into trucks.
Changes to the programming of the electronically controlled Caterpillar Hystat system bring Hystat Mode; Torque Converter (TC) Mode; and Ice Mode that allow the operator to tailor the transmission's performance to working conditions or individual preference.
In Hystat Mode, the governor pedal (ground-speed controller) directly controls machine movement, proportionally accelerating the machine when applied and quickly but smoothly slowing the machine to a stop when released. In Hystat Mode, the machine will not move when placed in gear at low idle until the governor pedal is depressed.
In the TC Mode, the hydrostatic transmission functions with the characteristics of a torque-converter-equipped machine, allowing it to coast, for example, when the operator releases the governor pedal. A slope-compensation feature allows the machine to respond with torque-converter-like performance on uphill and downhill grades, and the TC mode also modulates, or softens, shifts to neutral and reduces low-idle wheel torque.
Ice Mode adjusts hydrostatic response to provide enhanced control specifically on near-zero-friction surfaces, such as ice and hard-packed snow, by lengthening and further modulating directional shifts. This mode is not intended for use on slippery mud surfaces, nor on ice/snow surfaces when operating with studded tires or tire chains.
Brochure: Cat 924K, 930K, and 938K Loaders

Caterpillar K Series Small Loaders
Video: New Linkage Brings Power, Parallelism and Visibility to Cat Small Loaders
Video: Operators Can Adjust Cat Loader Linkage, Transmission Performance

Request More Information
Fill out the form below to request more information about
Cat 924K, 930K, and 938K Loader Update