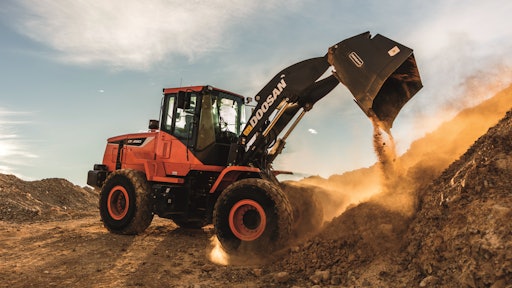 Doosan Infracore North America, LLC, has extended its wheel loader lineup with the DL280-5, designed to provide operators with enhanced performance and comfort as well as increased uptime protection when working in general construction, scrap and waste-handling applications.
The 172-hp unit is manufactured with a standard Z-bar lift-arm linkage and is ideal for scooping, loading, carrying and general construction tasks. Operators requiring additional dumping capabilities into trucks and hoppers will benefit from the high-lift Z-bar configuration available on the DL280-5. The high-lift iteration provides an additional 18 inches of dump height, making it especially beneficial in construction, mining and agriculture market segments.
An exclusive feature on the DL280-5 is its optional wide fin radiator, which has a standard six fins per inch, and is available in a package with heavy-duty axles. The wide fin radiator option provides better cooling with larger fin spacing, helping to filter out dust and debris, which can be particularly helpful in scrap, recycling and solid waste applications.
The DL280-5 can be equipped with an optional guarding package to protect critical wheel loader components when working in harsh conditions – such as scrap processing, waste transfer stations, recycling and demolition – to help minimize machine downtime. Loader guarding package includes: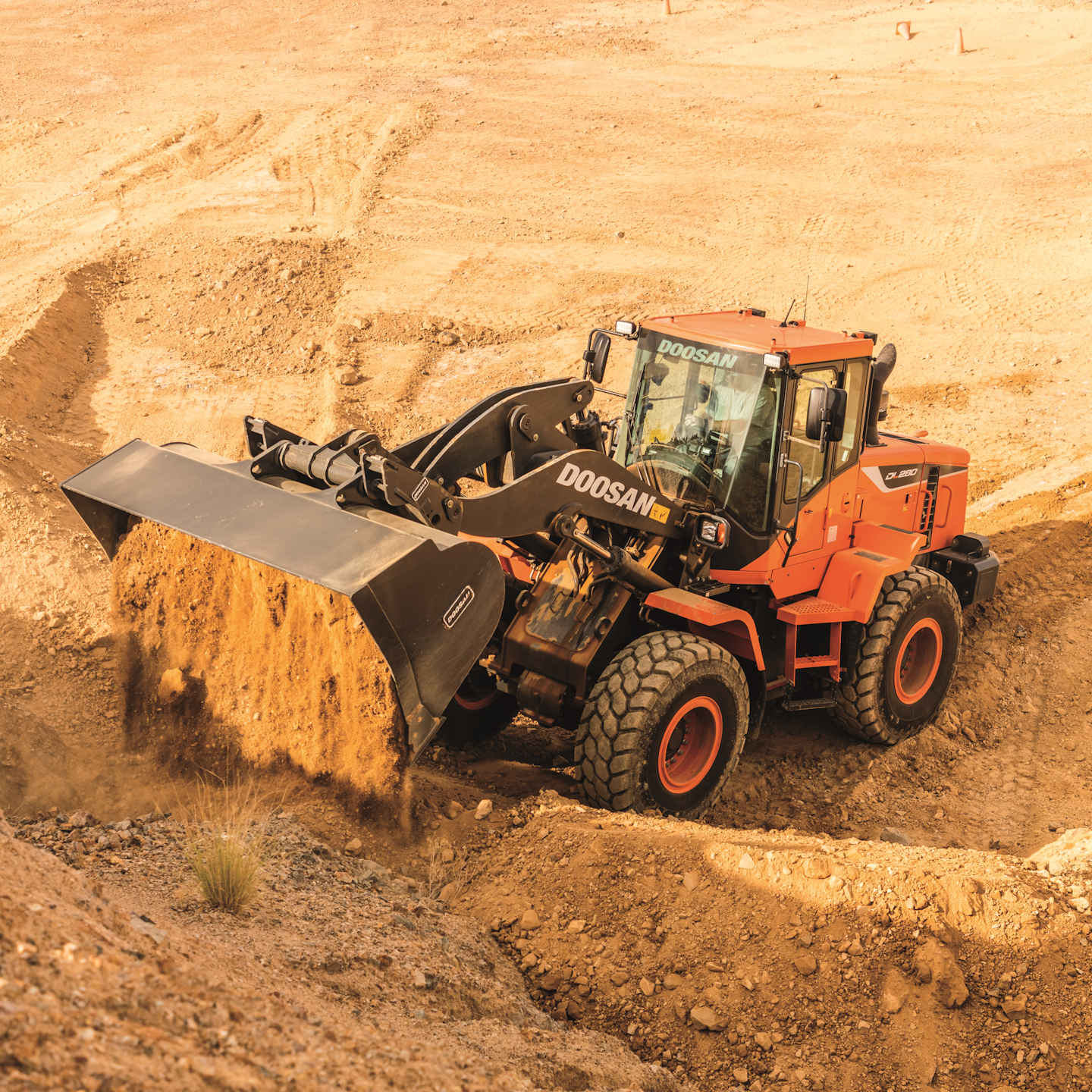 Air-intake protection filter/screen
Articulation area guards
Axle seal guards
Belly pan guards (front and rear)
Boom cylinder hose and tube guards
Bucket cylinder guards
Center hinge guards
Drive shaft guard
Headlight and taillight guards
Heavy-duty front frame cover plate
Steer cylinder guards
Under cab guards
Valve stem guards
Windshield guards
The DL280-5 comes with a standard three-year subscription to Doosan telematics, which allows equipment owners and fleet managers to remotely monitor machine location, hours, fuel usage, engine idle versus work time and error codes, as well as engine and hydraulic temperatures.        
[VIDEO] Doosan DL280-5 Wheel Loader Enhances Performance and Comfort
[VIDEO] Doosan Enters New Class Size with DL280-5 Wheel Loader
Request More Information
Fill out the form below to request more information about
Doosan DL280-5 Wheel Loader