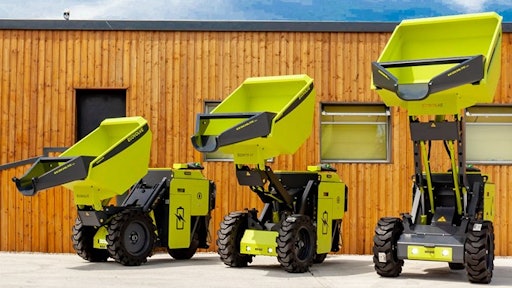 Celebrating 10 years in business in 2020, Ecovolve is an Irish-based business specializing in compact electrical/green "eco-plant" machinery. Select models of its equipment will be on display in Booth BL255 (Blue Lot) at CONEXPO-CON/AGG 2020 in Las Vegas, NV, March 10 to 14.
Ecovolve's eco-friendly, smart charging, low-noise, zero-emissions solutions are available for sale or rent and are especially suited for operation in tight, enclosed sites or in production environments where zero-emissions criteria apply. Delivering flowing substrates directly to where they are required, the products ensure that customers can decarbonize their handling system while enabling flexibility. The zero-emission, battery-powered vehicles also mean there is no requirement for on-site fuel storage.
In 2015, the company developed a high-tip electric dumper, which it now exports worldwide.
Kenneth Finn, sales and business development director, Ecovolve, says that much of the company's growth is due to the uniqueness of the product range it offers. 
"When it comes to on-site safety, particularly where a client is working within a manufacturing or pharma plant, or an enclosed building space, our range of eco-plant is an ideal solution as it creates zero emissions while making minimal noise," he states. "Charging is simple via the Smartcharger on board every unit, and a full day's work on full load is guaranteed where the unit has been charged overnight. There is also the added benefit of not having to store fuel on site."
He notes that customers who use the Ecovolve smart charge, battery-powered high-tip dumpers in tunnelling, mining, demolition, concrete, pharma, food and feed delivery have the opportunity to drive costs down, while delivering efficiency and consistency into their processes.   
"Cities are increasingly demanding zero emission electric plant utilization where public access in urban environments is impacted by construction projects. This is a market that is expanding rapidly as the many benefits of smart charge, low noise, zero emission plant are understood," Finn adds. "A contractor can ride or walk behind an ED800/1000/1500 through a mall, down a tunnel or within a process hall as all the safety lighting, alarms and H&S functionality required is already on board every unit we manufacture."
The company builds and assemble its systems at its plant in Ballybrittas, Co Laois, Ireland. International distributors provide training, parts and support close to customers, ensuring quality. To date, Ecovolve has exported hundreds of high-tip electric dumpers to clients all over the world, and there are now three unit types in the Ecovolve range: the ED800, ED1000 and ED1500.
"It is still early days for the Ecovolve high-tip electric dumper, which is the only product of its kind in the world," Finn asserts. "We are working closely with our partners in Enterprise Ireland to build a global market for the product, and we are delighted with our success to date."