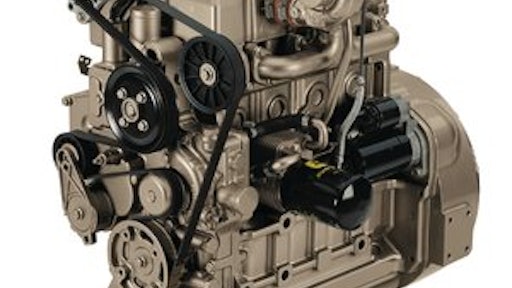 2.4L PowerTech Engines
The PowerTech M 2.4L engines and PowerTech E 2.4L engines under 75 hp are EPA Interim Tier IV compliant in advance of emissions regulations.
PowerTech M 2.4L models feature mechanical unit pump fuel systems and turbocharged aspirations
PowerTech E 2.4L models offer full-authority electronic engine controls and air-to-air aftercooled aspirations
All models include two-valve cylinder heads, fixed-geometry turbochargers and 500-hour oil change intervals
John Deere Power Systems
2009 and 2011 Series
The 2009 and 2011 engines achieve Tier III standards via the use of mechanical engine controls and direct fuel injection.
2009 Series includes three- or four-cylinder water-cooled engines and a turbocharged four-cylinder version with outputs from 20 to 67 hp at 1,500 to 3,000 rpm
2011 family of oil-cooled engines offer rating choices up to 99 hp with low fuel consumption and good cold starting
Deutz Corporation
3TNM68
The 3TNM68 vertical cylinder, four-cycle, water-cooled diesel engine features Indirect injection combustion.
Three cylinders
Rated output at 3,600 rpm
Yanmar America Corp.
800D Series
The 800D range of naturally aspirated and turbocharged, four-cylinder, 3.3-liter engines are tailored to the medium-duty 47- to 62-kW (63 to 83 bhp) off-highway equipment sector.
4% increase in power and torque rise over the 800C Series
Quieter combustion, a redesigned gear train and stiffer timing case reduce vibration and lower noise by over 2 dB(A)
Same package size and hookups
Meet Stage IIIA/Tier III emissions legislation
Increase in top tank temperature minimizes impact on heat rejection
500-hour service intervals standard
Perkins Engines, Inc.
Compact Diesel Engines
The C0.5 to C2.2 industrial compact diesel engines include 10 models ranging from 11 to 66 bhp and meeting existing Tier 3/Stage IIIA and Tier 4 Interim emission standards.
Turbocharged and air-to-air aftercooled versions
Improved electronic-controlled governing
Redesigned governor assembly and optimization of fuel and combustion systems improve startup and transient capability
Noise reduction of more than 2 dB(A)
More efficient cooling and high/low fan position options
Caterpillar Inc.
E-Series diesel
The E-Series diesel engine features E-TVCS (three vortex combustion system) technology.
Offers reduced soot, unburned HC and CO emissions
Produces less NOx than traditional direct-injection systems
Kubota Engine America Corp.
QSB3.3 Engine
The QSB3.3 Tier III engine incorporates full-authority electronic controls and a High Pressure Common Rail (HPCR) fuel system.
Power range extends from 80 to 110 hp
Delivers a 30% power boost and a 40% increase in peak torque without impacting fuel consumption
Precision electronic control of fuel meter and timing for easier cold start, improved idle stability and faster load acceptance
Cummins Engine Co., Inc.
V-ACT Engines
Volvo Advanced Combustion Technology (V-ACT) includes an advanced fuel injection system, more effective air management system and enhanced engine management.
Tier III/Stage IIIA-compliant
Utilize Internal Exhaust Gas Recirculation (I-EGR)
7.2- to 16.1-liter in-line six-cylinder versions
Latest generation engine management system (EMS 2)
Fixed-geometry turbocharger on 9.4-liter and larger models
Volvo Construction Equipment