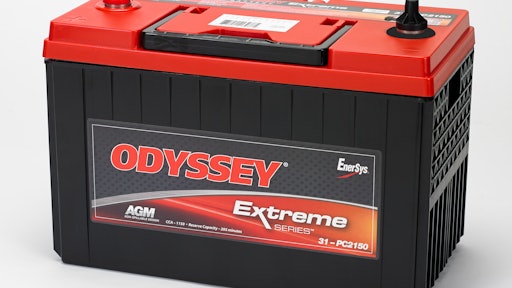 EnerSys
By  Alan Kohler
Construction vehicles operate in some of the harshest conditions imaginable, including extreme temperature variations, rough terrain and high moisture content. Through all of this, the vehicle battery system is expected to provide reliable starting power day in and day out, while also stabilizing the electrical loads during operation.
Despite this, the batteries used in construction vehicles are virtually identical in construction to their counterparts in automotive applications. In most cases, the difference between the construction vehicle and a consumer automotive battery system is that construction vehicles use multiple 12-volt batteries that are connected in parallel. This increases the Amp-hour (Ah) rating and gives more cranking energy to handle a construction vehicle's significantly larger, more powerful engine.
The key to achieving trouble-free service from construction vehicle batteries is to properly spec the correct battery type and to ensure the batteries are always kept in their proper State of Charge (SOC).
Know the difference in battery type
When considering the types of batteries to support higher Ah ratings, it is important to know the differences between the three types of lead acid batteries used in construction vehicles: the maintenance-free flooded electrolyte battery, the Absorbed Glass Mat (AGM) battery and the Thin Plate Pure Lead (TPPL) AGM battery.
Unlike maintenance-free flooded lead acid batteries that have a liquid electrolyte, an AGM battery contains a glass mat separator made of fiberglass that is placed between each plate to absorb the electrolyte. This makes the battery spill-proof with no additional water or electrolyte ever needed.
Most AGM batteries have plates made from recycled lead, requiring the addition of alloys to make the plates rigid. Premium TPPL AGM batteries, like ODYSSEY batteries by EnerSys, are made with 99 percent pure lead, allowing these batteries to have thinner plates. The thinner plates allow more plates to be used in a battery, which increases the surface area exposed to the acid and generates more power from the same-sized battery. 
Handling heat and vibrations
While most construction vehicle operators think battery problems happen primarily in winter, heat and vibration are a battery's two worst enemies. Vibration can cause cracks in both separators and cell connectors. Together, heat and vibration can lead to internal breakdown and eventual failure in batteries. Rises in temperatures can also increase the chemical reaction that occurs between the positive and negative electrodes and the electrolyte. In standard flooded lead acid batteries, this reaction can cause electrolyte evaporation, but that is not a concern in sealed AGM batteries featuring TPPL technology.
TPPL batteries are engineered to run stronger and longer than conventional flooded batteries, and that design offers extreme protection against high-impact shocks and vibration that can regularly occur in off-road construction vehicles. By using compressed AGM plate separators, these batteries deliver extreme vibration resistance and prevent spills. The design of TPPL batteries provides vibration resistance, even when the batteries are installed sideways.
Preventing battery problems
Construction fleet owners and operators should prevent batteries from becoming deeply discharged, which often occurs when the batteries drop to less than 10 volts, usually from extended storage with vehicle support loads. Also, trying to start trucks with a low SOC or weak-capacity batteries can cause high amperages and low voltages. This can overheat the starter motor and can damage battery cables.
When a vehicle is scheduled for routine maintenance, technicians should check each battery for consistent tested values and determine if there has been a reduction from previous performance. This can help spot a potential problem battery before it can cause a no-start condition.
A voltmeter on the battery terminals will indicate the battery's SOC. After starting the vehicle, the voltage on the meter must indicate that the alternator is delivering between 14.00 and 14.40 volts when measured at the battery's terminals. Initially, the voltage on the terminals may be low if the SOC of the battery is too low and the voltage will climb to a stabilized voltage as the SOC increases. At this point, the battery terminals should read between 14.00 and 14.40 volts. Alternators should provide a regulated charge no lower than 14.00 volts and no higher than 14.40 volts to prevent premature failure of the battery.
Cleaning Batteries
Construction environments are not known for cleanliness. When a vehicle undergoes routine maintenance, it is important that the technician also service the batteries. The battery cables, connections, hold-downs and the overall state of the batteries should be inspected. Technicians should visually check the batteries for cracks and swelling and inspect the cleanliness of each battery. The terminals themselves should be cleaned and any excessive dirt should be removed as it could cause electrical discharge across the terminals. Some AGM batteries will feature tin alloy-coated brass terminals, which help ensure secure, corrosion-free cable connections. The connections should also be checked as normal vibration can loosen them and excessive dirt can create a barrier to carrying current while under a starting load.
Always check with the manufacturer on how to properly clean a battery. Different manufacturers will recommend specific chemical cleaners that are safe to use on the plastic in their battery cases.
Winter storage
Storage of batteries for construction vehicles during the winter is not the same as putting a cordless drill back in the toolbox. Conventional lead acid batteries tend to provide lower starting power after remaining idle for several weeks; however, newer AGM batteries typically provide more power, due to a better SOC. Regardless of whether you use an AGM battery, a TPPL battery or a lead acid battery in your fleet of construction vehicles, it is important to make sure that the proper battery is installed and battery maintenance procedures are in place to help get the fleet rolling after the winter lull.
ODYSSEY batteries featuring advanced TPPL technology provide a much lower self-discharge rate than conventional lead acid batteries. Additionally, these batteries can be stored for 24 months at room temperature without charging and without damaging the plates. If not connected to a charger/maintainer, this battery only loses about two percent SOC per month; in seven months of storage, the battery will only be down 14% SOC.
It is always a good idea to connect a battery maintainer over the winter. This will ensure construction fleet batteries are in top condition for the spring. Taking a little extra time at the end of the year to properly prepare batteries for storage can eliminate hours of frustration later. Again, before doing anything, it's recommended to check with the manufacturer on how to keep the battery in the best shape possible. Normally, a technician or fleet operator will remove the battery from the battery compartment and use a paste of baking soda and water to clean and neutralize any acid in the battery compartment. Accumulations of acid or dirt can enable small amounts of current to flow between the terminals. Clean water can be used to rinse off the cleaning solution and a wire brush can clean the terminals and cable clamps of all corrosion, grease and other contaminating material.
With conventional batteries, inspect the battery tray and the exterior of the battery case thoroughly to look for leaks, cracks and corrosion, all of which can compromise performance and even safety. With conventional batteries, also check that the level of electrolyte is above the minimum and at or below the maximum level line on the side of the battery. If AGM batteries are used in the fleet, they are sealed and do not need to be checked.
To avoid overcharging and possible battery damage, it is important to use the proper battery charger/maintainer. AGM and TPPL AGM batteries require a different charging algorithm than flooded lead acid batteries. Some chargers have the ability to turn off the charge when the battery is full to avoid overcharging. They continue to monitor the battery and will start providing a charge once the battery reaches a pre-determine level. These smart features are available in both trickle chargers and battery maintainers
The best strategy for reducing battery issues
With proper care, batteries used in off-road construction vehicles should be able to provide reliable starting power in the harshest of conditions. TPPL AGM batteries help reduce additional costs associated with unexpected no starts. Plus, the TPPL AGM batteries offer significantly longer service life: generally, 30 months to 60 months. The use of pure lead significantly reduces plate corrosion. And, a TPPL battery with tin-plated brass terminals requires no terminal maintenance.
Always be sure to follow the manufacturer's guidelines for battery care and handling and direct any questions to your battery professional.
Alan Kohler is marketing manager, Transportation & Specialty at EnerSys.