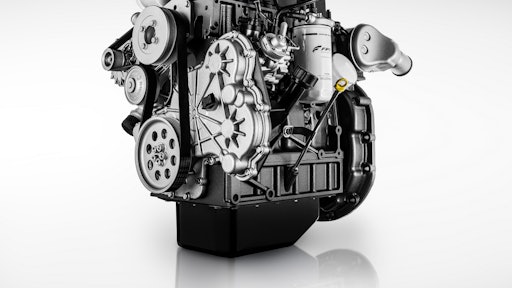 FPT Industrial
Hybridization has been an ongoing conversation for a long time, so the term isn't new, but it is still evolving as new power sources, technologies, and capacities become accessible and available. It was only a short decade ago that the prevalent discussion around hybrid solutions was centered around parallel versus series hydraulic hybrid drivetrains because of the high-density energy capture and release capabilities it has. As hybrid power sources like batteries have evolved to allow for more rapid energy release, and have dropped in price, they have become more reasonable options for hybrid solutions being incorporated into the chassis or other areas on the machine.
But more and more, engine manufacturers are seeing a compelling argument for hybrid beyond just the cleanliness and efficiency gains; hybrid engines allow for lower horsepower options and thus more compact engines to be utilized, as well as providing OEMs and customers with more options to optimize their fuel or power choice based on preference and availability.
It's about downsizing
More recently, engine manufacturers have been highlighting their hybrid solutions. Kubota Engines, for example, released its Micro Hybrid Technology system last year, which incorporates a 48-volt motor generator in place of a traditional alternator. The purpose is to only activate the electric motor's 10kW power boost capabilities when intermittent overloads need to be handled so that engine selection doesn't need to be based on peak energy, but rather the frequent power demands of normal work functions.
Read more about hybrid technology launches at www.oemoffhighway.com/21076407.
According to Kotaro Shiozaki, Manager of Sales Promotion at Kubota Corp., "Some applications like forklifts and wheel loaders [have to choose engine size based] on peak load even though the amount of time they use the peak load is very limited at the start of the work. Because of that, they have to select large engines. But, by being able to take energy from batteries or electric motors, they don't need to rely on the engine for the full power need."
At CONEXPO, Kubota highlighted V3307 Micro-Hybrid system prototype. The system integrates with the electronic engine management control, making it compatible with many of Kubota's existing diesel, gasoline, LPG and natural gas engines across the power ranges. Utilizing an independent driveline, the Micro-Hybrid system maintains accessibility to the existing PTO positions of a conventional engine, making it suitable for both existing applications and new applications that may require a more compact design.
Watch and learn: Kubota Engine Details Micro-Hybrid Technology, www.oemoffhighway.com/21128550.
It's about options
Braden Cammauf, Head of FPT Industrial Brand North America, doesn't want to tell manufacturers what their choice in power should be. The F28 modular, multi-power engine from FPT recently introduced the hybrid version to North America at CONEXPO 2020, adding to the company's previously available diesel and natural gas options. The versatile design makes the F28 prime for rental applications from telehandlers to generators.
Space-wise, the 3.4-liter engine comes in closer to the size of a 2.2-liter engine. How is that possible? FPT's "light EGR" and DOC (diesel oxidation catalyst), "since we don't have a lot of particulate matter, we don't need a lot of filtering which is how our unit can be so small," Cammauf explains. With filter life lasting up to 600 hours and all service points on the same side of the engine, FPT Industrial is positioning this to be a strong engine choice for the rental market. "We were thinking of light construction equipment like telehandlers that go into the rental market when this engine was configured."
Modularity is an important asset to allow for the most versatile solution for the largest variety of applications. DEUTZ's Advanced Configurator allows its customers to select from the company's modular range of drive systems including diesel, gas, hybrid, electric and hydrogen-based technologies. The company's 2019 acquisition of Germany-based Futavis was an investment in developing and leveraging battery technologies, in line with the company's pursuit of electrified solutions.
According to DEUTZ's Chairman of the Board of Management, Dr. Frank Hiller, "When tackling the challenge of making drive solutions sustainable for the future, we always keep our minds open to all technologies. Our approach builds on intelligent combinations of electric drives and internal combustion engines that offer the potential to be operated in a carbon-neutral manner in the future using sustainable fuels." One example is the TCG 7.8 H2 hydrogen motor offered by DEUTZ – a cost-efficient alternative to other 'zero-emission' technologies such as fuel cells.
Again highlighting a commitment to rental markets and equipment, DEUTZ presented an electric hybrid drive system specifically designed for aerial work platforms for low-load applications. The DEUTZ D1.2 hybrid engine combines a compact three-cylinder diesel engine with a capacity of 1.2 liters and a 48V electric motor. The engine (as well as the D1.7, a 1.7-liter option) was designed to meet the growing demands for efficiency in small aerial platforms, trenching equipment and mini skid-steer loaders, pump applications and lawn and garden equipment.
Watch and Learn: DEUTZ Outlines Alternative Energy Strategy, www.oemoffhighway.com/21125599
After launching several hybrid engine options at bauma 2019, Perkins has released a second-generation hybrid-electric concept to offer OEMs a zero-emissions, zero-noise, electric-only mode. "Perkins is focused on delivering more choice and increasing value to our customers. The hybrid concepts we're showcasing are examples of future technologies that will take machine efficiency to the next level," says Tom Nankervis, Electrification Marketing Manager. "With our range of hybrid engines, customers can choose to downsize their engine and use the hybrid power for peak-load, or they can reduce output from the diesel engine, choosing to lower fuel consumption up to 20%."
Listen and learn: Perkins Talks About Hybrid Technology in Engines, www.forconstructionpros.com/21122479
For OEMs, renters and end-users, the hybrid powered vehicle is here to stay. The variations are ever increasing, and the benefits continue to mount as engine manufacturers investigate more sophisticated pathways and strategies to squeeze more utility out of a smaller package. 
Companies in this article