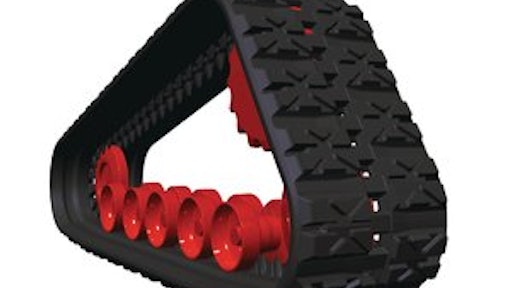 Bridgestone Continuous Rubber Track
With new PolarTread technology
For compact track loaders
Improved traction
Shorter stopping distance on snow-covered surfaces
Greater turning ability
Softer ride performance
BLS Enterprises, Inc.
Diamond Drum Assembly
Cost-effectively dry-cut with Smith ultra-premium diamonds using your existing equipment or a Smith SPS10
Groove-inlay stripes below the snow-plow blade
Grind-in rumble strips or marker slots
Shave down concrete high spots
Smith Manufacturing Company
L315 Wide Base Radial
The L315 is an aggressive-traction, on/off-highway, wide base radial designed for axles carrying extra-heavy loads, as well as situations where added traction is required.
Lug tread and open shoulder for greater drive traction in mud and gravel
Wide base design distributes footprint pressure for added flotation and higher payloads
"L" load rating allows tire to carry 12,300 lbs. at 120 psi
30/32-in. tread depth
Available in 445/65R22.2 size
Bridgestone/Firestone, Inc.
NU-AIR AT Semi-Pneumatic Tire
The NU-AIR AT semi-pneumatic tire for skid steers and backhoes combines the cushioned ride of pneumatic tires with the durability of solid tires.
Manufactured from heavy-duty rubber compounds
Strategically placed holes throughout the specifically engineered sidewalls provide resistance to cuts and snags in severe operating conditions
Provides twice the tread depth of a standard pneumatic tire to optimize traction
Includes custom-fit rim for easy installation
McLaren Industries, Inc.
Remanufactured Parts
Remanufactures and supplies parts
Hydraulic pumps, motors, cylinders and gearboxes
Products include: Rexroth, Hydromatik, Brueninghaus, Denison, Vickers, Sundstrand, linde, Uchida, Oilgear, Calzoni, and L & S Gearboxes
Use only genuine parts
Booth # S-17317
Wooster Hydrostatics Inc.
Road Construction Track Pads
Manufactured for asphalt and concrete milling and paving equipment
Molded to steel grouser shoe and Bolt to steel grouser shoe designs
No bond failures
Superior Tire & Rubber Corp.
Road-Ready Milling Drums
The Road-Ready milling drums feature a synchronized lace pattern that reduces vibration and provides maximum cutting tool and drum life.
Designed and built to match all major OEM specifications
Non-welded fastener sleeve acts as a bearing for the tooth shank so it can freely rotate
Customized drum systems available optimized for fine, intermediate or coarse-cut milling
KPF301 cutting system enables tooth-and-sleeve to be easily extracted with special hand tools
Kennametal Inc
Rolite cutter wheels
Rolite cutter wheels
Hardened steel, high carbon
Heat-treated for wear resistance
Standard sizes to fit most shafts
In stock
Rolite Mfg. Inc.
Rolite Manufacturing, Inc.
Sweeper Shoes
Sharpco Sweeper Shoes are OEM quality with tungsten carbide embedded runner surfaces that are machine ground to eliminate break-in period marking of pavement. They are available in single or double row runner configurations. Complete assemblies or replacement runners alone are available for most sweeper make and model applications.
Sharpco