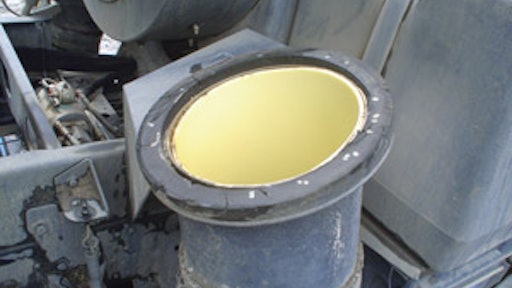 All equipment comes with parts that wear; that's the nature of the beast. In the pavement maintenance market, when some applications can get tough indeed, these wear parts take a higher profile as does the what, when and why of replacing them. Failing to replace wear items in a timely manner with the right part for the right application will likely result in unprofitable downtime, and that's something few contractors can afford.
Tracking pad wear
Polyurethane track pads were first used on pavers 20 years ago to replace rubber pads that were chunking and tearing off. Since then, polyurethane pads have become equally popular on asphalt milling machines. Barry Stoughton, BLS Enterprises president, gives several reasons why the market has shifted away from rubber to polyurethane. Located in Itasca, IL, BLS manufactures both rubber and polyurethane track pads for construction-related applications.
"Polyurethane is far more durable and tougher than rubber," says Stoughton. "It wears like it is being sanded down as opposed to chunking or tearing. In other words, it wears evenly. Compared to a rubber track pad, polyurethane pads last a lot longer, two to three times longer than rubber pads on pavers and milling machines, and they provide much better traction than steel pads offer on milling machines."
Some contractors may not need the durability that polyurethane offers, he adds. For them, using rubber track pads on pavers is still very acceptable. But if they're concerned about wear and the downtime and labor costs associated with replacing wear items, then the switch to polyurethane would be appropriate.
Concern about downtime and labor were two reasons why over the last few years milling machine operators have asked BLS Enterprises for an easier way to change track pads. The company's response was a new bolt-on pad that can be changed right in the field.
"The new design cuts pad replacement time in half," Stoughton says. "Since the new pads can be changed on site, operators avoid taking the machine back to the shop for repair, which saves additional downtime. Easier replacement means that contractors will try to squeeze a little more life out of their track pads versus changing them in the off season when wear is getting noticeable and machines are down anyway."
More poly parts
Superior Engineered Elastomers, a division of Superior Tire and Rubber Co., Warren, PA, manufactures Sweeperthane® polyurethane and rubber wear parts for street sweepers.
On mechanical sweepers, polyurethane is commonly used for sprockets, idlers, flight squeegees, and drag shoes, says Gregg Blair, product line manager. "The material will have four times the life of mild-steel drag shoes and outlive rubber wear parts seven times over. Polyurethane drag shoes won't bend, and there's no scaring or sparking. They will also withstand a severe impact caused by running over a manhole or bumping a curb.
"Whenever contractors look at replacing wear parts, they have to look beyond the price tag. There's labor involved when replacing the parts, and there is downtime to be considered. If a new wear part will outlast its predecessor several times over or help reduce costly downtime, then contractors should be comfortable paying a little more for the part."
Shoeing away wear
Sharpco President James Sharplin agrees, noting that what polyurethane has done for track pads and other key wear components, carbide has done for sweeper drag shoes.
"Carbide sweeper shoes, although considerably more expensive than their steel counterparts, will last several times longer," he says. "Carbide inserts are brazed into the steel shoes. Since the carbide is the same kind used to cut metal, it is a lot harder than steel and will protect the shoe from excessive wear."
Located in Monroe, LA, Sharpco is a long-time custom manufacturer. Its sweeper shoe division manufactures and stocks a complete line of shoes for nearly all makes and brands of sweepers.
As Sharplin points out, one of the main reasons for wear, even with carbide shoes, is lack of proper adjustment. "Because drag shoes are sliding along the surface, they should be checked daily," he notes. "Each machine has its own set of rules for shoe adjustment. Operators need to be familiar with them."
They also need to be aware of obstacles that can knock off the carbide on the shoes leading edge. "If one piece of carbide goes, the rest will likely follow," says Sharplin. "It's the domino effect, and it can start when the shoe hits a manhole or a curb. One way to protect the carbide is to protect the leading edge of the shoe with more metal on each side of it. Some of our shoes are wider, too, which offers a degree of protection."
Sharplin says carbide shoes will cost anywhere from $100 to $350 each but last anywhere from one to two years. That's not bad, he points out, considering that some are used on equipment that sells upwards of $40,000. Contractors can save some coins, too, by going with the company's double-row shoe that can be bolted onto the wear plate instead of buying a shoe/plate combination. The move can save upwards of $100 when replacing both shoes.
A cut above
Carbide is also a key ingredient for adding life to scarifier cutters. Kut-Rite Manufacturing located in Romulus, MI, manufacturers a full line of steel, carbide, and full-face carbide cutters. The full-face carbide cutters have been on the market for two years now, according to Kut-Rite's Travis McCutchen. "These cutters are one-quarter inch wide and are designed without a cutback for long life," he explains. "They leave behind a very smooth surface, ideal for removing traffic lines, but they're also tough, extremely long lasting, and good for any scarification project."
As McCutchen points out, these cutters cost more than standard cutters, but they will last upwards of five times longer. Considering the fact there are between 50 and 200 cutters on a scarifier drum, the long-lasting, full-face cutter would appear to be a good purchase for contractors concerned about keeping their equipment up and running.
But the more expensive cutters aren't for everyone, McCutchen adds. Steel cutters will do most jobs, and they're inexpensive; they just won't last as long. Cutters with carbide tips are a cut above their steel cousins. They last longer, cutting down on changeover time, and they are better suited for working on hard surfaces. Then, there's the top-of-the-line model full-face cutter.
Good, better, best is a mantra that precedes nearly any buying decision. For track pads, drag shoes, scarifier cutters, idlers, flights, pulleys, and other wear parts, good is good enough for some replacement situations. But when the job calls for more durability, or when wear part replacement time and overall downtime are issues, then the better and best scenarios are more sensible options.
Based in Neenah, WI, Rod Dickens is a freelance writer specializing in the construction industry.