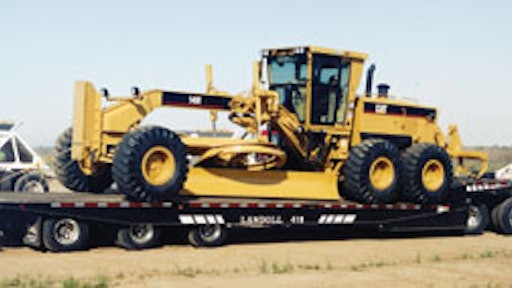 Lowboy trailers and large tag trailers offered by various manufacturers have very similar outward appearances. But appearances can be misleading. It's actually what you can't see at first glance that makes all of the difference.
Component and material selection impacts your owning and operating costs, as well as payload capacity. Similar to production machinery, there is much more to equipment trailer selection than purchase price considerations. Suspension choices, brake options and even the type of steel used by the trailer manufacturer weigh into the decision.
Air ride versus mechanical spring
Most new lowboy trailers are equipped with air-ride suspension versus the mechanical spring alternative. "Ten years ago, a lot of trailers went out on springs. Now we have the majority of them on air ride," says Don Huber, Eastern sales manager, Trail-Eze.
A decade ago, approximately 25 percent of Landoll Corp.'s lowboys went out with mechanical spring suspensions. But the company now sends all of its lowboys standard with air ride.
"We offer mechanical spring suspensions, but they're pretty antiquated," adds Marv Odegaard, sales manager, Trail King. The vast majority of his company's trailers now go out on air.
Air ride provides better equalization between the axles. "That comes in handy when you are point-loading a lowboy with a single piece of equipment," says John Morgan, international marketing manager, Hendrickson International. The various axles are connected to one air system, which helps spread the load over each tire better than a mechanical spring suspension.
"If you don't equalize the load on a trailer when you are point-loading something, it is possible to be within the gross vehicle limit and still be overloaded on a particular axle," says Brian Buckham, marketing manager, Hendrickson International. "With an air ride, the possibility of that happening is diminished quite a bit."
"You create less stress on the frame of the trailer," says Mel Holle, Landoll Corp. "The amount of air that goes into the air bag is regulated by the amount of weight that is put on the trailer. So when you have an empty trailer, you have a very soft air bag. Therefore you have a very soft ride."
"The leaf spring system in a mechanical suspension is designed to handle the rated load," says Buckham. "You take that load away and you are going to have a pretty stiff ride." The resulting rough ride produces vibration that can reduce light bulb life, shrink component life and accelerate structural fatigue.
Air ride also protects construction equipment equipped with sensitive electronics. "You don't get the shocks and the vibrations to the electronics on the items you are hauling," says Odegaard.
"With all of the electronics on the equipment, if it is running properly when you put it on the trailer, with air ride you are going to find it will be running properly when you get there despite pot holes or rough roads," says Huber. "It makes everything last longer. You don't have near the fatigue on the equipment or the trailer."
This is also reflected in used trailer values. According to a commercial trailer bluebook, a 1996 Load King is worth an additional $1,100 if it has air ride on it. "You get a $1,100 credit putting air ride on there because they recognize the trailer is going to be in better physical condition," says Buckham. "A lot of times, that $1,100 credit will nearly pay for the upcharge of going from spring to air."
The ability to change ride height also presents an advantage since lowboys tend to have low ground clearance. "You can run into situations quite easily — such as going over railroad tracks or onto a site — where the bottom of the trailer is coming pretty close to contacting the ground," says Morgan. Air ride allows the suspension to be raised above ride height by adding air to the air bags. "You can raise the trailer temporarily to go above ride height, lifting the trailer and improving ground clearance."
Durability of the suspension itself also improves. "You take a spring suspension and bend it enough times, eventually it gets weak," says Odegaard. "That doesn't happen with an air ride. Occasionally you have to replace an air bag."
While air-ride suspensions dominate the lowboy trailer market and mechanical spring suspensions dominate the tag trailer market, there have been a few recent requests for air-ride on large tag trailers.
Trail-Eze reports it has built two large tag trailers with air ride already this year. "Most of the time on a tag unit, you will not have somebody asking for air, but it's starting to become an issue. People are asking for it," says Huber.
Cost-effective brakes
Federal law FMVSS-121 requires anti-lock brake systems (ABS) on all air-braked trailers produced since 1988 with gross vehicle weight ratings up to 120,000 pounds. But not all of these systems have the same capabilities.
On a trailer, only one axle is required to be equipped with ABS. The price-sensitive solution is a basic 2S/1M system comprised of two wheel sensors (2S) and one modulating valve (1M). It allows one axle to be equipped with ABS while the others are not.
Then there are more sophisticated systems, such as 4S/2M, that allow multiple axles to be equipped with ABS. These systems have a higher initial purchase price, but many manufacturers claim they actually reduce ownership costs by preventing tire flat spotting, particularly when transporting empty trailers.
"The anti-skid system has really helped us in tire wear because you just don't have the flat spots," says Holle. Despite a significant price difference compared to more basic systems, Landoll puts ABS standard on all axles due to the long-term benefits from decreased tire wear.
Other manufacturers offer a choice of the basic 2S/1M system or more sophisticated ABS systems. "Trail King always recommends the 4S/2M system because it is on all axles," says Odegaard. "Most of the lowboys that we sell have it on them because we sit down with the customer and explain why it should be on there rather than the 2S/1M system. If you go with what the federal law requires, you are still going to have excessive tire wear on one of the axles. If you go with the system that we recommend, you are going to eliminate that tire wear."
Large tag trailers offer a choice between electric and air brakes. When you get over 15 tons, air brakes are required. Otherwise, the choice has more to do with how the tow vehicle is equipped. But there is a difference in performance between air and electric. "Air brakes are a lot less maintenance than an electric brake," says Holle.
Get a better grade
The choice of steel used in construction has a major impact on the performance of both lowboys and large tag trailers. "Make sure you get the highest tensile steel that is available," says Odegaard. "The higher the tensile strength, the lighter and stronger the trailer will be."
"The higher grade steels are actually lighter because you don't have to use as large a beam to haul the same load," says Huber. "Cosmetically, you might look at a trailer and it might have an 18-in.-tall I-beam on the outside. One of our competitors or ourselves will run a 12- to 16-in. I-beam. We are running a higher grade tensile strength steel. We don't need the same beam to handle it."
The choice of steel can be even more of a differentiating factor with tag trailers than with lowboys. "Most manufacturers, when you get into a 50,000-pound tag trailer, are using a mild steel beam," says Odegaard. Other manufacturers, including Trail King, use high-tensile strength steel. The high-tensile strength steel weighs less, allowing more payload capacity, which is even more critical for smaller trailers.
Don't be misled by trailer ratings
There are different ways trailer manufacturers will 'size' their trailers. But it is up to you to ensure the chosen trailer will safely handle your equipment. For example, a trailer manufacturer may give you a gross vehicle weight rating of 100,000 pounds (50 tons). "But if you take your trailer weight out of there — which on average for a 50-ton is going to be anywhere from 18,000 to 20,000 pounds. — then you have a 40-ton carrying capacity," says Don Huber, Trail-Eze. "You want to find out what the load rating is and if it is concentrated or if it is a distributed load. That is one of the biggest tricks in the industry. That is a big issue and it will make a big difference in your dollar figure." So the key words you need to use are the hauling capacity.
You also need to know the weight capacity in a concentrated area. This is how much weight is going to be carried over a given area. This is especially important with certain types of equipment. "A forklift has a high concentrated load area," says Mel Holle, Landoll Corp. The entire weight of the machine is transferred to the trailer deck through the small contact areas of the wheels. With an excavator or a dozer, the amount of track in contact with the trailer helps determine the concentrated load. "You can buy 50-ton trailers that have a concentrated load at 16 feet, 12 feet or 10 feet," says Holle. "The smaller the concentration, the stronger the trailer."
Again, you have to be very careful when looking at the concentrated load rating. "There are manufacturers out there that say concentrated at 10 feet," says Marv Odegaard, Trail King. "If you read the fine print, it says the center of the deck only. Think about this for a second. If you are hauling an excavator, your weight is going to be in the front. You are going to get it all the way forward so you can get your stick down. If you are hauling a scraper, your weight will be in the rear and on the front.
"When we design a trailer, we bring the load all the way to the front and we design it to a 2.5:1 safety factor to be carried 16 feet from the front, 16 feet from the back," Odegaard continues. "So we think it makes sense to put a 2.5:1 safety factor in the wheel area, which is a critical area for a trailer to crack, and a 2.5:1 safety factor in the gooseneck area, which is a critical spot. We back off to 2:1 in the center of the deck where you hardly ever have a failure."