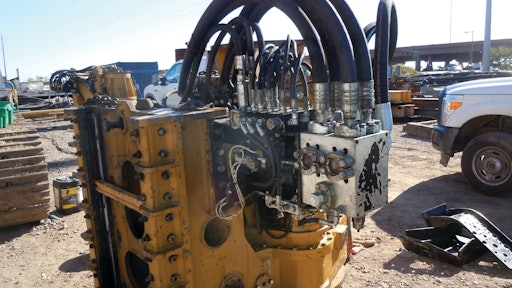 PIRTEK Sky Harbor, owned by Stewart Bartlett, has provided on-site hose service to the Phoenix, AZ, area for over seven years. Last year, three days before Christmas, one of its long-time customers approached it about a job with a short lead time and involving a 28-metric ton drill rig.
Case Foundation Company is one of the industry's most widely-respected and successful full-service and deep foundation specialists. It drills shaft foundations for major projects such as highways, bridges and airports, etc. Before sending one of its drill to the next jobsite, there was a need for some quick hose work. This drill was scheduled to go to another job in one week just before the New Year's holiday. Time was critical, and many suppliers were winding down for the holidays.
The drill had many large hoses that needed replacing. A large amount of 6,000-psi, 1 1/2-in. hose and metric fittings were needed to complete the job. PIRTEK Corporate Headquarters in Rockledge, FL, shipped all of the hose it had available that met the spec,  but more was required. PIRTEK Madison Heights, owned by Eli Dorfman in Detroit, MI, came to the rescue and supplied the remaining hose needed to complete the job on time.
Tony Stevens, PIRTEK Sky Harbor mobile service and sales technician, worked with Case's employees to identify, rebuild and replace the hoses on the drill. Stevens assembled 16 hoses ranging from 6 to 24 ft. in length and two 20-ft. steel lines for the job.
Working together with the Case employees, PIRTEK was able to complete the job ahead of schedule, enabling the drill to be sent to the other jobsite on time.