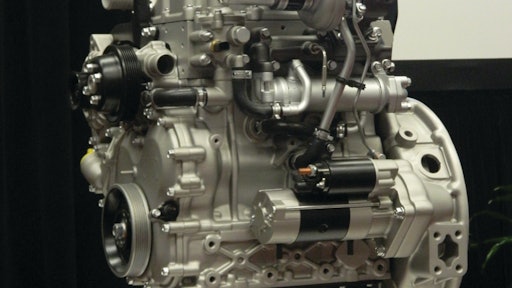 While Bobcat first announced in fall of 2012 that it would be incorporating Doosan-produced Tier 4 diesel engines into its compact equipment line, supplying engines is hardly a new venture for Bobcat's parent company. In fact, Doosan has been a leading producer of engines since 1958.
That said, the partnership with Bobcat does mark the company's first foray into the OEM market. "With the introduction of our new compact engines, we believe Doosan is positioned to become one of the world's top class engine makers offering the most advanced environmentally friendly technology available," said Dan Rim, senior vice president of sales and marketing, Doosan Infracore Engine Business Group.
"[Our vision] is to be a global top tier engine supplier," added Dongyoun Sohn, president, chief technology officer, global R&D organization, at a press conference held during CONEXPO-CON/AGG last week. "Our strength is a true partnership. We provide our state of the art technology to the customers working as one team. We know how to optimize engine and maximum performance to customer use."
According to Rim, the company will produce approximately 35,000 engines this year, with plans for rapidly growing the business to 100,000 units by 2018. Its engine range spans from 30 up to 130 hp, with models available for both emissions regulated and non-regulated markets.
Non-DPF Tier 4 Final Solution
Doosan is introducing three compact diesel engine models (D18, D24 and D34) ranging from 1.8- to 3.4-liter displacement and in 50- to 110-hp ranges (or higher), depending on the configuration. The engines utilize ultra-low particulate matter combustion (ULPC) technology, which combines an optimized piston bowl shape, cylinder head control and exhaust gas recirculation (EGR) control to provide clean combustion technology.
"ULPC is patented by Doosan and will enable us to eliminate the diesel particulate filter (DPF)," Sohn pointed out.
Bobcat Eliminates the DPF on Tier 4 500 Frame-size Loaders
Sohn identifies the non-DPF solution and low fuel consumption as Doosan core competencies. "We have achieved almost 14% better fuel consumption," he stated. In addition to reduced fuel costs, further cost reductions are achieved through reduced maintenance requirements. There is no need to clean or replace a DPF or oil separator, and oil change intervals have been extended to 500 hours.
The company began to ship engines for Bobcat's M Series skid steer and compact track loaders and compact excavators in the second half of last year. At this point, the expectation is to remain exclusive to Bobcat for the skid steer market, but plans are already in place to sell engines into non-competitive equipment such as forklifts and agricultural tractors.
Set for Global Growth
A fourth Tier 4 Final engine with a non-DPF solution will be introduced shortly. The 5.8-liter DL06, originally introduced in 2005 for off-highway applications such as Doosan and Bobcat wheel loaders and excavators, has been fitted with ULPC technology, satisfying North American and European emissions standards with the addition of selective catalytic reduction.
While the focus in North America is on Tier 4 Final, Doosan is also supplying compact Tier 3 engines to equipment OEMs in non-regulated markets. For example, a forklift utilizing its Tier 3 engine was introduced in Korea in the second half of 2012, and last month, a Tier 3-equipped excavator was introduced to the Chinese market.
Later this year, the company plans to introduce its engines in portable compressors and generators, and it has already received orders from ag tractor suppliers. "We are also developing [engines] for commercial vehicle use and for gas operations," Sohn added. These engines are targeted for introduction in 2017.