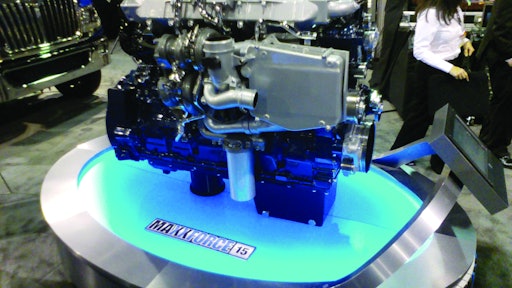 The long awaited MaxxForce 15 is now available for order in the Paystar. This 15-liter engine is available with up to 550 hp and 1,850 lb. ft. of torque. It is built on a proven block and crankshaft from a previous Cat engine, but utilizes fuel system, air management and electronic controls of the MaxxForce advanced EGR system.
Peak torque is achieved at 1,000 rpm and holds steady to 1,600 rpm.
"With the introduction of our MaxForce 15, our line-up of fully integrated trucks and engines is complete," says Jim Hebe, senior vice president, North American Sales Operations.
The engine is being displayed in an International 5900 set-back axle, but is available in the Paystar 5900 set-forward axle.