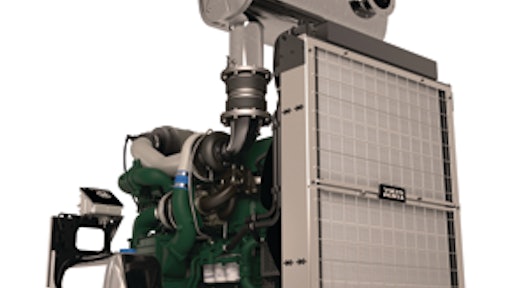 This winter Volvo Penta will introduce a powerful bi-fuel 16-litre Tier 4 Interim engine targeted for applications in the expanding United States oil and gas exploration markets and in other prime power and mobile applications. Fueled by a precision blend of natural gas and diesel fuel, the new TWG1663GE provides fuel cost savings, high power density and advanced SCR to meet stringent, Tier 4 Interim EPA and CARB emissions regulations.
"Bi-fuel technology is attractive to many industries, but bi-fuel Tier 4i power, in markets where natural gas is readily available, helps the U.S. aim for energy independence in an environmentally friendly way," says Bob Apple, vice president of Volvo Penta's industrial engine business in North America.
Natural gas is introduced up-stream of the turbo-chargers and an electronic air valve controls the amount of natural gas mixed. Engine compression ignites the diesel fuel, which in turn ignites the natural gas. Bi-fuel blending and combustion control is integrated into the Volvo Engine Management System (EMS).
The Volvo Penta bi-fuel principle enables heavy-duty diesel engines to operate on ratios of up to 70% natural gas and 30% diesel fuel under normal loads and slightly less natural gas during higher loads. The TWG1663GE can also run exclusively on diesel fuel.
Emissions output meets US EPA and CARB Tier 4i limits, regardless of how the engine blends the two fuels. The TWG1663GE utilizes Volvo's Selective Catalytic Reduction (SCR) technology to reduce NOx and particulate emissions. 
The TWG1663GE bi-fuel engine utilizes two-stage turbo charging to provide excellent power density and load acceptance. The TWG1663GE is available for 1800 rpm/60 Hz operation.
Volvo Penta is a global manufacturer of engines and complete power systems for both marine and industrial applications. Volvo Penta is part of the Volvo Group.
Companies in this article