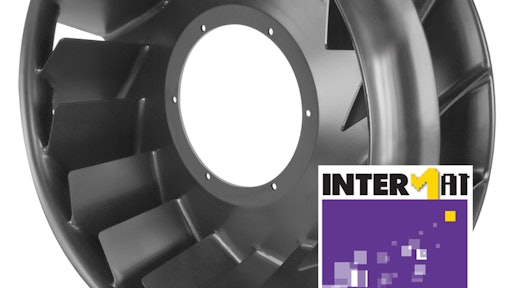 Horton has been selected to receive a Bronze INTERMAT Innovation Award for its WindMaster Revolution high-efficiency, hybrid-flow fan. Horton Europe GmbH & Co. KG was honored in the components, equipment and tooling category. The award will be presented at the INTERMAT show on April 16, 2012 in Paris.

"We're very pleased to receive this recognition of our continuous efforts to innovate and develop products that help our customers meet the highest worldwide standards for efficient performance and environmental sustainability," says Franz Frieling, Horton's director of sales and distribution Europe.

Horton's WindMaster Revolution is optimized to move air more efficiently around the engine and through the under-hood compartment. It combines the optimal features of axial-, mixed- and radial-flow technologies. Engineered for compact engine compartments, WindMaster Revolution fans offer fuel-saving performance and significantly lower operating noise. WindMaster Revolution meets the requirements of EPA10, Euro VI and Tier 4 engines.

INTERMAT is an international exhibition of equipment, machinery and techniques for the construction and materials industries. The exhibit is held every three years and attracts more than 1,400 exhibitors and 200,000 international visitors.

The INTERMAT Innovation Awards competition celebrates international innovation and is open exclusively to INTERMAT exhibitors. The awards recognize outstanding developments in equipment, techniques, services and products. Winning innovations must demonstrate an outstanding advance in technical design and technology or in cost savings, operation, usage or environmental sustainability. They also must comply with European regulations and standards. Entries are judged by a panel of European specialists from research and industry.

To learn more about Horton WindMaster Revolution, visit booth number 5b M 011 at INTERMAT or visit www.hortonww.com/intermat.